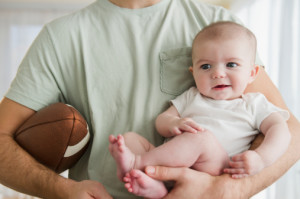 It's that time of year again, Super Bowl, and if you are like me with a house full of sports fans, this is an exciting weekend! So how can you pull off a fun, not-too-stressful party for your friends and their kids? Gone are the days of just having beer and chips. We are grown-ups now and need kid-friendly foods and activities to go with the normal adult festivities. Here are some ideas!
Print football coloring sheets and set up a coloring station at the party for the kids.
Here are some free printable sheets. Remember to put down a tablecloth for coloring. Your child might know not to color on the table, but your friend's kid may not!
Set up a "Pin the Football Through the Goal Post" game.
All you need is some poster board to cut out a Goal Post and then some brown construction paper to cut out little footballs. Kids will love trying to get the footballs in the right place to score a field goal. This is a great half-time game!
Use finger foods that both toddlers and adults love.
Pigs in a blanket, mini sliders, popcorn, fresh fruit or veggies in addition to your adult Super Bowl staples. Remember to set some things like dips on a table out of the toddlers' reach. The last thing you want is your toddler being the one who keeps double dipping in the salsa… been there! Also, Annie's makes great snacks in individual bags that you can put out for the hungry toddlers to grab. Here is one found on Amazon.
Adult beverages are easy, but what about for the kids?
I say stick to water because some parents have strict rules about juices. You don't want meltdowns over a juice box during the party… that isn't fun for anyone. Purchase small, 8oz bottles of water to have available for the kiddos. Plus, if they spill, which they will, it's just water and not fruit punch on your new couch!
Set out temporary football tattoos for the kids to put on their faces or hands.
My son loves these, and they are easy to put on without the mess of face paint. You can purchase these on Amazon and even find them for the specific team you are cheering for!
Enjoy the Super Bowl with your friends! With these fun ideas to keep the kids happy and busy, you will be able to watch at least some of the game and commercials with a cocktail in hand. 🙂