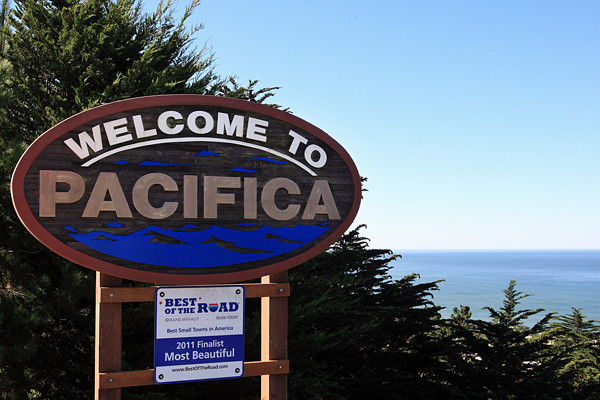 The first year I lived in Pacifica I complained about it nearly every single day. In 2016 our second child was born and our one bedroom rent controlled sunset apartment suddenly seemed way too small. We didn't want to leave the city but we couldn't afford to buy anything in San Francisco. Our close friend and real estate agent Kevin Pickett helped us find the one place we could afford anywhere nearby, a condo in the Manor neighborhood of Pacifica that was a tear down fixer. My husband spent his paternity leave remodeling it with his friends. He turned it from a decrepit squatter with graffiti on the walls to a home for our babies.  
When we finally moved into our new house in December of 2016, I was glad we found a place close to the city.  But I mourned the Sunset and our easy access to downtown, cafes, the MUNI and everything about our vibrant urban life. I grew up in a suburb of Chicago that, like Pacifica, is adjacent to the city. As a child and especially as a teenager, I wished I had lived in the city. When I had my own kids, I wanted them to grow up as city kids.  I wanted their childhood to be filled with city kid stuff like cafes and museums, not suburban stuff like scooters and trampolines.
During our first year living here, Pacifica slowly won my heart. There are only so many times you can drive south on Highway 1 and watch the ocean peek out from behind the Pacifica sign before your heart gives in. Then my kids started attending Pacifica schools and we began to know our neighbors.  We grew attached to all the little local Pacfica bakeries and cafes that have been around forever. We kept finding new hiking trails and gorgeous vistas. Here's the thing about Pacifica: it doesn't matter how long you live here, there will always be a new view to take your breath away. Living in Pacifica I found enough restaurants, arts and culture to satisfy a city person. But I also discovered a peace of mind that I hadn't experienced living in the Sunset.  The slower pace of life, the beaches, the green hills, the hiking trails…the sound of crashing waves, the fog rolling in over the coast. How could I not fall in love?
And then the pandemic hit. For months it was just me and my kids, everyday with nothing to do and everything closed. And yet Pacifica was still there with all its hills and beaches and quirky little neighborhood crevices. We explored our town more than ever before. And we fell in love even deeper. 
Four years after buying our dilapidated condo in Pacifica, we turned to our friend and realtor Kevin Pickett to once again to help us find a house. We wanted to stay close to the city on the northern end of Pacifica. But Kevin lives in the back of the valley with his family and he kept reminding us of how different the weather was back there. On foggy days we would drive back to the valley and be surprised to find ourselves bathed in sunlight. Right before Christmas this year, we closed on our first house, tucked in the sunny valley, east of Linda Mar beach. Every morning we go outside, see those green hills bathed in sunshine and think "could this really be our lives?"
Pacifica isn't just a community on the ocean. It's a community that is ABOUT being on the ocean.  If you live here, it's because the ocean does something to you. It's because hearing the waves, lying in the sand, gazing out at the fog rolling through green hills, these things pull your heart strings. You live here if you don't mind bringing a sweater with you year round, you just don't want to scrape ice off your car. You live here if you want to be close enough to the city to go there for dinner, but far enough away to have a creek blocks from your backyard.
Pacifica, my forever home, thank you for patiently waiting while I spent a year complaining about you. Now, I can't imagine living anywhere else.