Three years post-pandemic, our family of four took our long-awaited first airplane trip together for Spring Break. After Alice was vaccinated last summer, we planned our first airplane trip during our daughters' shared Spring Break holiday in March. Like our older daughter Ilse's first airplane trip, we kept the plane trip short. We selected San Diego for its slightly warmer weather and abundant child-friendly attractions. Ilse had not been on a plane in three years, and Alice had never been on one.
Airplane travel would take some getting used to for them. It would also take some time for us parents, as we needed to pack more stuff: four backpacks and four small rolling suitcases. Planning, preparing, and executing this first holiday by airplane was quite the production, particularly since I had just returned from a four-day work trip two days before our Spring Break holiday. I scrambled (don't we all?) to finish as much of my work as possible before the holiday and took my laptop to finish odds and ends during downtime.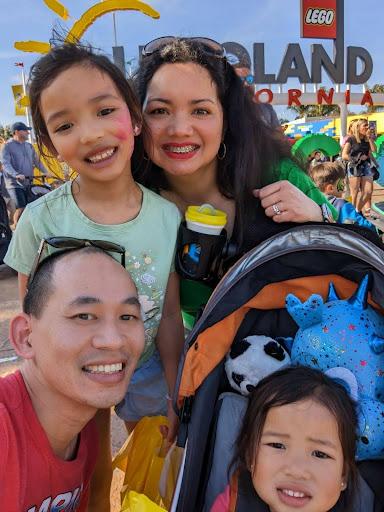 The Spring Break holiday came and went in a flash. Ilse and Alice had a blast! Despite the pre and post-holiday weariness, we can't wait to plan our next airplane trip or perhaps a real road trip. Like other family firsts, we learned so much about how to travel during this holiday. Below are my top four lessons from our first airplane trip away.
Planning and preparing for a trip will give you peace of mind.
We started planning a Spring Break trip in October so that we could determine our destination, activities, and accommodations. As a family with two children at different learning stages, activities are needed to provide joy and excitement for both of them. As part of the planning process, we created a shared "destination list" for San Diego in our maps app and added attractions, playgrounds, and restaurants. We create a "destination list" for every trip. Curating the destination list takes the guesswork out of making a daily itinerary and allows us to be on our time. As part of preparing for the trip, we also cleaned our home and the fridge before we departed so that we could relax when we returned. Coming home to a clean apartment is heavenly. Besides, no one wants to return home to the smell of rotting compost. 
Make time for downtime.
Speaking of time, making time for downtime during a holiday is just as important as sightseeing. While I would have loved to squeeze in an hour at Liberty Public Market or visit Old Town San Diego after a full day at the zoo, the children were just too exhausted after a full day outdoors. One of our favorite ways to unwind after a long day out was an evening of takeout in our guestroom, followed by an evening swim in the hotel's heated pool.
Splurge on the largest guestroom or guestrooms for your family
After our 2021 trip to Monterey, my older daughter Ilse pleaded for a larger guestroom for our next family holiday. During that trip, we stayed in a guestroom with two queen beds, which would have been okay for the three of us, but was tight for four. For our San Diego holiday, I booked a suite with two queen beds, which allowed us to spread out a bit, so we would not be on top of each other. During takeout dinners in our suite, we had plenty of table space to dine on. We will get two rooms with a connecting door when the girls are old enough. Breathing room in a guestroom was worth every penny for our collective sanity.
Use inclement weather to your advantage.
When we planned our Spring Break holiday to San Diego, we anticipated pleasant high 60s and sunny days. The weeks leading up preceding the holiday could have been more promising. The weather in San Diego was more akin to San Francisco on a normal day this winter, in the high 50s and low 60s with scattered showers (ick!) Come rain or shine, we were going to make the most of our trip, so we built our outdoor activities on the nicest days and saved an indoor activity on a rainy day. Our flexible plan worked for the most part, as we only had to shelter ourselves from rain for 20 minutes on one of the days we were outdoors.
Now that we have completed and accomplished our first airplane trip away, I am excited to plan the next one. I have Washington and Texas on my mind. Summer can't come soon enough, nor can swimming in a pool at night.