One of the first weekend trips my husband and I took after we moved to the Bay Area close to seven years ago was to Mendocino. A perfect choice for our first wedding anniversary, the area's rugged coastline, charming inns, cozy wineries, and intimate restaurants made for an ideal romantic getaway. 
We recently went back for the first time since having kids, making the trip with our 3-year-old and baby. While it was a very different experience from our first voyage, I'm happy to report that Mendocino is equally fun with kids — if you choose the right stops on your itinerary. 
Here's a guide to taking a weekend trip up the coast.
Driving to Mendocino from the Bay Area
We started the drive mid-day on a Friday, and it was a super smooth ride without traffic. One of the best parts of the journey to Mendocino is the gorgeous winding route with plenty of fun stops along the way:
Pennyroyal Farm in Boonville is a family-owned and sustainable farm, dairy, and vineyard. All wines and cheeses are produced on-site. Make a reservation for a wine-tasting and cheese pairing. Our toddler enjoyed playing with water in fountains and seeing and feeding the many animals on the property, including chickens and goats. 
Gowen's Heirloom Cider is just down the road from Pennyroyal, which has been around and owned by the same family for 140 years. The tasting room is completely outside, so grab your tasters and relax among the apple trees—plenty of space for kids to run safely. 
Goldeneye Winery is a standout among the 30-plus wineries in Anderson Valley. Reserve a tasting and enjoy award-winning wine while your kids explore the stunning vineyard.
Meyer Family Cellars is a gorgeous winery with ample green space and even a playground for kids.
Other noteworthy stops include Anderson Valley Brewing Company for a beer, Navarro Winery for another wine-tasting top, Boonville General Store for lunch, or Paysanne for a sweet treat. You also have the drive home to consider these stops!
Where to stay in Mendocino with Kids
Mendocino has many options for lodging, from high-end hotels to cozy inns and Airbnb to campers and yurts. Here are a few to consider.
On our most recent trip, we stayed at Heritage House Resort, and it was one of the most memorable hotels I've stayed at in California. Located in Little River, this 37-acre property sits cliffside on the coast directly, with various individual rooms offering dramatic views. Ours had a large walk-out deck, a fireplace, a luxurious bath, and plenty of space for a family. 5200, the on-site restaurant, looks out to the Pacific Ocean and is open for breakfast and dinner. The 5200 lounge is perfect for a nightcap, with an outdoor patio and fireplace.
Formerly Glendeven Inn and the Inn at Cobbler's Walk, this is where my husband and I had stayed on our anniversary trip. We loved the farm-fresh breakfast and charm of the place, but it needed to be updated. I was excited to learn that SCP recently bought the property and is undergoing a big renovation project that will update the place while maintaining its history (one of the buildings was built in 1867). The owners also told me they plan to make it even more family-friendly. Kids will love it here for the on-site chickens and llamas alone. 
If you're looking for a more adventurous stay, check out Mendocino Grove, a glamping experience in the middle of the redwoods. Opt for the family tents, which are larger than their classic tents and hold four to six people. This campsite, or glampsite, comes with two nicely elevated bathhouses with hot showers, including a couple of oversized stalls that fit families. The property also has a bocce court, daily yoga, and a commons area offering coffee, breakfast, wifi, and games. 
Located a little bit further South along the coast, this is a super comfortable place to stay for families with kids, with 11 cottages featuring cozy furnishings, fireplaces, and fully stocked kitchens. Kids can harvest ingredients in the on-site gardens to cook in their cottage, interact with the animals, wander the trails, and run around in nature. 
Where to eat in Mendocino with Kids
Mendocino is full of farm-to-table dining options. Many eateries have a romantic or high-scale ambiance (including the two Michelin-starred Harbor House Inn, worth getting a babysitter for if you can swing it). If you have the kids in tow, though, these more casual eateries are sure to please:
Fog Eater Cafe in Mendocino Village is a vegetarian restaurant fusing dishes from the deep South with fresh plant-based ingredients locally sourced from organic farms. The menu can be fully vegan, with plenty of gluten-free options. This is the perfect combo of both healthy and comforting (think mac and cheese, cornbread, gumbo, beignets, and more). Note: the restaurant is taking a winter break and will be back on Feb. 15. 
North Coast Brewing Company in Fort Bragg is great for lunch or dinner with kids. The relaxed setting and service mean no one will bat an eye if your children act like children. There's also a large outdoor patio with heaters. Try a flight and choose from a pub menu, including classics like hamburgers, nachos, mac and cheese, and the like. 
Trillium Cafe is a Mendocino staple for its sublimely cooked, locally sourced menu in a charming inn. It's a good choice if you want to splurge on a more celebratory dinner while maintaining your sanity. Opt to sit outside, as the inside dining room is quite intimate, and you don't want the couples celebrating their anniversary to give you the stink eye the whole evening. 
Goodlife Cafe is an eatery and coffee shop beloved by locals and visitors alike in the heart of the village. Choose from breakfast items like eggs benedict, chili verde burrito, housemade pastries or sandwiches, grain bowls, or tacos for lunch.
Cowlick's Ice Cream in Fort Bragg is the perfect spot to grab a treat after a long day of exploring.
Frankie's in Mendocino Village serves pizza, salads, falafel, and ice cream. It's a sure win for kids and parents alike.
What to do in Mendocino with Kids
You'll find fun for the family year-round. We headed up on the weekend with light rain and still found plenty to do, but the warmer months also opened up the option for plenty of beach time. 
The Skunk Train was the highlight of our trip. Step back in time for a magical ride through the redwoods on this historic train dating back to 1885. Hope on the Pudding Creek Express for a 75-minute ride through old-growth redwood groves, over trestle bridges, through tunnels, and into the heart of the Noyo River canyon. Your little train lovers will lose their minds.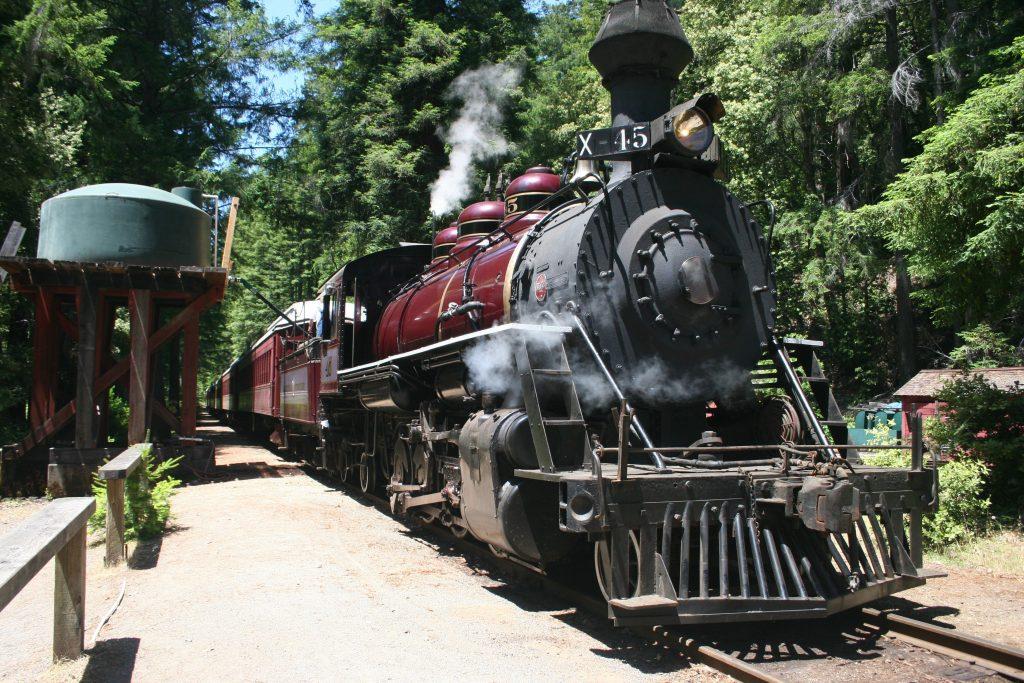 Mendocino Village feels like a town plucked out of New England and dropped onto the coastline of California. Take a walk around the neighborhood, lined with historic cottages, charming Victorians, and independent shops. Make sure to stop by Gallery Bookshop and Village Toy Store.
Russian Gulch State Park – you'll find coastal bluffs and stunning forests, and if the weather is nice, head out for a waterfall hike. Take the waterfall hike. Fern Canyon is lined with trees, and as you get further and further back, it gets more beautiful.
Mendocino Coast Botanical GardensThe Mendocino Coast Botanical Gardens are located on 47 acres in Fort Bragg, California, United States, between California's Highway One and the Pacific Ocean. The garden property includes canyons, wetlands, coastal bluffs, and a closed-cone pine forest. Wikipedia
Hendy Woods State Park The park covers 816 acres (3.30 km2) of land and contains two groves of old-growth coast redwood: Big Hendy (80 acres) and Little Hendy (20 acres).
Cabrillo Lighthouse is a historic 1909 Light Station nestled among 270 acres of undeveloped coastal bluffs. Kids will love exploring inside the lighthouse, open from sunrise to sunset. 
Glass Beach in Fort Bragg, California, is one of the most popular and unique destinations in Mendocino because it's covered in sea glass that's a result of years of dumping garbage into an area of coastline near the northern part of the town.