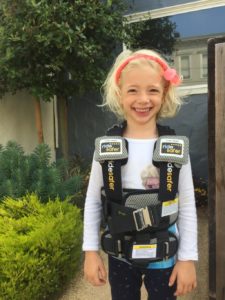 Editor's Note: This article originally published Sept. 25, 2017, and has been updated to reflect the new XL size option for the travel vest.
My husband and I do everything we can to avoid lugging bulky car seats to the airport when we travel with our kids, and we'd rather hop in an Uber to get across town than drive, but the days of traveling light are a distant memory for our family of four.
If our Amazon Alexa is listening (and I'm pretty sure she is), she's heard us strategize every possible way to ditch our kids' car seats. But most of the time, we take them with us because, in a contest between our children's safety and our convenience, safety wins every time.
Lucky for us, we've discovered a win-win solution: the RideSafer Delight Travel Vest by SafeRide4Kids. This car seat alternative is a total game changer, and I'm so excited to share it with you. After I told some of my girlfriends about it, they immediately wanted to know where to buy one for their own kids, and, as I write this, friends are borrowing ours to travel with their three-year-old son to a wedding. They told me he was skeptical about wearing his new vest at first, but now he loves it and refuses to take it off. He calls it his "Batman" vest. Exhibit A: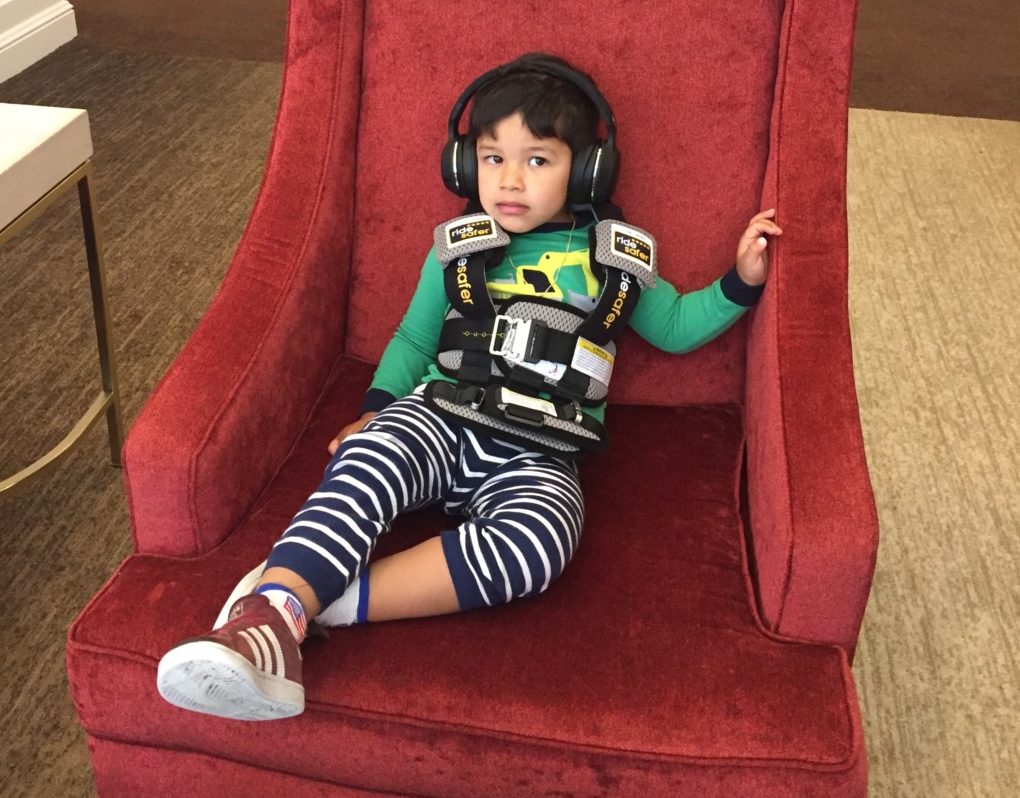 How It Works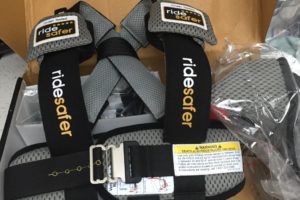 You feed your car's seatbelt through clips in the vest, which creates a five-point harness system. This keeps the seatbelt and your child properly positioned in the seat, so your child can't wiggle around and the seatbelt lies against the body where it should—across the lap (not on the waist), protecting vital organs and across the shoulders (not the neck), eliminating discomfort and the possibility of slipping off the seatbelt.
The vest is designed for children who are at least 3 years old and a minimum of 30 pounds and 35 inches tall and comes in three sizes. The large size is good for children up to 10 years old, 80 pounds and 57 inches tall. The XL is for children who are 80 to 110 pounds. I am counting down until my son's third birthday so we can use this for him, too. If you see two parents hopping out of an Uber with two preschoolers in tow wearing ear-to-ear grins, it's probably us.
Why It's a Lifesaver (Literally and Figuratively)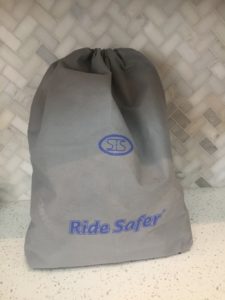 Besides our immediate use for airplane travel (to and from the airports and at our destination) and jaunts around the city, I can see other great benefits, too. This will be such a space saver when I have to squeeze more kids into the car. Last year, I bought a traditional booster seat in preparation for our niece's visit, but it couldn't fit between my kids' car seats. Anyone who's played car seat Tetris, puzzling how to fit multiple seats into a car and then struggling to install them properly, can appreciate how much better this option would have been. She could have easily used this vest to safely sit between my kids.
Similarly, when we enter the world of carpooling, this will come in handy. My kids will be able to bring theirs with them when they're riding in someone else's car—it's lightweight, packable, and it even comes with its own travel bag that can act as a backpack. When I'm on carpool duty, I can stash these under the seats and pull them out when needed.
Safety and Ease of Use
I'll admit that it did feel strange at first not having my daughter cocooned in her toddler car seat, but the vest went through rigorous testing requirements to ensure it's safe to use. According to the company's website, the vest meets or exceeds all crash test requirements and Federal Motor Vehicle Safety Standards for harness restraints (you can read all about it here). In some ways, it's even safer than a booster seat or toddler car seat. The padded vest "disperses crash energy across a larger area of the child's chest than a standard  seatbelt," and it "keeps the child's center of mass lower and farther back in the seat than a traditional toddler car seat, which has proven safer in the event of an accident."
It's also easy to use. At first glance, like with every stroller, car seat, and baby carrier I've encountered, it took me a minute to orient myself to how it worked—what straps tighten the vest, where the seatbelt feeds through, what to do with some of the extra features (like the removable headrest), but after a practice run, it's a no-brainer:
My daughter slips on the vest, sits in the car, and then we clip in the seatbelt and pull it all tight. You'll know the vest is properly positioned when the lap flap lies flat(ish) on your child's lap and the cross body part of the seatbelt lies mid-chest and mid-shoulder.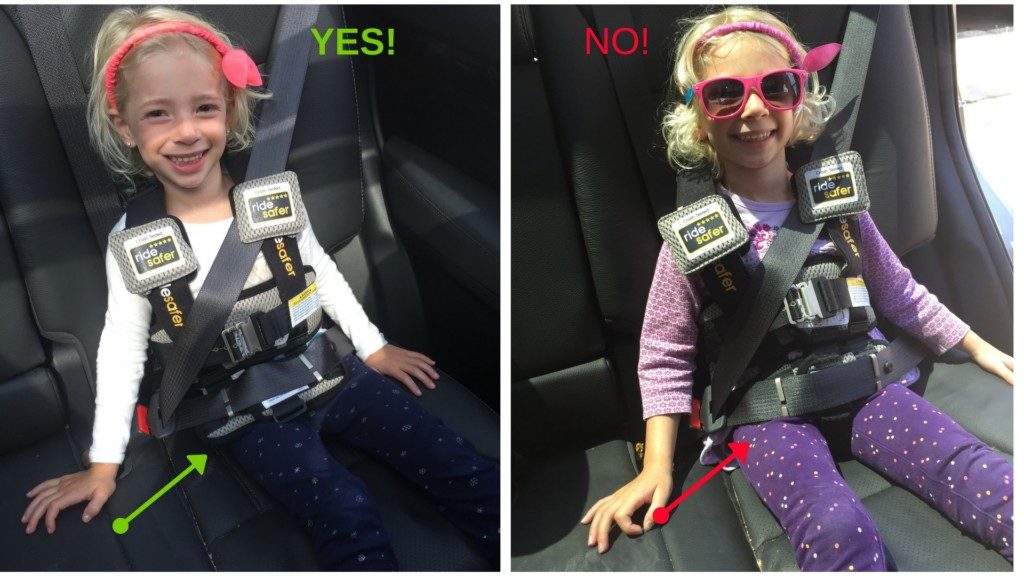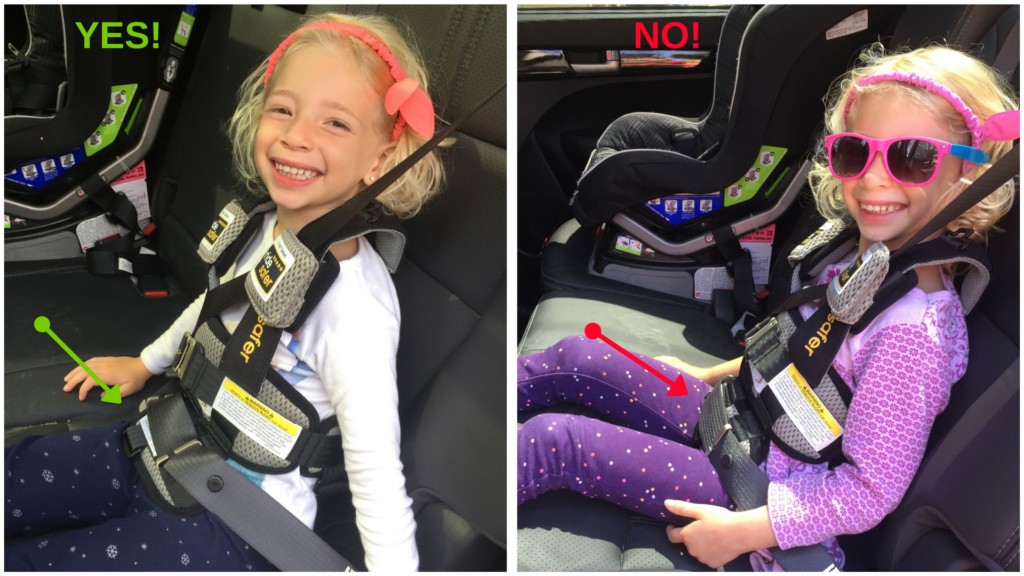 On our first go, I didn't have the vest positioned properly. Fortunately, SafeRide4Kids is easy to contact online or by phone, and after learning a few helpful tips to fit the vest properly (and after a full costume change), we were ready to try again.
Tips
Your instinct will be to tighten the vest while your child is standing, but this actually causes it to ride up when he or she sits in the seat, preventing the lap flap from laying properly. Try loosening the waist belt or closing it once the child is seated for a better fit.
Have your child lean forward once seated and pull down on the back of the vest to keep the lap flap in the proper position and minimize the gap at the shoulder.
It's common to have some gap at the shoulder, like my daughter. She's at the low end of the height and weight specifications (35 pounds and 42 inches), so this gives her some room to grow.
Their patented "Houdini" proof buckle on the waist belt gave me a run for my money the first time I tried to unhook it while my daughter was wearing the vest, but there are instructions on the website (and it's actually really simple to use once you know the trick).
I haven't been this excited about a material object since my husband gave me an engagement ring. This vest has given us a freedom of mobility that we didn't expect to have for many more years, and that's an incredible feeling. If your lifestyle is similar to ours, then this is a must-have item. You can get yours by clicking here!