Fall Staycation: Great Wolf Lodge
by Clara Hogan
Growing up in the Midwest, upbeat ads for the Great Wolf Lodge were a staple part of listening to the local radio stations. I never got to go, but kids luckier than I was often came back to school from their stays at the massive waterpark resort with souvenirs and epic stories.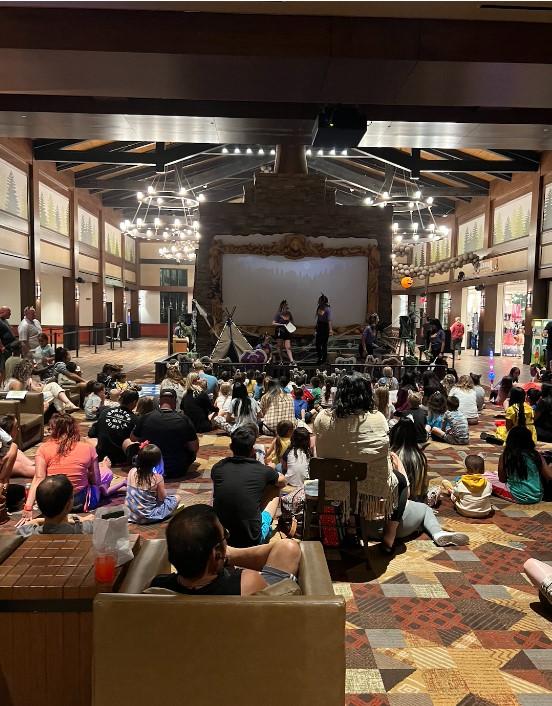 This past weekend, I went to live out the childhood experience I never had when I took my kids to the newest of the Great Wolf Lodges in Manteca, about an hour from the Bay Area. My major takeaway: your kids will love it. You may experience sensory overload, but in the end, it'll be worth it to see your kids light up in glee every 30 seconds. 
After all, this is the ultimate family-friendly resort, with a 95,000-foot indoor water park, an arcade, mini golf, a bowling alley, an elevated ropes climbing course, kids' yoga, dance parties, and much more. The programming also changes with the seasons — in the fall, they pull out all the autumnal delights like trick or treating, Halloween-themed decorations and events, and even a floating pumpkin patch.
Consider this one if you're looking for a fun family trip this fall. Your kids will thank you. Here's how our trip went down to give you an idea of what to expect.
My husband, 3-year-old and six-month-old, arrived on a Saturday afternoon after an easy drive from the Bay, immediately greeted by a full Halloween display. "Look, mama, PUMPKINS!" my toddler cheered. She had never seen a hotel quite like this one — and neither had we.
After checking in, we went up to our "themed room," which came complete with a little kid area with two bunk beds. "Look, mama, A WOLF!" 
Her excited "look, mama!" squeals didn't stop for the little over 24 hours we were there. And from the faces of every other kid in the place, they felt the same – no matter their age.  
We didn't have enough time to check out attractions before bedtime, so we decided to grab dinner. The resort has several dining options, including Buckets (burgers, chicken tenders, and like served by the pool), Hungry as a Wolf (pizza and pastas), Campfire Kitchen (buffets for breakfast and dinner), and a sit-down restaurant, Barnwood. 
Highly recommend making a reservation at Barnwood because the wait was incredibly long, and they started turning people away for not having any spots left that night, which was wild. We were able to eat there, and the experience was good — our server was super friendly, the cocktails tasty but sweet, and I was pleasantly surprised by the quality of the food, albeit slightly pricey (as to be expected at a resort.)
The Joy and The Chaos!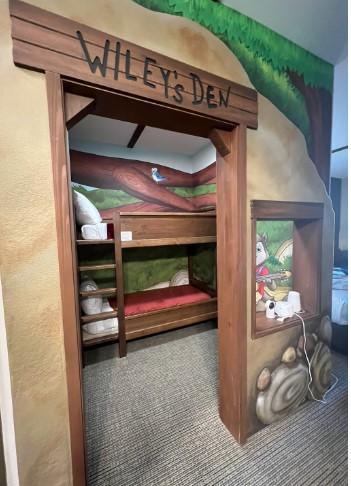 Barnwood was also quite loud (a theme throughout the park), with servers singing Happy Birthday to what seemed like every single table. But that's the thing about Great Wolf Lodge, I quickly realized, everyone was there to celebrate — whether it was a birthday or just a family vacation — and in order to have the most fun you can, you need to join in and embrace the joy and chaos!
And that's what I saw in adults and kids alike. It was clear this was a memory-making trip for everyone — no rules applied, from bedtime to sugar limits. That being said, this seems to be an ideal trip for older kids. Don't get me wrong, my toddler had a blast and plenty to do, but I found myself thinking about how much more we could do when she was older — from the dance party at 10 pm, to the climbing adventure center, to the massive water slides. 
After dinner, a friendly staff member offered my daughter a trick-or-treating bag. So, we embarked on a candy search with multiple trick-or-treating stops throughout the hotel. We also passed the giant candy store on site but managed to avoid that one (until we snuck some for ourselves later.) 
While we had to go to bed, we saw kids in Halloween jammies gathered in the lobby for story time and later take part in a massive dance party. Next time!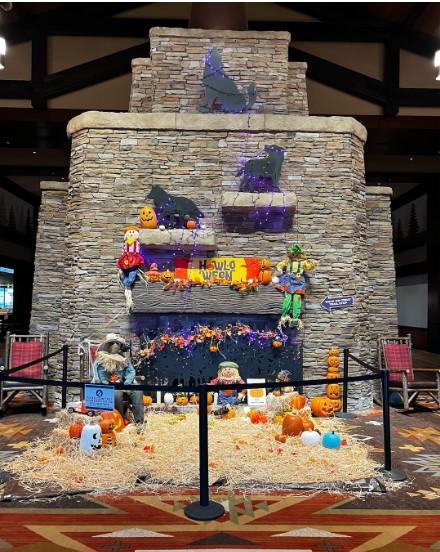 The next morning, we were ready to explore the resort's attractions, armed with Wolf Passes which get you access to most everything. First, we started with the buffet breakfast and coffee at the on-site Dunkin before heading to the Floating Pumpkin Patch attraction at 8:30 am. For $50, attendees got access to the waterpark an hour early and were able to take part in this Halloween event: a floating pumpkin patch. The main pool was decked out with floating plastic and real pumpkins for kids to grab.
Once we snagged ours, we took it to the decorating station, where my daughter painted the pumpkin and added stickers while we indulged in the free coffee and apple cider donuts. We spent the rest of the morning enjoying the water park, which has a large toddler-friendly area with a splash pad and mini slides, and other features like a wave pool, lazy river, and a ton of larger slides for bigger kids (or grown-ups — I went down one.)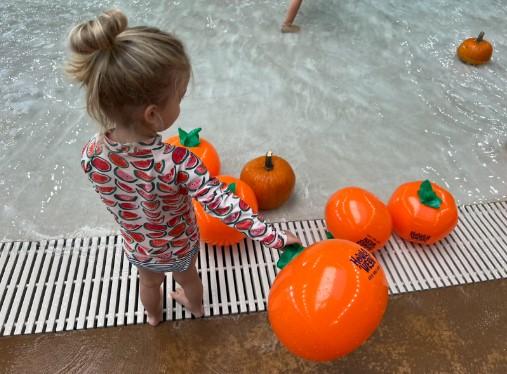 The fall festivities go on through October, and the resort gets decked out and offers programming around the holidays, too (read our review of a trip there last December.)
Overall, the Great Wolf Lodge is almost a mini, more affordable Disney: a chance to let kids be kids. It's not bougie, but that's why it's great. It's a fun trip they'll eagerly go back to school to tell their friends all about it.