If you're looking for a beach vacation that's convenient, beautiful, and close to the Bay Area, Pajaro Dunes is your go-to spot! We haven't been on holiday in years, partly because covid, but also because a "vacation" with toddlers can be stressful. Not to mention the packing, oh man, all the packing. Once we arrived, we had to babyproof as much and as quickly as possible. While making sure they feel comfortable so they might fall asleep.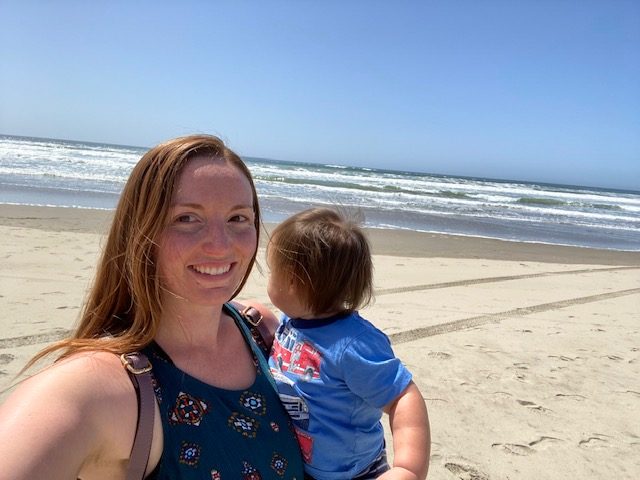 A few tips from our trip.
I have a few tips that might help because this spot is a great family beach getaway that you should consider. We found a condo on the beach. It was a place with a balcony where we could open our door and have our feet in the sand. This detail might seem small, but it's important when traveling with a toddler. Why? Well, how many times have you gone somewhere only to forget something? Or suddenly, they must go number 2 and use a "real" potty. Well, when your room is on the beach, no problem. You can walk right back to your rental! Boom! You're back, and the show is still on!
Babyproof the condo.
Our one-year-old who gets into EVERYTHING! This time I came prepared. Our condo wasn't fancy, but it's not like I can install safety latches–or can I? I packed outlet plug protectors and blue painter's tape. Why blue painter's tape? Well, I can tape close all the drawers and not damage the drawer but open it and re-tape. I'm sure you can buy temporary safety latches too. In other words, you must bring baby gates, outlet plug covers, temporary drawer latches, and blue painter's tape. It's also good to have a pack n play. Even if they're not sleeping in it, you can have a safe place while you shower, bathroom, or cook. If my husband can't keep his eyes on him while I'm busy, especially in a new place, I don't want my baby getting into things, even if I attempted to babyproof.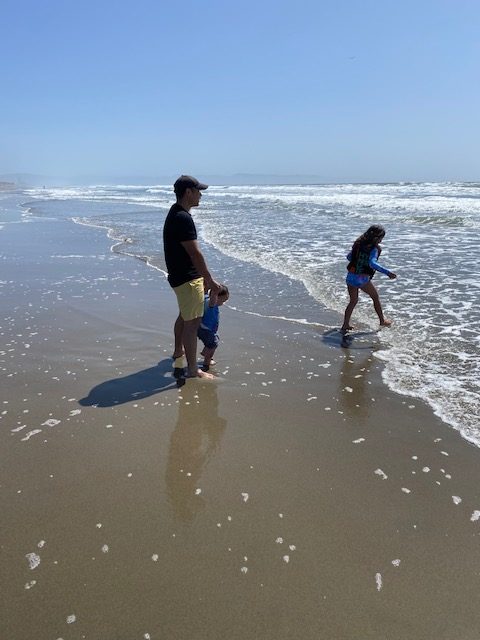 My kids love the beach, building sandcastles, jumping waves, and cooling off. It can be hours of fun, which is great until someone gets too cold, hungry, or sleepy. I'm not naming the seven dwarfs; this is life with toddlers. Being so close to our room, I felt like I could accommodate the needs and enjoy it all. I wasn't stressed to rush; it was a great way to have quality time together.
A private spot on the beach.
Pajaro Dunes is a private spot on the state beach, so another significant part was that it wasn't crowded; it felt like we had it all to ourselves. The only downside was the strong tide, so my 4-year-old was too scared to be in the water. While there, we had to ensure that the kids were always with an adult and had on life jackets.
On the plus side, you're 30-45 min from Monterey and Santa Cruz, so we were able to visit the Monterey Bay Aquarium and the Santa Cruz Beach Boardwalk. But in all honesty, my kids preferred the beach! I'd recommend this place to families and will be back too!