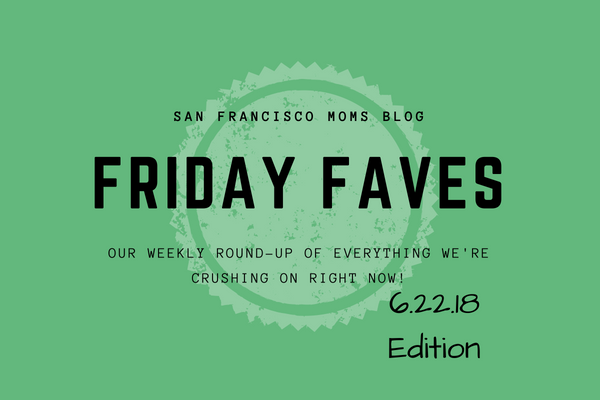 Last weekend I received tickets to attend a private showing of The Incredibles 2 with my family at the Metreon in San Francisco through Kango and Chrysler, who sponsored the event. It was a fun surprise and a really nice way to spend a Saturday afternoon. Kango partnered with Chrysler to provide low-cost leases of the Hybrid Pacifica minivans to eligible drivers, and this event was one of the ways they were spreading the word about the first-of-its-kind partnership. I used to live in SoMa before the Metreon was redone to include Target and tons of restaurants. The transformation of that area is really amazing. Yerba Buena Gardens, right behind the Metreon, is one of my favorite spots in the city: the outdoors meets beautiful architecture. Go enjoy it, if you haven't been up there in a while!
How did you spend Father's Day? The gift I got for my husband, a custom embroidered sweater from HSH Interiors, was a success! I had our kids' and my initials subtly embroidered onto the sleeve.
It would feel strange not to mention the immigration issues that have been in the news all week. I can't get political here, but my heart goes out to all the families who have been affected.
This weekend, we're laying low. What about you? Here are some things I saved over the week to share with you. Happy Friday!
This photo album of a mom recreating celebrity's Instagram photos cracks me up every time. It's a good reminder that a lot of what we see on social media and television is very, very staged!
This gorgeous, historic mansion in Pacific Heights is on the market for $30 million. It was fully renovated with a retractable roof on the top floor, but they kept the historical integrity of the building. I mean… talk about house goals. Anyone want to go in on it with me?
I thought this was a fake article, like from The Onion, but apparently, this is a thing. Have you heard of "brieing?" It's when middle-aged women trip on the drug Molly by putting it into brie cheese. I'll stick with wine, thanks.
In case you missed it, here are the week's posts from San Francisco Moms Blog and Mid-Peninsula Moms Blog.
I love Wendi's honest take on the pros and cons of having kids in her 40's. How old were you when your first child?
We've created neighborhood groups for eight towns on the Peninsula. Find yours or let us know which ones we should add!
Spend July 4th at the Woodside Junior Rodeo cheering on young riders as they compete in classic rodeo events. We're giving away a free lunch for four. Enter by this Friday at midnight!
I gathered some of my favorite memes about the struggles of feeding kids because this is truly the bain of my existence. What about in your house? Share your secrets!
Inger spent a ton of time in traffic over Memorial Day (like, three hours to go ten miles), so she got well acquainted with the features of the GMC Yukon Denali that she test drove for us. Here's what she had to say.
Laura pulled together eight different suit options to compliment the part of your body you want to show off the most this summer.
Elisa breaks down the simple steps we can all take to send less trash to landfills. If we all do our part, we can make a major impact and teach our kids how to take care of the environment.
Annabelle shares her four tips to instill healthy food habits into your children. They're watching everything we do, even how we eat!