This post is sponsored, but the opinions are 100% our own.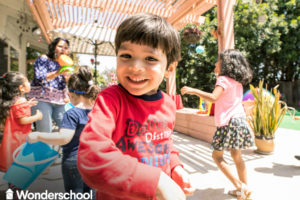 I distinctly remember thinking when I was pregnant that I wished I could find an in-home daycare nearby. That arrangement would have hit the sweet spot between a nanny and large daycare center in terms of affordability and convenience for me and social interaction, quality of care and attention for my daughter.
But five years ago, when I began my childcare search, these set-ups seemed few and far between. The ones I did come across didn't appear to be run in a professional way, and I wasn't savvy enough to leverage online mom groups and my personal network to uncover better options.
Since that time, I've noticed an increased number of in-home daycares popping up throughout the city, and it's in large part due to Wonderschool. Wonderschool is a network of boutique early childhood programs owned and operated by experienced teachers and educators.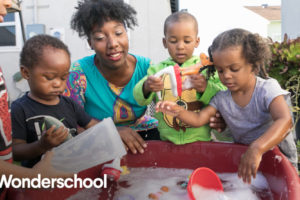 The programs under the Wonderschool umbrella combine the quality standards of the best centers in the world (early education experts oversee the programs) with the warmth of an in-home program. This new, high standard of in-home daycares is helping to disprove many common misconceptions like these:
Early education isn't that important or effective. A lot of the emphasis on education in the news is in primary, secondary, and higher education, but early education and preschool lay important foundations for learning and development later on. Enrolling young children in a program that prioritizes this from day one will benefit their development.
In-home child care programs are the same as nanny shares. Typically there are more children and more providers in an in-home group care setting, which means more socialization for your child. Also, reputable family child cares are licensed by California and must uphold standards of health and safety, as opposed to the less rigorous requirements for nannies (and the burden of screening them yourself). In-home programs also take place in the caregiver's home, rather than your own, and this space is usually created especially for early education.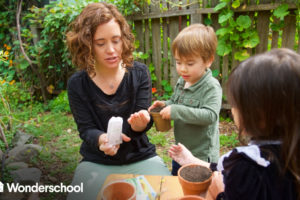 Home child cares aren't run by real educators. While there can be wide variation in education and experience among family child care providers, many do have experience working in child care centers and have early education degrees, and this is where touring and screening them becomes important. Especially at Wonderschool, every single provider in the network is vetted before joining the network, and each program's curriculum is based on well-respected early education philosophies, like Montessori, Reggio Emilia, Waldorf, and forest school.
Children have to leave in-home child care programs to attend preschool. While people often assume home care isn't "official" or educational or social enough once their child is old enough to attend preschool, this isn't the case. Wonderschool's program quality is guided by Mia Pritts, a childhood education expert formerly at Children's Creative Learning Center, the early childhood education providers that started the campus preschool system at Google, Stanford, Pixar, and many more.
With more than 50 early childhood programs in its network across the state and plans to expand to 15 new cities next year, Wonderschool is giving parents an easy way to search for child care and the confidence in the quality of those programs. It's also making it possible for local parents to earn an income while caring for their children by starting their own child care program and opening their doors to other children in their community.
San Francisco has a long way to go before accessible, affordable childcare options are available for all families, but Wonderschool is doing its part to add more to the map.