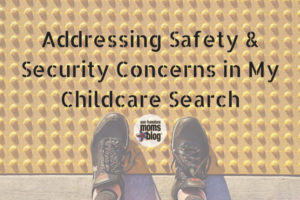 I've toured six potential childcare/preschool facilities for my daughter. The journey has been tough for us as a family because we had had the perfect daycare up until a few weeks ago. At the same time, I have been determined not to dwell on what we lost and focus on the opportunity of finding a new place that could engage my daughter's curiosity, while still providing the nurturing environment to which we had become accustomed.
I've toured a mix of home-based daycares and preschools. Now that my daughter is mobile and more precocious, I'm a little more concerned about safety and security; she wants to run outside our building without holding an adult's hand and eat inedible things like scented lip balm. In my previous posts, "4 Steps to Finding Daycare and "Five Topics to Address with Potential Daycare Providers," I had shared my experiences on search and selection for childcare, and now I'm adding to it with safety and security topics to address with potential childcare providers and preschools.
Facility safety (Indoor and outdoor spaces)
For facility safety, I've expanded my reach beyond the usual things like cameras, clearly marked exit signs, and posted emergency escape routes. I am also looking at the entrance to the school. Does a parent need to be buzzed in or can they freely walk into the school? Is the entrance for the school easy to access for drop-offs in the morning and pick-ups in the afternoon?
For outdoor play areas, I'm looking at the condition of the play equipment and fencing. Is the area clean and free of debris so children don't trip or hurt themselves? Is the fencing tall and well-maintained? In addition to these, I've also examined how much space the children have to move. Do the children look cramped in the indoor and outdoor spaces?
In the event of an emergency, it should be easy for providers and children to evacuate from their facility. An easy way to look at facility safety is consider the facility safety of your own workplace or home. For example, I appreciated that our building landlord installed bright exterior lights a few years ago, so that our apartment building was lit up at night. If I feel safe at work, at home, or at my daughter's preschool, I can feel good that my daughter will be safe, as well.
Personal safety (Allergens, illnesses, field-trips)
Personal safety encompasses all the things that could affect a child personally, like allergens and illnesses. As a parent who has pet allergies (with a child who does not have pet allergies), I am always asking potential providers about cleanliness, like how often they clean carpets and mop floors. I also ask how the providers address ailments like the flu or lice. If they provide meals, how do they address food allergies? At one place I toured, the facility asks that parents only bring fruit or popsicles for celebrations to avoid allergenic foods. Or for me, I ask about the use of animals (dogs, cats, etc.) in education. If my daugher may be returning home from preschool with animal dander on her clothes, I need to know.
As a child, I loved field-trips, because they were an opportunity to leave school to learn something new. As a parent of a toddler, I'm a little wary of them, especially if my husband or myself are not involved. Two of the places I toured had daily field-trips off-property. For these providers, I asked how they kept the children safe and how they transported children off-site. I've seen some daycares and preschools put logoed shirts on the kids and have them hold on to a rope while they walk to Golden Gate Park, but that doesn't work for me, especially when the average ratio of caregiver to child (for toddlers) is 1 per 12. For now, I am perfectly fine if my daughter does all activities on campus, unless, of course, I am present.
Communication safety (communication, social media)
How does the daycare/preschool communicate with parents? Text? Email? Telephone call? Is there a dedicated person to call about questions. How do they share information about my child with me? Does the daycare or preschool have an "open door" policy? At my last daycare, most communication was done face-to-face or text (if my daughter was not coming into school due to an illness). These days, it seems like providers are using all forms of communication methods to share information, which ensures that both parents and providers can stay in touch. One that is particularly popular is using social media like Facebook or Instagram to showcase activities that the school does. As a parent, I'm not a fan of my daughter's image being posted without my permission. Social media postings were not noted on several applications, so I asked the providers about that. Most allowed families to "opt-in."
For all of us, the joys of having children are coupled with the inherent fears we have for them. We want to protect them from all that can harm them and still allow them to learn and grow. Knowing that our children are safe and secure while they are not in our own care gives us the peace of mind that money can't buy.