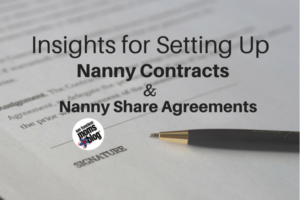 Getting started on the search for a nanny or a family with whom you'll share a nanny is no small feat. Once you get past that hurdle (here's what you need to know), you're faced with screening prospective candidates and setting up contracts. Even if your day job deals with hiring employees and negotiating deals, the personal nature of this particular arrangement can make it feel trickier and even a little uncomfortable. Here are our tips for lining up a nanny share agreement with another family and arranging a contract with a nanny.
Nanny Shares
Search for the other family first, before finding a nanny. Pairing with parents who have a similar parenting style to yours, share your priorities, values, and are a good fit logistically (e.g. children's ages, daily schedule, budget, location) will make the relationship run more smoothly.
Create ground rules for the share, separate from the nanny agreement, that outline house rules, pick-up/ drop-off schedules, how to communicate with each other and the nanny, and what to do in certain situations, like how to handle sick babies and vacation schedules.
Discussing these things before launching the search for a nanny will ensure you present a coordinated front to prospective nannies, which makes you look more attractive as employers, and helps communicate clear expectations for all parties involved.
Check out this printable list that ParkSlopeParents in Brooklyn, New York, created. It outlines things to consider before entering into a nanny share, including questions to ask families and nannies that are totally applicable to our lives on the west coast.
Nanny Contracts
Once you've found "the one" (whether your nanny will exclusively watch your child(ren) or is part of a share), it's time to make her an offer and create a contract. It's really important to agree and document works schedules, compensation, job requirements, and grounds for termination up front, so that, as situations arise down the line, you have a written agreement to which you can refer.
Care.com has comprehensive resources for this documentation including a sample contract, house rules and an outline of the family's daily schedule.
The tricky part is adapting these standard templates to your particular situation. Chances are, your nanny will have worked for other families and will come to the table with specific requests besides a certain rate of pay. She'll likely have the desired amount of time off, may request that her transportation or parking expenses be covered, request a bonus structure, prefer to be paid on or off the books, and may have preferences around the type of baby gear you provide (particularly in the case of a nanny share).
One thing that's clear after speaking with several San Francisco families who employ nannies is that you will learn as you go. The agreement with your first nanny may look very different than the agreement with your next one (and, chances are, there will be a next one). This is because you'll have a better understanding of what will and won't work for your family, and you'll have to match this evolving list of requisites against the needs and desires of a new person.
Here is some unofficial, unscientifically collected data from local families with nannies to consider when writing your nanny contracts.
What to Expect for a San Francisco Nanny Contract
Pay Rate: At the time of this publishing, it's common to pay a nanny in San Francisco $18 to $20 per hour to watch one child and $25 to $30 an hour to watch two children ($30+ is expected for three children). For nanny share contracts, it's important also to specify whether the rate of pay changes, if the nanny is only watching one child. The childcare schedule should include these times in advance.
Payroll Taxes: We would never recommend that you not comply with federal, state, and local payroll regulations, but some nannies prefer to be paid under the table (aka: in cash, off the books, money not reported to the government). That's a risk you'll have to decide whether you're willing to take, and there are plenty of families in San Francisco who do it. There are plenty of others who don't. They use payroll services like Poppins Payroll, Nannychex or HomePay, which handle all of the payroll taxes and enable you, as the employer, to utilize your Dependent Care Flexible Spending Account if you have one through your own employer. Also remember to call your insurance company to add worker's compensation coverage to your policy, since you'll have an employee working in your home.
Pay Frequency: If you're using a payroll service like the ones mentioned above, you'll probably be paying your nanny every two weeks, but weekly paychecks are typical for other arrangements.
Scheduling Flexibility: If you need a nanny who is willing to fluctuate hours, stay late, or spend nights at your house, this is best discussed upfront, during the interview stage. Generally, in these situations, a guarantee of a certain number of hours will be written into the contract, as will the rate of pay for overtime and overnight duties. It's common to establish a flat rate of pay (e.g. $100) or a reduced rate of pay for the overnight hours when children are asleep.
Paid Time Off: Ten paid vacation days is standard, as is paid time off for major holidays that fall on a typical workday for the nanny. Typically the nanny chooses the dates of one week off and your family selects the other week. California and San Francisco have more generous rules than the federal government for providing sick time to nannies working at least thirty hours a week, and a payroll service will keep up to date on these. Generally, families choose to provide this paid time upfront, rather than tracking accrued time off. This means you can expect to provide your nanny with at least three paid sick days a year. It's fair to ask your nanny to give you advanced notice to use these days for things like doctor's appointments, but understand that your nanny may have to use sick time on short notice, too.
Transportation: Paying for transportation to and from your home or paying for a parking permit seems to be a benefit families use to gain a competitive advantage over other families that nanny is considering, rather than a standard practice that all nannies expect to receive.
Bonuses & Pay Raises: Many families do give end-of-year bonuses to their nannies (anywhere from an extra week's to an extra month's pay), but these are rarely written into the contract. Similarly, most families review their nannies' rates of pay annually, but it's not common to guarantee a pay raise for the following year. Instead, they review performance and the current market for nannies to ensure they're still paying competitively.
Contract negotiations are never fun, but they're necessary and important to take care of upfront so you and your new nanny can focus on providing the best care for your family and developing a nanny-mommy partnership that works for everyone.