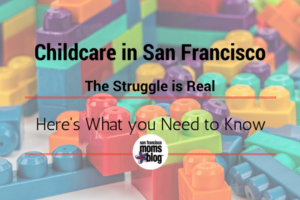 When I was thirteen weeks pregnant with my first child, I put my fetus's "name" on the waitlists of four daycare centers near our home. I recently received a call from one of them telling me that they had a spot open — My daughter is almost four years old. I never heard back from the other three, and this sums up the struggle many families have in finding affordable and reliable childcare in San Francisco.
Two of my friends got lucky and kept tabs on a soon-to-open daycare in their neighborhood and were able to get their infants in immediately. Most of my other friends ended up doing nanny shares. Some preferred this choice straight out of the gate, but others saw it as their only viable option because the supply of daycare centers in San Francisco doesn't match the demand of parents' childcare needs. This makes the waitlists long (I was number 68) and the price tags high.
The good news is that I'm noticing more childcare facilities opening in the city, and family circumstances change regularly, making many waitlists fluid and fantastic nannies frequently available, if you know how to look for them.
The right choice for childcare is a personal one, and we want to help you get the information you need to make it.
Stick with us for the rest of the week as we deep dive into more childcare topics: truths and tips for coordinating childcare, five topics to review with daycare providers, interviewing nannies, how to build a strong mommy-nanny partnership, and things to think about when setting up nanny contract and nanny-share agreements.
Have valuable insights of your own? Share them with us in the comments below!
*Editor's Note: An earlier version of this article included a link to Nurturelist. That website is still accessible, but the daycare center and preschool data is no longer maintain. Winnie has incorporated all of the information into their site.