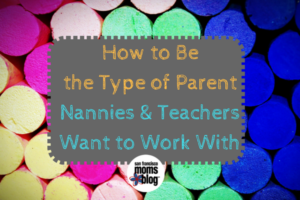 The nanny, daycare, and preschool hunts are intense no matter which part of the city you live. It is so overwhelming at times that you begin to prematurely stress about what the kindergarten admissions process will bring (and don't even get me started on college). But there's one part of the process I feel confident about – how to appropriately and effectively interact with my son's teachers. I've been on the other side of the table as a preschool teacher and nanny for ten years, so I know the type of parent that childcare providers and preschool teachers want to work with. Here are my helpful hints.
Be honest. When interviewing a nanny and going on daycare or preschool tours, ask all of your questions. If you hold back from asking important questions, then the childcare provider is not fully aware of your expectations for the care of your child. So, make that list about what it is you are looking for and ask away! If something comes up later, you can always follow up with an email.
Keep it professional. I know first hand how difficult it is to not become BFF's with your child's nanny or teacher. After all, they're spending a lot of time with the little person you love the most and often get an intimate peek into your life. But, it's for the best, so that you and your child's childcare provider can remain focused on what's best for your son or daughter without other distractions. Resist the urge to text your nanny or over share with your child's teacher. Once your nanny leaves your home for the day, she's off duty. Of course, if something simple comes up that you need answered quickly, like where your child's favorite cup/stuffed animal, etc. is, send her a text, but for other situations, send an email or wait to see her in person.
Be considerate of timing. If something is on your mind, email or schedule a phone call to check in with your child's teacher. Pick up and drop off are busy times and not the best moments to jump into important conversations. Teachers use morning drop off as a transition time to welcome students for the day, and their priority is helping each child get adjusted. If something needs to be discussed immediately, pick up is a better time for a quick conversation with a teacher. The same idea applies to nannies. Also, try to remember that it is often best not to discuss your child in front of him or her or in front of other parents and classmates. Our children are often more aware of our conversations than we give them credit.
Be appreciative. Teachers put a lot of time and energy into each child in their class and made the choice of this career based on a genuine love of children. The same goes for nannies. They are often spending the majority of their day caring for your child(ren). Both jobs are exhausting, and, if you are lucky enough to have a teacher or nanny who you and your child adore, then please take the time to tell them. Send a note or a special photo of your child with a handwritten message of thanks. It is such a small gesture, but most people do not send handwritten notes anymore. Taking the time to do so will touch your child's teacher or nanny and make them feel appreciated. Of course, gift cards for coffee are also highly valued because working with children all day requires a superhuman amount of energy… or just a whole lot of coffee!