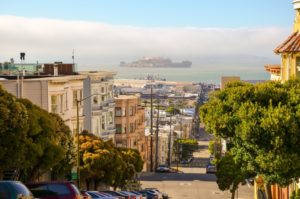 If you're reading this, you're probably considering whether to relocate to the Bay Area and specifically whether living in San Francisco is the right move for you. While you'll have to answer that for yourself, I'm here to share what it's really like to raise a family in San Francisco because all of us who write for San Francisco Moms Blog are doing just that.
The Reality
This place is expensive. You probably already know that, but it's worth repeating because unless you're moving here from New York City, one of the other most expensive cities in the world, or you have unlimited personal funds (can we be friends?), the cost of living here will take some getting used to – a gallon of milk, a pound of chicken, a pint of beer – it all seems to cost more here.
And then there's housing. The average rent for a three bedroom apartment in San Francisco is over $4,000 and will get you about 1,400 square feet. The cost can be much higher than that for not much more space, depending on the neighborhood. While I think there's something special about living in small spaces, it takes some getting used to if you're accustomed to a private garage, yard space, or a reasonable amount of storage.
And, not to burst your bubble, but the entire Bay Area is, well, a real estate bubble. You may get a little more space for your money in the 'burbs, but it's not going to stretch that far, so you might as well live here!
Where to Live
There are a bunch of wonderful, family-friendly neighborhoods all over the city, and we've compiled them for you into the San Francisco Neighborhood Guide for Families.
Of course, a lot is going to depend on your budget and priorities: size of living space, access to outdoor space, walkability, bikeability, access to mass transit, commute times, access to childcare, amenities like parking and laundry, safety, curb appeal and aesthetics of the neighborhood. Take time to explore the areas that interest you. Large areas like SoMa, with a decidedly downtown feel, can seem less inviting than intimate neighborhoods like Cole Valley, but the more time you spend there, the more local gems you'll discover. Consider the whole package before nixing a neighborhood off the list.
Childcare
I'm taking a deep breath before we dive into this discussion because the short answer is that finding childcare can be tough. We wrote a whole series of articles on the topic, including direct links to websites that'll help you find daycares, nannies, au pairs, and everything in between. This is something that every family has to deal, even if you don't move to the city, and the good news is that we all figure it out. You will, too!
After you read up on those posts, check out our childcare section of the website, where we're frequently adding articles written by local moms on this topic, and our summer camp guide for fun extracurricular experiences/ patchwork childcare solutions for the summer months.
Schools
Get comfy because this is where it gets really fun.
Preschools. If you do nothing else, read 7 Tips to Get into Preschool. It includes practical advice for navigating the application process (oh, yes, there are applications), and links to help you research preschools near you.
K – 12. There are many wonderful public schools in San Francisco, but the process of getting into them is pretty convoluted. It's too much to explain here, so please, please, please visit the San Francisco Unified School District website and Parents for Public Schools for an abundance of clearly explained information on the process. But now you're probably dying to know what it's all about, so here's a summary: it's a lottery system. You'll tour schools the year before you're ready to enroll and rank them on a school choice form, then you wait with bated breath for months until schools are assigned. If you're not happy you have multiple rounds of appeals to try to get into a different school. Complete these steps for kindergarten, most likely repeat them for middle school (some schools are K-8), and definitely do it again for high school. Of course, if you're moving here mid-year, the process is a little different, and that's why you want to read up on the websites mentioned above.
Plenty of parents also send their kids to private independent and parochial schools. You'll have tours, applications, mixers, and interviews for these, too. Check out Independent Schools of the San Francisco Bay Area (ISSFBA), the Archdiocese of San Francisco Catholic Schools, or the resources of your religious institution to find private school options that are a good fit for your family.
Why I Live Here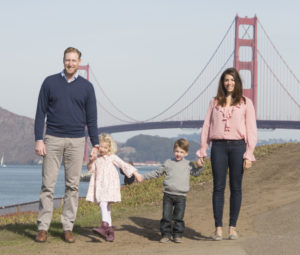 After writing out all of the obstacles to raising a family here, it took me a minute to remember all the good stuff. I often get asked if I think my children are sacrificing some idyllic part of their childhood by living in a city, and my answer is always no. Of course, I can't speak for all families living here, but for us, it's the best of all worlds.
Community. This big city starts to feel much smaller once kids enter the mix. For instance, we go trick or treating, just like families in the burbs (insider tip: here are the Halloween hot spots), and you'll be surprised how fast you see the same faces on the playground circuit and in music classes. Once kids hit school, there will be plenty of opportunities to mingle with other families, too. In the meantime, you can join San Francisco Moms Blog's neighborhood groups to find other families near you.
Convenience. Living in a densely populated area means you probably don't have to go far to get what you need. Out of milk? I bet there's a corner store close by. Want to go to Target? We've got them, too. Hate driving? You can probably walk, ride the bus (called the MUNI) or train (BART and Caltrain), or quickly grab a Lyft or Uber to where you need to go. Work in the city? Add to the list of commuting options Chariot and whatever other new "disruptor" service du jour has appeared on the scene. Commuting to Silicon Valley? Your company probably has a bus to take you there and back. Work in the East Bay or in Marin? Enjoy the reverse commute. Want to see all the pretty holiday displays in the big hotels and departments stores or a Broadway show touring through town? Easy peasy. You already live here.
It also means it's an on-demand city, where there is most definitely an app for everything you want, and many of them were created right here in SF! Need groceries, but can't make it out? Choose from one of the many food and grocery delivery services available, like Instacart, Good Eggs, Postmates, and Caviar. Wish Amazon could deliver the same day or in an hour? It does. Want help running errands or doing odd jobs around the house? TaskRabbit is for you. Wishing for someone to make you dinner? Pocket Chefs is perfect. Daydreaming of having a maid to straighten the bed and clean the dishes? Say "hi" to Fairy. No time to get gas for your car? Try Filld. Need an oil change? YourMechanic comes to you. No time to do laundry or pick up dry cleaning? Rinse picks up and delivers. The list goes on and on.
Outdoor living. We're the first city in the country to have a park within a ten-minute walk of every home. We're also one of the fittest cities in the nation, and that has a lot to do with our access to nature. Our kids aren't continuously breathing in dirty, dusty air in stuffy city streets. They're hiking, playing on the playground and at the beach, running around Golden Gate Park, toddling up steep hills, and playing outside in fog or shine (The rain can send us indoors. We're not Seattle, after all).

It sounds cool. This is totally vain, but I'm being honest here. When we travel, and people ask where we live, it's fun to say San Francisco. It's a world-famous city and is well thought of internationally. Plus, it's really nice to not have to use any more descriptors than that to explain ourselves. We live in San Francisco – not fifteen minutes south, not an hour east, just San Francisco.
I say all of this not to dis my fellow writers south at Mid-Peninsula Moms Blog or up at Wine Country Moms Blog or anyone else in the Bay Area. This whole part of the country is an amazing place to live, but for my family, the city is the place to be. Maybe it'll be the right fit for you, too. Leave your questions in the comments, and let's see if we can help you decide.
For the locals reading this, share your thoughts about living here, too.  The more perspectives, the better!