This post is sponsored, but the opinions are 100% our own.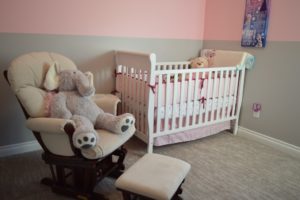 I intended to order cordless blinds for my daughter's room but accidentally ordered the corded kind. My husband's eyes widened when he saw them. As a little boy, a family in his hometown lost their baby when a window cord that was too close to her crib strangled her. It was a tragic accident that made everyone in town hug their children a little closer and one he never forgot. Better safe than sorry is an understatement when it comes to baby proofing.
I spoke with Alex Lund, a professional child proofer and owner of SafetyNook, to learn about baby proofing must do's and the common mistakes parents make. He takes a minimalist approach to childproofing, which I like, prioritizing the areas of the home that pose the greatest risk to your baby's safety and worrying less about the possibility of babies getting minor bumps or bruises. Here are my top takeaways.
Renting is not an excuse to avoid baby proofing. Most products that must be drilled into furniture, walls, and cabinetry make small holes that are easily fixable with wood fillers or wall fillers. SafetyNook services plenty of families who are renting their homes, so if other renters are doing it, you should, too.
Get ahead of the game. Child proof your home in advance of your baby's next stage, so that you're not scrambling to catch up with your newly mobile little one or panic buying ineffective products. Most parents start getting serious about baby proofing when their child is between six and nine months old. If you really want to be proactive, start when your baby is around three months old, so you can make small changes incrementally. If you do want to engage the services of a professional, like Alex, remember that they're busy and booked for a few weeks in advance. Better to reach out sooner than later.
Ineffective child proofing products are more dangerous than no child proofing at all. When you think your home is safe, but the products you've installed are either cheaply made and unreliable or improperly put into place, you'll have a false sense of security, and this may make you less vigilant in watching your baby when you're in the comfort of your own home. Be critical when choosing baby proofing products. Read reviews and ask professionals like Alex which ones they recommend.
It's not all about buying products. Your home is a dynamic place. Safety gates and latches can only do so much. It's important to make sure small objects remain out of reach, that loose plastic bags and dry cleaner bags are disposed of properly, and that baby camera monitors (and their power cords) are mounted away from cribs.
Some baby proofing will stay as your children grow. We live in an earthquake zone, so keep those dressers and other large furniture pieces anchored to the wall. Safety gates on stairs are still useful after your child has mastered steps because they slow them down from taking the stairs too fast. Safety bars on windows keep pets and older children safe, since screens are not designed to hold that much weight. I had a friend who fell out of a second story window when she was nine years old (amazingly, she was fine), so I can personally attest to the importance of window safety long after the baby phase.
Baby proofing only works when adults remember to do it. Don't rely on self-closing products like automatic latching gates. It's better to always have a hand on the product installed, rather than assume it locked and find out the hard way that it didn't. Install pantry flip locks and blind cord clips at eye level, as a visual reminder to the adults in the house to use them. Frame a "how to use this toilet lock" guide and put it above the toilet for guests. Keep the house tidy to avoid leaving tiny objects around that your baby might pick up.
Baby proofing responsibilities travel with you. When you're staying at hotel, rental house, or family member's house, you'll need to think about safety, but you may be limited in what you can do. Most importantly, watch your child! It can be easy to get distracted when we're out of our normal routine, and that's when accidents happen. Beyond that, if you know your child is particularly attracted to a certain safety hazard, plan accordingly. Bring a portable, lightweight gate to keep kids out of rooms or away from stairs. Bring a box of plastic outlet plugs, if your toddler takes an interest in those magical little holes. Carry a roll of duct tap to create a temporary toilet lock to keep water loving babies at bay, and easily transportable door knob covers will keep your little escape artist on the safe side of the door.
If you're wondering whether you're overlooking a safety hazard in your home, give SafetyNook a call to come out for a consultation. They'll walk through every room with you room, pointing out things that can be changed and looking for creative solutions to make it happen, like rearranging furniture, rather than jumping right to products that need to be purchased.
We spend so much time and money researching and purchasing pricey car seats to ensure our kids' safety when we're on the go, and we should be just as vigilant for the time spent in their own homes. Better safe than sorry.