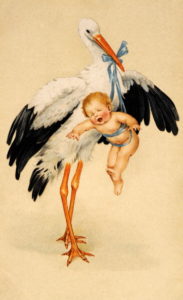 Every parent reaches a point when it's time to talk to your kids about private parts. My moment came when I overheard my two-year-old tell his baby brother that I pooped him out when he was born. He was definitely too young for all the details, but I clearly had to set some of the story straight, which meant deciding how I was going to refer to the anatomy.
Everyone's comfort level is different, so no matter how young your child is, start thinking about the terms you want to use. Some of my friends are no nonsense and have used anatomically correct words from the get-go. Another, less comfortable friend referred to the whole undercarriage, for both her boy and girl, as the "boom bah."
There are advantages and disadvantages to both approaches. If you choose to be direct, prepare for your toddler to refer to his penis out in public (and no matter what his decibel, it will seem really loud). On the other hand, if you use a made-up word, you may be sending the early message to your child that you find it difficult to be candid with them and/or that their bodies are embarrassing.
If you're nervous about navigating these waters, help is on its way. You can always get your pediatrician's input on the topic or just drop by the bookstore.  A couple books new parents recommend include:
 The Birds, the Bees and The Berenstain Bears
Babies Don't Eat Pizza: A Big Kids' Book About Baby Brothers and Baby Sisters.
A bonus of both of these books is that they not only age-appropriately explain how babies are made, but also help prepare older siblings for the arrival of a new baby.
Authors Robie H. Harris and Michael Emberley have also mastered the content for slightly older kids. Parents with elementary school kids can start with:
It's So Amazing!: A Book about Eggs, Sperm, Birth, Babies, and Families
It's Not the Stork!: A Book About Girls, Boys, Babies, Bodies, Families and Friends.
These books do come with more graphic, cartoon drawings, as well as discuss more mature topics, so you may want to flip through them first to make sure you're child is ready for it (not to mention that you are!).
No matter how you approach it, congratulations on getting started. It's never too early to start these conversations with your children. And, by naturally introducing hard topics early, you are setting the stage for them to be able to hopefully approach you about things they need to talk about down the road.