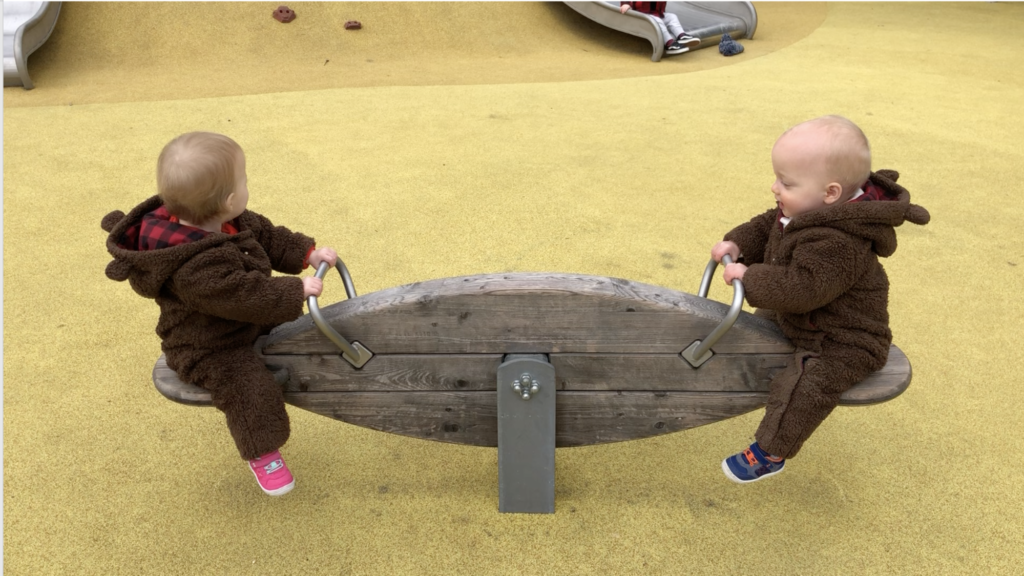 Earlier this week, I did the daycare pick up by myself, and I was stressed the whole way over. I wasn't sure if I'd be able to find a parking spot, and then I couldn't quite figure out how I was going to get the (non-walking) twins into the car. I'd likely have to park across the street and then, what do I do about the 16 steps that lead up to the daycare entrance?
Luckily, our amazing daycare teacher graciously carried one of the kids to the car with me and helped get him buckled in while I managed the other one. Just another example of how tricky and often isolating it is having (baby) twins.
This is definitely not the first time I've had to strategically plan my moves in order to navigate the city with twins. Several months back we went to a music class that was on the second floor of a building. Thankfully I thought ahead to bring my sling and was able to load one baby into the sling and carry the other baby up the steps on my hip. Anytime I have to park my stroller outside or downstairs, I need to be extra sure I can figure out how to maneuver both babies inside at the same time.
Sure, this will all get infinitely better when they can walk (and run away!) but the first year or so with twins can be so incredibly isolating when every outing takes an extra hour of planning.
In many cases though, it's not even a planning issue—the activity is simply impossible. I couldn't attend any of the fun Mommy & Me workout classes because I couldn't wear both babies in a carrier at the same time. I couldn't meet up with moms at the Museum of Ice Cream, Candytopia or The Color Factory because they don't allow strollers. The De Young Museum allows strollers but not double strollers. And swimming classes were totally out of the question as well.
On the weekends, my husband and I would try to do some of the activities that necessitated two adults, but the weekends aren't the issue. I would have loved to meet up with new moms for coffee as I wore my single sleeping baby in a carrier but that just wasn't feasible. Getting the twins anywhere further than a short walk involves driving and then parking which is no fun in the city. We don't have the ability to hop on the bus or jump in a rideshare. (But props to the mamas who successfully navigate this stuff!)
Just last week, I took the twins to a music class in Fort Mason. I prepared for the worst but was thrilled when there was a ramp entrance, an elevator, and I didn't have to park the stroller a mile away from the classroom. I carried both kids in and we got settled on the rug. After one to two introductory songs, it was time to get up and move/dance! Fun! Except all the other kids had a 1:1 ratio of kid to adult (and they were walking). I had to enlist the help of the teacher to carry my less fearful child for the dancing parts. Eventually, she had to pick her instrument back up and I was left, yet again, holding two 23 pound babies, feeling totally and completely isolated.