Calling All Young and Young-at-Heart!
We heard you have been very good this year. Well, do we have an amazing series of events lined up for you and your family! We are so excited to have you join our Holiday Extravaganza, featuring 12 festive virtual events, including a holiday baking special, arts & crafts workshop, DIY wreath making event, Tree decorating webinar, winter chic fashion show, exclusive family yoga session, a holiday music class for kids, beauty seminar for moms, eco gift wrapping tutorial, chef's specials, eco gift wrapping, and more!
Do Good. Feel Good. 2020.
ALL Holiday Extravaganza events are virtual AND recorded, so you can still access all the exclusive events after they are broadcasted! What's more – admission is only $20, with a whopping 20% going to help support an amazing local charity during the pandemic era.=
Come together with other moms and families, and join in on all the festive activities offered by our very own SFBAM team 'mom'ber and our amazing partners.
Did we mention the goodies? All attendees at the virtual event will have a chance to win from a selection of marvelous products totaling over $2,500 in value from premium brands such as Macy's, Blue Bear School of Music, Goliath, Ambiance SF, EcoVessel, MOLECULE,  ElizabethW, MAM, goSili, Pediped, Keabbaies, ergoPouch, ellevateMD, Three Peaks, Pocket Chef, and many more!
Come one, come all! Invite everyone you know and love!
Each Holiday Extravaganza Ticket = 1 Raffle Ticket
Be sure to get your tickets BEFORE Dec 12
to be included in the GIVEAWAY RAFFLE!
---
Who | EVERYONE
When | Tuesday, December 1, 2020 – Saturday, December 12, 2020
Where | All registered attendees will be given a private Facebook link to access the event
Tickets* | $20 – Register now to guarantee your access!
Your ticket includes:
Admission to ALL virtual events via Facebook private group (link will be sent to you)

One event will be happening per event day, but don't worry if you've missed one – everything will be recorded so you can re-visit the event!

Entry to 12-day giveaway raffle for all kinds of goodies (keep your ticket order no. handy!)
A FREE bundle of Christmas tree trimmings (Greenery) for your DIY wreath-making
Exclusive discounts and offers from amazing brands and local businesses
Opportunity to learn about local businesses and services relevant to families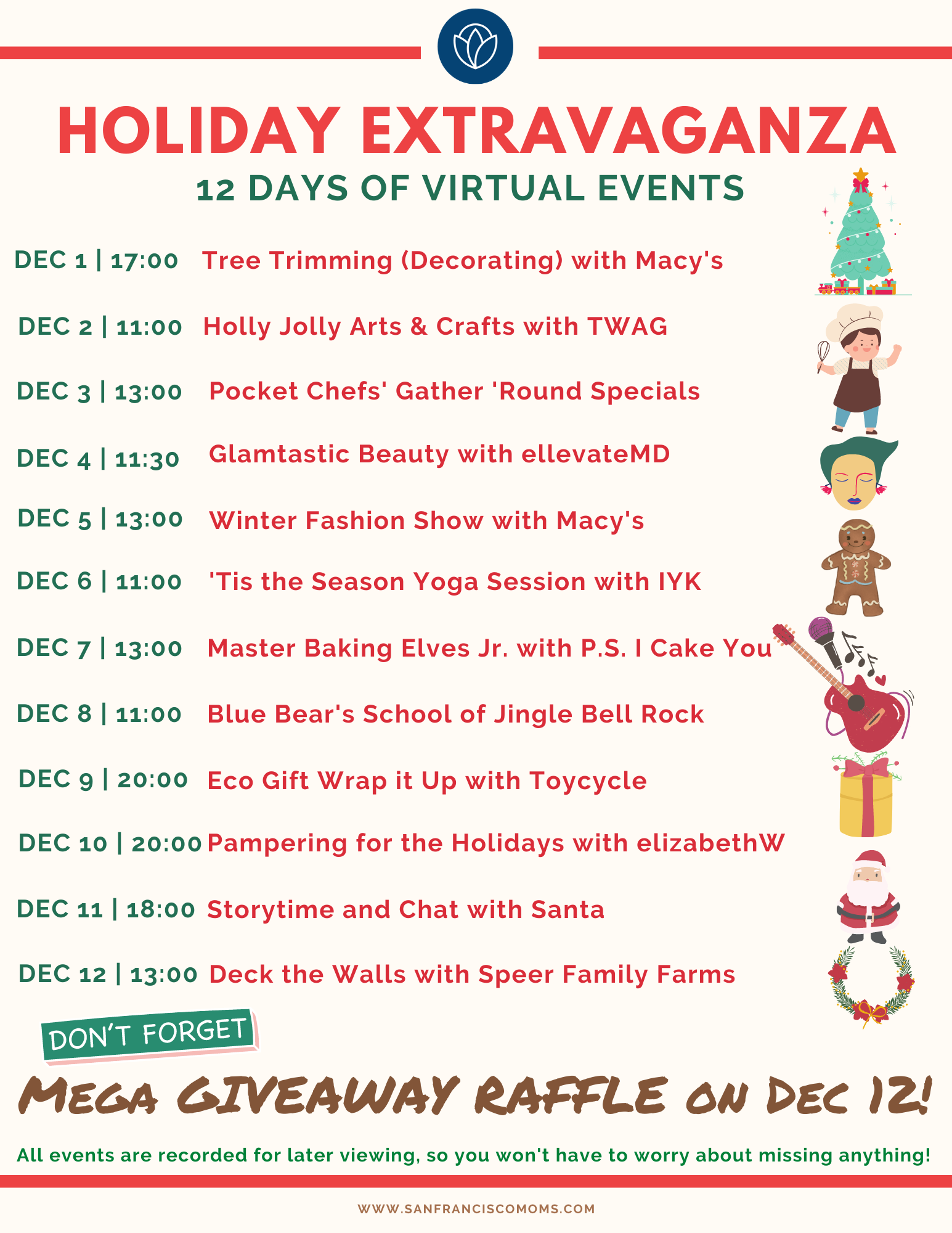 *Note: By registering for this event, you will automatically be entered into the event giveaway raffle and be subscribed to San Francisco Bay Area Moms' newsletter.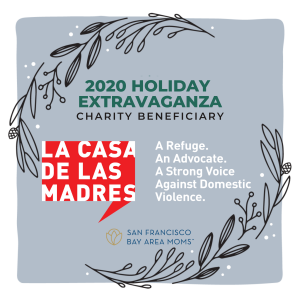 The mission of La Casa de las Madres is to respond to calls for help from domestic violence victims, of all ages, 24 hours a day, 365 days a year. We give survivors the tools to transform their lives. We seek to prevent future violence by educating the community and by redefining public perceptions about domestic violence. 
La Casa de las Madres offers comprehensive, strengths-based support services. We provide safety and support in times of crisis, and work with survivors to increase their access to resources and tools that will help them build lives free from fear and abuse.
Holiday Extravaganza Event Partners
Get to know each of these amazing event partners. Each business offers something wonderful for San Francisco Bay Area moms and families – we are pleased to have these great brands join us!
Ticket holders, please STAY TUNED for more information on how to pick up your FREE bundle of greenery, brought to you by our Deck the Wall partner Speer Family Farms!

Giveaway Sponsors

What's a San Francisco Bay Area Moms event without giveaways?! As always, we have brought a number of awesome giveaways to you from our giveaway sponsors. Good luck!

San Francisco Bay Area Moms is an open-source parenting resource destination, and prides itself in providing quality, professional, and authentic content to families in the Bay Area. Our passion-driven team of dedicated moms dedicates their time and energy to pour their souls out and share their expertise with you.

If you would like to show your support, please consider giving a token of appreciation to keep us going during these unprecedented times. For every $10 received, we will donate $1 to Safe and Sound.

Disclaimer: Photos and video recordings will be taken at the virtual event. By registering an event ticket, attendees grant permission for their likenesses to be used on the website and on social media by San Francisco Bay Area Moms and sponsors.

Be a SF Bay Area Moms Insider!