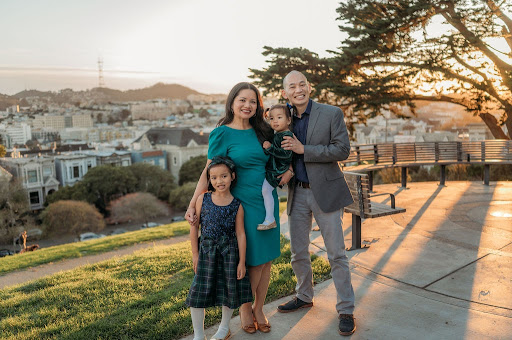 Seventeen more days until Christmas!
I can't believe Christmas is almost here. It snuck up on me the way tax season does in April. Thankfully, I've finished most of my Christmas shopping. I started doing themed gifts a few years ago, and it has done wonders for my gifting. One year, I gave socks. Another year, it was sweaters. This year's theme is inspired by my own desire to get away from a computer screen.
In addition to themed gifts, I also have a theme for our Christmas tree decor: the girls get to pick a new ornament for themselves every year. When they move out on their own, they can take their ornaments with them. These themes speak to something I love most about Christmas: traditions. I loved the ones I had with my family growing up and I love the ones I am creating with my own family now. My two favorite traditions are taking family photos and celebrating Nochebuena.
Taking family photos
Taking family photos can be an exhausting feat for any family, especially with two young children! For us, there is something so wonderful about getting dressed up and taking photos. With the right photographer, taking family photos can be magical. I love our family photographer, Emily Jenks. I knew we met someone special last year when both of my children were smiling and/or looking at the camera. We enjoyed our experience so much we rebooked for this year, with the anticipation that we had to account for short attention spans and the always "on-the-go" Alice.
Emily was ready for the challenge, and snapped away, taking dazzling photos on a most perfect Tuesday. For two years in a row, we have made a family date of it with dinner from our favorite restaurant after. We love seeing how the girls grow from year to year. As a parent, it's nice to see us dressed up for photos, versus our usual casual attire (e.g. my bright-colored athleisure or my hubs' hoodie and jeans). I can't wait to plan next year's session.
Celebrating Nochebuena
When I think of Christmas, I always think of Nochebuena. "Nochebuena" is the Spanish word for Christmas Eve and it is the Filipino Christmas tradition of attending Midnight Mass on Christmas and having snacks after. Growing up, no matter where my dad was stationed, we always attended the Midnight Mass, had snacks at home, and opened our Christmas gifts. Christmas was always celebrated on Christmas Eve. Christmas day was spent sleeping in, watching movies in our pajamas, and playing with our toys. My mama served stuffed chicken (chicken relleno) with rolls (pan de sal), Edam cheese (Queso de Bola), and hot chocolate (I added a dessert when I started baking).
I loved eating these annual celebratory dishes and staying up late with my family. So, I've incorporated a few of these childhood traditions with our family, sans the late-night Mass (as the late-night Mass does not jive with Alice's sleep schedule). Last year, we watched a church service on TV and had a grand time opening our presents while nibbling on cheese and warm pan de sal. This year, we will do the same, and I will add a few other snacks to the mix.  I am dreaming of hot chocolate with peppermint schnapps for the hubs and me! Unlike my childhood, Christmas day will be celebrating Alice's birthday. Yes, we have a theme for her 2nd birthday!
While the last few years have changed how I celebrate the holidays, they have not taken away my joy; in fact, they have inspired me to be more creative with the traditions I hold dear. I hope our children enjoy these traditions as much as we do! 
Merry Christmas to you and yours!