Dana Nachman is a Bay Area momma who also happens to be an award winning filmmaker. Her new documentary film, "Dear Santa" will be released on December 4. It is a heartwarming story of the United States Postal Services' "Operation Santa" that has been in existence for over 100 years.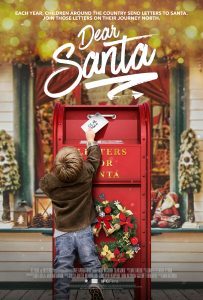 Every year, tens of thousands of children write letters to Santa and they go through the USPS before heading to the North Pole. Santa discovered a while ago that he requires some elf helpers in order to make all of those wishes come true. In "Dear Santa", Dana tells the story of both the children who are writing to Santa and the elves who are ready to help Santa bring Christmas joy to all.
In our time together, Dana talks about why she was moved to make this film as well as the impact Operation Santa has on children and elves alike. We hope you will stream the film where available. It is sure to get you in the holiday spirit. You might even find yourself wanting to be an elf next year.