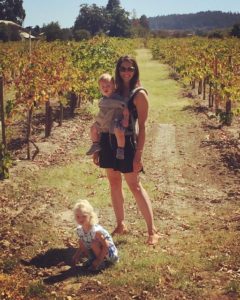 The other day my three year old asked me when we were going to wine country again. My husband and I smiled and mentally gave each other high fives because her question means our plan is working. We've proven to her that wine country is fun for both kids and adults.
I'm always surprised when I hear parents say they haven't taken their kids to a winery, yet. Of course, if they don't drink wine, this is understandable, but if they do, there's no reason not to go. Plenty of wineries are family-friendly, and it's a great day trip to do with friends.
If you have an infant, really, there's no excuse not to go. Strap that baby into a carrier and get to tasting. If you have a toddler or young school-aged child, here are some tips to make your trip a good one.
Plan ahead.
Do your research on which wineries are appropriate for children before you go. Then, read on for my family's personal wine tasting routes. Stock your diaper bag with both quiet activities to distract kids during the tastings, like coloring books, sticker books, Matchbox cars, little figurines and, of course, your phone, and outdoor activities like balls and games for picnicking on the grounds.
Keep it simple.
Aim for visiting two or three wineries at most. This isn't the party bus experience of your youth where you hop from winery to winery with the sole purpose of consuming as much wine as possible. This is about having a relaxing day as a family to picnic, where the kids have space to run around while the parents sample delicious wine.
Invite your friends.
A picnic is always more fun when everyone has a friend, and the kids will probably be better behaved if there are other children to occupy them.
Take shifts tasting.
Go ahead and all do a tasting together if your kids will tolerate it. The free breadsticks and chocolate that a lot of wineries provide as part of the tasting go a long way to entertain the children. If you're looking to do a more leisurely tasting and really focus on the wine, it's best to divide and conquer. Buy a bottle of wine and send a few people outside to stay with the kids, while the other adults taste in peace. Then, switch places.
Designate a driver or hire one.
This goes without saying, but I'm going to say it anyway. Make sure you have a plan to drive safely to, from and around the wineries. For special occasions, we hire a personal driver through the service Dryver (formerly called Be My DD). They come to our house and drive our car for the day.  This way, we don't need to transfer car seats into another car, and it's usually less expensive than hiring a limousine. Some people think we're the most responsible people in the world for doing this, and others think we're the most irresponsible since it implies we're drinking a lot around our kids. Our motive lies somewhere in the middle: We want to get an extra pour at a winery without worrying about the safety of our family.
Where to Go
Here are our two usual wine tasting routes. Both are in Sonoma County because that's where the wineries that we belong to are located, but I'd love to hear where you like to go in both Napa and Sonoma. Leave your recommendations in the comments!

Sonoma
The Route:
Bonus Parenting Points:
Start your day at

Train Town

to ease any guilt of spending the rest of the day at wineries. Get there for when it opens (10:00 AM), immediately get in line for the train, pat yourself on the back for providing your kids the chance to ride a train that stops at a petting zoo, buy a pretzel or popcorn for the road, and then head over to the wineries. Cut out one of the first two wineries, if you're pressed for time.
Healdsburg
The Route:
Leave the city between 9:30 AM and 10:00 AM to avoid traffic near Petaluma and to make it to the first winery for their opening at 11:00 (It'll be less crowded at this time).

Call ahead from the road to place your sandwich order at

Dry Creek General Store

. If you prefer a sit-down meal,

Bear Republic Brewery

in downtown Healdsburg is great.

Start at

Kokomo Winery

, where the staff is friendly and the wine is out of this world (lots of medal-winning wines at reasonable prices here). The casual vibe and welcoming staff make this a good place for families. It's a small tasting room, so keep your kids close, or take shifts tasting, so they can stay outside playing near the picnic tables and bocce court. Kokomo is situated among a group of wineries at Timber Crest Farms, so if you don't want to do a lot of driving, you can maximize your time by walking between buildings and trying multiple wineries.

Then, head to

Bella Vineyards and Wine Caves

, where both kids and adults will get a kick out of tasting in an actual cave. Buy a bottle of wine and go lounge in their Adirondack chairs or borrow one of their blankets for a picnic. The kids will pass the time playing with the hula hoops, bean bag game, or climbing a few trees.

Enjoy a peaceful drive home as your kids almost immediately conk out in their car seats.
Alternative Wineries in the Area:
Quivira Vineyards

practices holistically and sustainable farming practices and grows all of its grapes on site. Adults will enjoy learning about these processes while the kids will have fun looking at the chickens and other farm animals living on the property. Walk the paths through some of their farmland, if little legs need to stretch.

Truett-Hurst

also has a lot of animals on the property, as well as open space for kids to play and a picnic area near Dry Creek. Wading in the water is not allowed, though, so if this temptation will be too great for your little ones, stick with the tables near the animals.
Remember, people travel from all over the world to wine taste in Napa and Sonoma, so we have no excuse not to enjoy these wineries when they're only a short drive away. My recommendations are just a minuscule sampling of the family-friendly winery options available, so ask around and share your favorites with us. Cheers!