We love a good deal, especially when it means we don't have to make dinner tonight, so we partnered with local restaurants Curry Up Now and SAJJ Mediterranean to have two of our contributors try them out. Read on for the details of their summer specials and our writers' reviews.
Curry Up Now, the Bay Area-based fast casual known for taking Indian cuisine and presenting it in a friendly and recognizable format is celebrating summer with a Kids Eat FREE promo in-store at all six locations. Kids 10 and under will receive a complimentary kids meal with the purchase of any adult entree Mondays through Thursdays. Curry Up Now's Indian-inspired offerings include the Bunty Burrito, Naan Pizza, Bun Ommie, as well as classics like Tia's Quesadilla and Chicken Tenders. For more information, visit www.curryupnow.com and follow @CurryUpNow on Instagram, Facebook, and Twitter.

Robin's Review:
There are few more magical phrases in my life right now than, "Don't worry about the kids' dinner tonight." And if that dinner is flavorful, packed with fresh ingredients, and hits the table minutes after my kids sit down, well then, you just might be my new best friend.
I had driven by
Curry Up Now
numerous times on various trips through downtown Palo Alto, and since our family loves Indian food, I made a mental note to check it out. Then, each time, I promptly forgot–mom brain is real! Fortunately, we had the opportunity to go on a recent Tuesday to take advantage of the fast-casual restaurant's summer-long "Kids Eat FREE" promo (available to children 10 and under).
My older two kids will eat just about anything that's presented like a burrito, so they were huge fans of the chicken burrito with mildly spiced butter masala. My baby, meanwhile, grabbed hold of a flaky, empanada-like vegetarian Samosa and went to town (I managed to steal a few bites when her guard was down, and it was indeed delicious). We also sampled a beautifully prepared chicken Biryani, one of the signature dishes, which resembled a paella. It was a lot of food, even for my hearty little eaters, so we brought home a bag of leftovers that continued to satisfy us (and lighten my cooking load) for the next couple of days.
The restaurant does a brisk take-out business, but if you're looking to dine in, the seating area was comfortable and clean (at least when we sat down!), and the staff couldn't have been friendlier. A bonus shout-out to the server who patiently played peek-a-boo with my baby girl for longer than he likely bargained for.
Curry Up Now is a great addition to our family's take-out or quick-sit-down rotation, and what better incentive to return soon than the promo (see details below)! If Palo Alto isn't convenient for you, they have five other locations in the Bay Area. So curry up and get over there!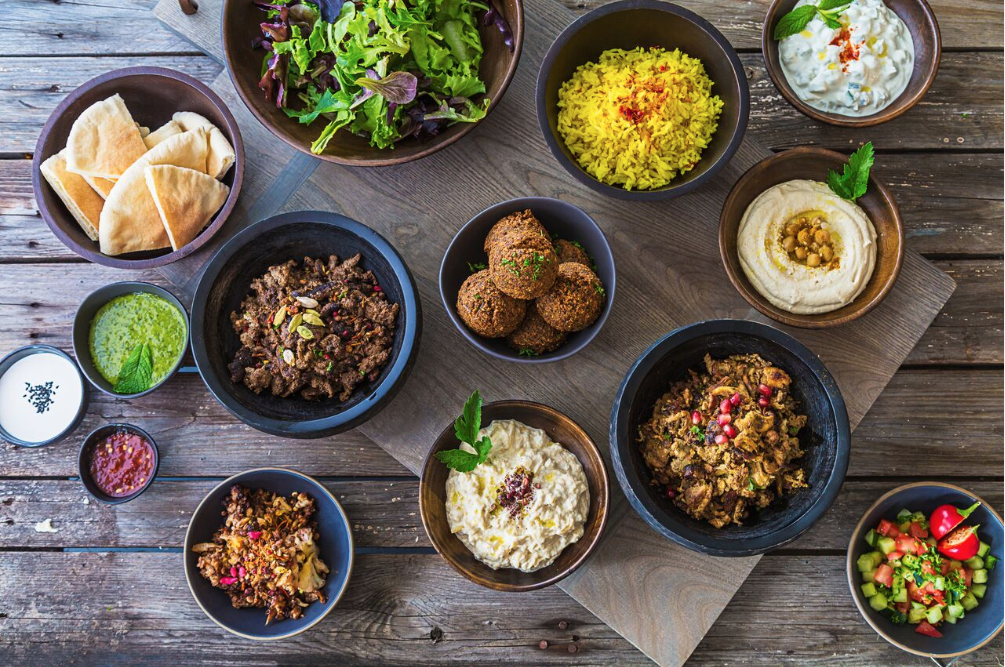 SAJJ
Mediterranean

is making summer night dinners easy with their Family Meal Deal Feast for 4 ($29.99). The meal package includes

SAJJ

's award-winning falafel, chicken shawarma, turmeric rice, hummus, tzatziki, mixed green salad, pita bread,

SAJJ

sauces, and a complimentary side of chocolate hummus and cinnamon chips to sweeten the deal. The Family Meal Deal is available for
carry
out daily from

3-9PM

and all day on Saturday and Sunday at

SAJJ

's San Jose, Mountain View, and Sunnyvale stores. Visit www.sajjstreeteats.com for more information, and follow @SAJJStreetEats on Facebook, Instagram, and Twitter.

Wendi's Review:
There are so many nights that cooking dinner is just too overwhelming after spending the day running around with my three kiddos. I often want to order delivery but there are so few places that everyone in my house is happy with. I was super excited when I had the opportunity to try SAJJ Mediterranean. I have to admit that I was a little bit reluctant given that my husband is Lebanese and we were ordering Middle Eastern food. Both my oldest daughter and my husband are pretty picky when it comes to food from a culture we are familiar with (and have been lucky enough to have enjoyed home cooked food from their grandmother who lives in Beirut, Lebanon).
We received the Family Meal Deal and overall it was a great success. I want to take a minute to review each entree in detail and share with you my honest feedback.
The chicken shawarma was seriously "off the hook." Everyone in my family loved it. I have no idea how they made it and sadly I wouldn't be able to replicate this (I am a pretty good cook when it comes to Middle Eastern food). The turmeric rice was on point – tasty, but not overwhelming or over spiced. Their award-winning falafel, unfortunately, was not a winner in my household. I liked that it was crispy on the outside and had a great texture inside, but it was way too spicy for my kids and for me it was not typical of the falafel I am used to (Sorry SAJJ). On the contrary, the tzatziki was the best I have had in a long time and I couldn't stop eating it.
My husband who is from Lebanon and is extremely picky about hummus thought their hummus was authentic and spot on. The pita bread was warm and my kids loved it. I generally try to limit my carbs but I couldn't resist a few bites. Making a small sandwich with the pita bread, hummus, tzatziki, and chicken schwarma was delicious! For dessert, the cinnamon chips were a huge hit. The chocolate hummus was "interesting" per my 7- year old daughter. I personally wasn't a fan of the chocolate hummus but I am more of a purist and prefer the hummus as is.
Overall, we were wholly happy with SAJJ Mediterranean and it was a winner in our household. We will definitely add this to our narrow list of favorite take-out/delivery restaurants. I give it a two-thumbs up and recommend that you give it a try when it is one of those days when you don't have the time to make a home cooked meal but want something that is easy, healthy and appetizing for all!