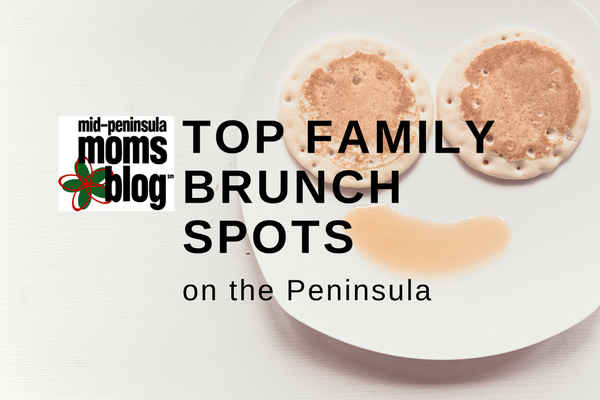 I love any place I can get coffee and cocktails at the same time that doesn't cause people to give me a sideways glance. Plus, my kids are usually rested and hungry enough to be enjoyable and somewhat reasonable at a restaurant, so for our family, brunch it is!
The Peninsula is full of awesome brunch spots for families or even sans kids!
Belmont
Hobees – 1101 Shoreway Road, Belmont
With six locations across the Peninsula and South Bay, Hobees is a staple in the area. The kids' menu and gluten free menu mean there's something for everyone on the menu.
Burlingame
Alana's – 1408 Burlingame Avenue, Burlingame
Of course, there are the staples, like Stacks and Copenhagen's, but Burlingame has done an amazing job revamping the street over the past three years. They have Alana's Café, which feels like the amazing neighborhood breakfast spot it is. They also have a location in Redwood City.
San Carlos
TOWN – 716 Laurel Street, San Carlos
Our favorite spot for family brunch is TOWN on Laurel Street. In the nice-weather months (so most months), you can eat outside. If you have kids, they bring you a warm chocolate chip muffin immediately after you sit down!
Johnson's Saltbox –1796 Laurel Street, San Carlos
Johnson's Saltbox is the sweetest restaurant tucked away at the south end of Laurel Street. The menu changes seasonally, which gives this hideaway a farm to table feel. Because of its small size, they don't take reservations or large groups, so expect a wait on weekends.
Sky Kitchen Cafe – 620 Airport Way, San Carlos
Near the Hiller Museum, this spot is perfect for your little airplane lovers. You can watch the planes take off from San Carlos airport as you feast on home-style breakfast and lunch options.
Redwood City
Alana's – 1020 Main Street @ Middlefield Road, Redwood City
Located in the historic Dielman house, four dining rooms offer cozy seating plus a scenic patio for dining outside.
Angelica's– 863 Main Street, Redwood City
Located in the heart of the historic district, this fun location has a great outdoor patio space, delicious mimosas, and is dog-friendly.
Main and Elm– 150 Elm Street, Redwood City
Originally a coffee roasting building, this trendy, home-style destination boasts an outdoor patio with live music and fire pits, as well as a wine and beer bar.
Menlo Park
Coffeebar – 1149 Chestnut Street (between Crane and Chestnuts Streets)
Coffeebar! Literally the hottest spot in town! The newest location of the Tahoe franchise opened a few months ago and is consistently packed. There are large tables and it's super laid back. They have a more casual food offering, like avocado toast, banana toast, breakfast burritos, and a selection of pastries. The coffee is also pretty amazing (duh!)
Palo Alto ( & south)
Palo Alto Creamery Foutain & Grill – 566 Emerson Street, Palo Alto
The Creamery is our family's favorite. You never have to worry how loud your kids are because it's always full of families. It's traditional diner fare, but the milkshakes and pies are to die for! I always "suggest" my kids should get one and steal a few sips!
Hobees – 4224 El Camino Real, Palo Alto
With six locations across the Peninsula and South Bay, Hobees is a staple in the area. The kids' menu and gluten free menu mean there's something for everyone on the menu.
Bumble – 145 1st Street, Los Altos
Bumble in Los Altos is a gold mine for families. They have a playroom for children ages 1- 10 years old, where you can actually drop off your kids while you dine in peace! Plus, there's a sandbox, endless high chairs, and the most family-friendly menu you can imagine.
LB Steak – 334 Santana Row, Suite 1000, San Jose
I was so sad to hear that LB Steak recently closed its doors on its Menlo Park location because it is a surprise win for families and a classic for adults-only. Luckily, its spot on Santana Row is still open. If you're feeling like your younger self, they have bottomless mimosas and artisan cocktails. The brunch menu is small but covers all the bases and the sidewalk dining always is a win.
Sky Kitchen Cafe – 445 Blossom Hill Road, San Jose
The popularity of the original spot near the Hiller Museum led to the opening of the second location in San Jose. Serving home-style breakfast and lunch options made from fresh ingredients, this one's a crowd pleaser.
Editor's note: This article originally published on April 1, 2018.