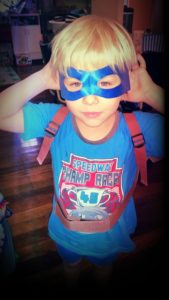 We all know that reading to children is important. All too often though, we read to our kids to quiet their minds and bodies – a perfect tool for bedtime. But books also have the potential to enliven our kids' minds, foster their empathy, develop their worldview, and get those wiggles out!
Creative Dramatics is a process of engaging children in the experience of a story. It's basically adult-guided make-believe. The benefits include developing independent thinking, self-awareness, early literacy skills, healthy emotional expression, and cooperative play. And best of all, kids love it – particularly if you have kinesthetic learners in your house.
Characteristics of kinesthetic learners: they wiggle – a lot, constantly tapping their fingers, swinging their legs, and touching everything. Well, let them! These children learn best while manipulating their world. They learn through their bodies – they learn by doing. Creative Dramatics gets them doing reading!
Let's turn your living room into a black box theater and you into a first-class director:
Make some space.

You don't need a stage. Creative Dramatics works best when children are inwardly focused on their process not on creating a product to show grandma and grandpa. (Although, if the kids decide they want to "show" their play – go for it!)

Pick a book.

Any

book works. Kids' imaginations allow them to "become" just about anyone or anything. Don't shy away from a book because it seems too hard to act out. They'll find a way.

Read the book.

If it's a new book to the kids, read it through once without any acting. This allows them to get a feel for the characters, setting, actions and conflict. If your story is a well-loved favorite, dive into Step 4.

Let them pick a character to "become."

They can change characters as often as they want. And if you have three kids who all want to be Little Red Riding Hood – that's great, too! They can work together as a team of Little Reds or they can each be in their own mini story.

Read a page. Let them act it out. Repeat.

Encourage them to mime actions, or use whatever is handy as a prop or costume: Daddy's shirt as a cape, an empty lunchbox as a basket, or a pillow as the Big Bad Wolf. The goal is to encourage problem solving and imaginative use of movement and things.

Discuss and interject.

Ask what a character might be feeling: "Hey, Little Red is all alone in the dark woods. How might she feel? What does that feeling look like?" Talk about how the story differs from what you might do in real life: "Little Red is walking in the woods alone. Would we do that in real life? What might you do instead?" Ask for predictions: "What do you think is going to happen on the next page? How should we prepare?"

Celebrate!

When you finish the story, congratulate each other on a great collaboration. Ask them how they felt as each character at certain parts of the story. Talk about specific things they did that helped you understand the story better.
Enjoy the reading adventure!