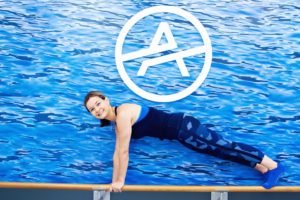 This interview is with a mom who is a big inspiration to a lot of us on the peninsula. Erin Paruszewski is a wife, mother of two girls (ages 3 and 6), and the owner of Alkalign Studios, a fitness and health company with two studios in the Bay Area and two in Irvine and Grand Rapids.
Erin, please tell us a little bit more about yourself.
I am one of four kids and grew up in a small town in Upstate NY. I always dreamed about living in California and moved out to SF two weeks after graduating from Georgetown to start my investment banking job. I then moved into corporate finance at a healthcare company which, over time, led me to Six Sigma consulting and eventually Product Development. Eight years into my career (which felt like dog years I was working so many hours) I was depleted and uninspired. I wanted a career where I could combine my passion for health and wellness with my profession. Recently married and wanting to start a family, we decided to move from the city to Menlo Park to pursue my dream of owning a studio.

What good books have you read recently?
How to Raise and Adult by Julie Lythcott-Haims. I have to admit, I have very little time to read so when I do, it's usually related to wellness or business/leadership. I thought it would strictly be a book about parenting but in fact it was so much more. It was also provided an interesting sociological perspective as to why the young adults in our society today are the way they are and inspired me to raise independent girls who can advocate for themselves.
How did you first get into barre workouts?
I was a cardio junkie, running marathons and triathlons in my early 20s. I had a friend who taught a barre class in the east bay and invited me to come. I honestly didn't get it at first. At that time if I wasn't dripping in sweat and burning 1000 calories a minute, it wasn't worth my time. I was too "hardcore" for that. Then after my second class I couldn't hold the clutch down in my car without my quads quivering and I was hooked! They asked me to teach after my second class and a few weeks later I was on the schedule!

What inspired you to branch out and start your own franchise and company? How did you overcome that fear to follow your dream?
I really wanted to evolve beyond the barre classes I knew as a Dailey Method owner. I have always believed in an integrative approach to health and wellness. Having had both gut issues since my teens and some significant injuries from skiing and running, I valued the importance of not only safe, effective physical exercise, but also the importance of nourishing the body with healthful food, quality sleep, good interpersonal relationships, and a supportive community. I wanted to offer my clients more.
The path to Alkalign was not a quick or easy one. When my contract expired after 6 years, I was faced with a big decision. I hired a business coach and worked with her weekly for months to really uncover what it was that I was looking for. I wanted to be thoughtful about my next move and to make sure it was the best decision for my family, my employees and my clients. After months of back and forth, a good friend and close confidante really encouraged me to go for it. Once I made the decision, I never looked back. It was the best decision I ever made (other than marrying my husband and having my kids, of course).
What values are you trying to role model for your children, as you embark on this career path?
integrity

hard work

kindness
One of the reasons I decided to run my own business was because I really want to set an example for my girls. I want them to see me as someone other than their mom. I want them to know that they can grow up to be whomever they want to be. I always tell that they I don't care what they want to be when they grow up, as long as they are honest, kind and take pride in whatever they do.
What do you find the hardest part of your career/life/parenting right now?
Balance and mom guilt. I love my kids. I love Alkalign. Sometimes finding the balance between the two is hard because it all blends together. However, I also know that not every day has to be perfect parts family, career, exercise, nutrition, etc. There are some days where I really spend more time with the family and less time on work or vice versa. The book mentioned above actually helped me feel better that I don't have time to be at my kids' beck and call all the time. Even at six my daughter comments when I'm on my email a lot. I try to explain that I'm working hard for her future and that someday she'll appreciate it. I know she will but it doesn't make the guilt trip any easier.

Looking back, is there anything you would do differently? Do you have any advice for other women who might be looking to start their own business?
I suppose there are always things you can do differently but I also believe you learn a lot from mistakes, and failures are an opportunity to learn and to do better next time. My advice is to take risks. Nothing in life is easy or guaranteed. I recommend doing your homework so you aren't blindly jumping into something with both feet, but at some point you have to jump. It will be scary but trust yourself. Don't let anyone tell you you can't. You'll get A LOT of unsolicited advice. Don't let it distract you from your potential.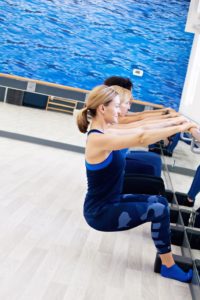 Why should our readers try a barre class, if they haven't already
Our classes at Alkalign are really about functional conditioning. We combine elements of yoga, pilates and barre to bring you a well-rounded offering to improve your strength, flexibility, mobility and balance. You'll not only get a super challenging workout unlike anything you've done before, you'll learn about yourself, your body and your potential at the same time.
Tell us more about your Nourish program. What can people expect if they sign up for a course?
Nourish is not a fad or a diet. It's a group health coaching program that helps you make sustainable changes to your life. The group setting really feels supportive and improves outcomes. There is a big focus on food and cutting out inflammatory foods for a three-week period to see how your body reacts. Nourish takes it to the next level by guiding you through the reintroduction of those foods so that you can really understand your body and what impacts you. Moreover, we also address other elements that Nourish you both in your physical and emotional being such as sleep, hydration, physical exercise, and anything else that "fills your bucket".
How can readers sign up for classes at Alkalign? Do you have any packages or promotions running right now?
Go online and create an account based on the location where you want to take class. And Yes! We have a New client 30 day unlimited for $99 as well as a 10 package special for $170 through 1/31! I hope to see you there!

Plus, SFMB readers can try a class for FREE! Click HERE.

Code: SFMOMS (case sensitive)
Pictures courtesy of Alkalign Studios