This post is sponsored, but the opinions are 100% our own.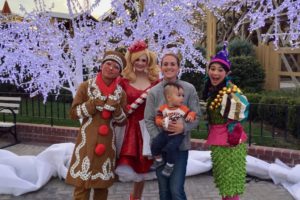 Are you looking for a place nearby to feel the Christmas spirit? Well, California's Great America WinterFest is the place to go. Now until December 30, go for the seven million LED lights, ice skating, a Christmas tree that won't disappoint, crafts, characters, photo ops galore, visits with Santa, amusement rides, falling snow, and performances, you will not be bored!
The shows are constant, between the tree lightening ceremony, game shows for kids, and the other miscellaneous shows they have going on continuously throughout the park, you are sure to catch a glimpse of one as you stroll around the park.
The must-see show, is, hands down, Snoopy on Ice. This is such an amazing performance, and I highly recommend it. Initially, I didn't care to go to this, but I'm very happy I did. The show was about thirty minutes long and did not disappoint. It is the perfect length for kids and a great little break for parents.
The performance was fast paced and kept the attention of my sixteen-month-old. Yes, that is correct, my sixteen months old's attention was held the entire time. Plus, thinking back, I didn't even hear a kid cry once. Not only will your child enjoy the entertaining Snoopy on ice, you will, too. The main actors/actresses definitely show off some high-performance ice skating moves. I personally have never seen such skill in person, only on TV. Truly, this show alone is worth the price of admission. I do recommend arriving early to get good seats. We sat right in the center where there was a walkway, and one of the characters high fived my son during the show!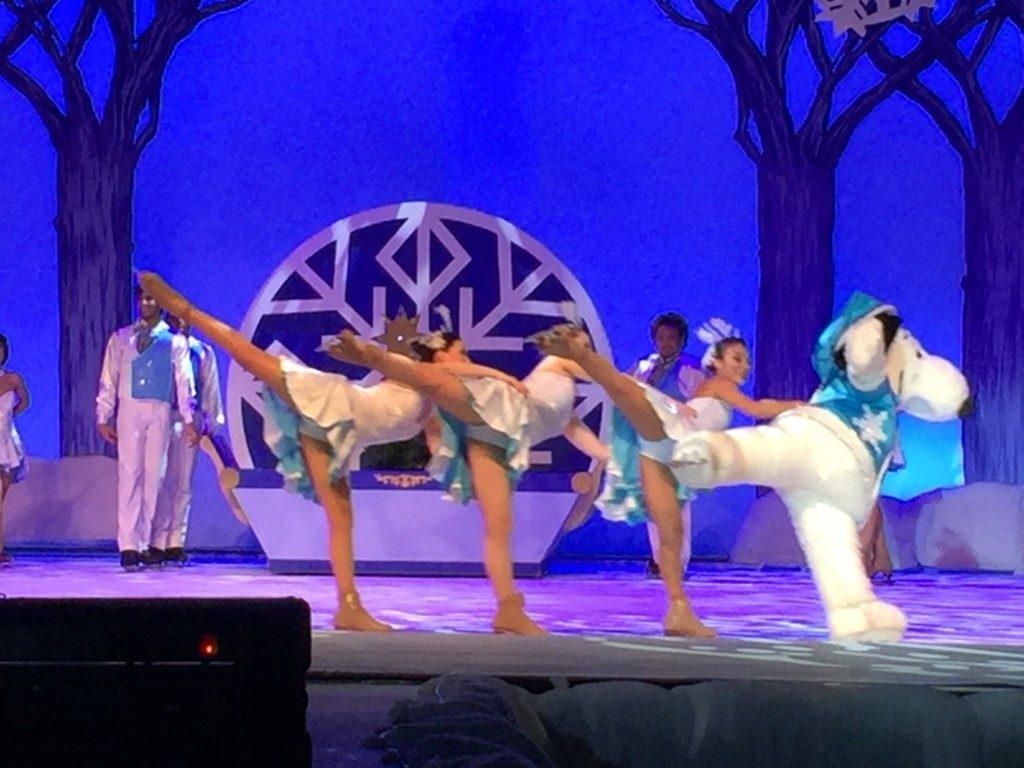 If live performances aren't your thing, there is still plenty to do. Besides the rides, of course, you can ice skate for an additional fee. There is something magical about ice skating in a completely decorated park, listening to Christmas music, and gliding around the ring with your loved ones. One bonus is that they offer kid walkers to use as they skate around the ring. They are free, and are basically like training wheels for ice skating. Gone is the day of trying to balance yourself and your child, so they can stay vertical on their own two feet. It is nice to see the smile on children's faces as they skate around by themselves without the help of mom or dad.
Note: if you feel you need to use one yourself, go for it. I saw a few adults putting this to use as well!
Kids of all ages will enjoy themselves here. Even though my son was a little young for all the craft building, rides, and such, he did enjoy himself. Santa was available to visit in his workshop where you can make a little craft and take photos with him. The line didn't look too long on the Friday evening we were there; however, we didn't have a chance to visit him because we got so busy ice skating, watching shows, and going on rides. Make sure to plan your night accordingly and set your priorities of things that you want to do, so you can get it all in.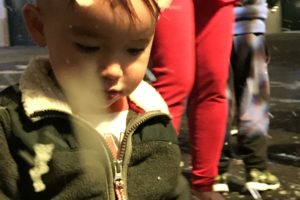 Besides the Snoopy on Ice show and the Christmas decorations, my other favorite part of the whole experience was the little areas of 'falling snow' that went off every 15-20 minutes. The kids loved it, and, I have to admit, I really did, too. Even though they were bubbles disguised to look like snow, I found myself excited to experience it with my son, looking up as the snow fell on us. It was just the topping on the cake really.
All in all, Great America's WinterFest is an absolute must do this Christmas! Get out there, make some memories, start a tradition, but most importantly go enjoy yourself!