Editor's Note: This article was first published in 2017 and has been slightly updated to be republished. 
My daughter was seven weeks old the first time she flew on an airplane. We took advantage of her newborn sleepiness to visit family and accompany my husband on business trips. The travel hasn't let up since then. Four years and a second kid later, flying with babies and toddlers is a way of life for us. I wish I could tell you that I had a fail proof way to keep them quiet and occupied on long flights, but I don't. Some flights are better than others no matter what tips and tricks we try.
What I do know is the travel gear that's worked well for us so far. Our harder travel days are made easier by bringing the right stuff with us, and as experienced family travelers, we move through airports like a well-oiled machine (albeit, often a stressed, at-the-end-of-our-patience, I-can't-believe-he-didn't-sleep-at-all-on-that-flight, well-oiled machine). Here are the things that get us through long days on airplanes.
What about you? Comment with your favorite kid stuff for travel.
Luggage
Osprey Porter Backpack (46-Liter)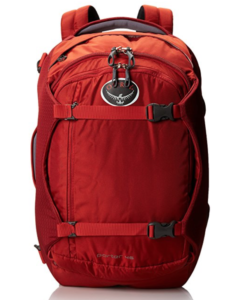 We have both the 30-Liter carry-on size and this larger 46-Liter size, and these bags fit a ton. I can get away with packing my stuff in the smaller size for seven to ten day trips during the warmer months when clothes are less bulky, and I use one of the larger backpacks for both kids' clothes.
These packs are great for airplane travel because the straps in the back detach and zip into the bag itself, making it look like a regular duffel bag and preventing the straps from getting tangled or ripped in the luggage check-in and screening process. In our pre-kid days, we used these for train travel in Europe, too. Now, when we're shlepping through the airport to check-in, my husband and I will each wear one on our back and put the other one on top of  the traditional rolling suitcase that he usually uses.
Wandf Foldable Travel Duffel Bag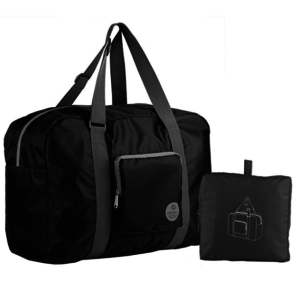 For holiday travel, we also pack two of these foldable duffel bags to use for the presents we'll be bringing home. They're lightweight and don't take up much space in our suitcase on the way there but fit nearly as much as my 30-liter carry-on when packed.
Carry-On Bag
Urban Commuter Backpack from EXOS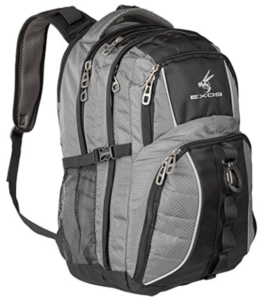 I can't tell you how many travel diaper bags I've tried, and in the end, a good old backpack does the trick. My everyday diaper bag is a Marc Jacobs tote, and this has been fine for short plane rides with one child, but for our long-haul flights with two kids, I break out the big guns and use a utilitarian backpack. What it lacks in style, it makes up for in practicality and price. I can organize diapers, wipes, sippy cups, changes of clothes, snacks, iPads, headphones, toys, my wallet, and phone in here. It's packed to the brim, but it still fits under the seat in front of me.
Skip Hop Zoo Backpack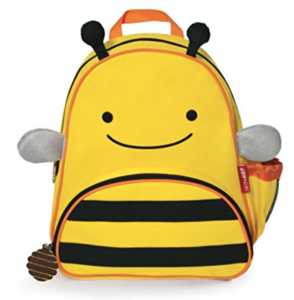 Now that my kids are getting older, I can relieve some of the pressure on my personal carry-on by letting them pack their own backpacks with toys and books that they want to bring. Skip Hop's adorable animal-themed backpacks are best sellers on Amazon, so I followed suit and picked out an elephant and bumble bee for them. The kids love them and feel good about having ownership over their bags. They go into them throughout the flight.
Car Seat
Evenflo Tribute LX Convertible Car Seat
We travel often enough that it made sense to purchase lightweight car seats that are easier to lug around the airport and in and out of different cars than our heavy-duty Britax seats. These are also FAA-approved to use on airplanes, whereas some of the larger, bulkier seats are too big and not allowed.
Side note: If you're planning to use the car seat on the plane (which is not a requirement) always remember to secure the car seat with the airplane seat's lap belt. I forgot to do that once, and my poor daughter was launched forward at landing while still strapped into her seat.
Remember to pick up some cushy covers for the neck straps to make these seats more comfortable. While they will keep your kid safe in the car, they don't have all the bells and whistles of the bigger, heavier models.
Now that both of my kids are over three years old, we graduated to using this travel vest instead of any car seat at all. It's amazing!
Britax Car Seat Travel Cart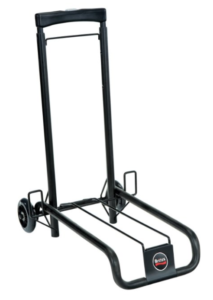 Sometimes we don't have a need for a stroller on our trip, so we'll turn our car seats into strollers while we're in the airport. Even though we don't bring our Britax car seats with us when we travel, I still use the travel cart because it's sturdier and easier to push through the airport than other brands. We have the BRICA Roll 'n Go Car Seat Transporter as well, and while it's lighter and folds more compactly for storage in the overhead compartment than the Britax version, it takes a bit longer to secure the car seat in place and feels flimsier to push.
Stroller
Chicco Keyfit 30 Infant Car Seat and Caddy Stroller Frame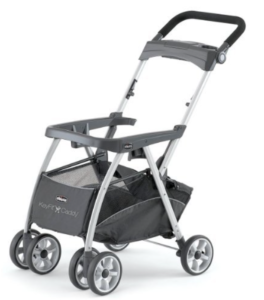 When the kids were in infant car seats, we used the Chicco Keyfit system. The car seat caddy is light, folds up compactly, and makes it easy to snap the car seat in and out.
UPPAbaby G-Link Double Umbrella Stroller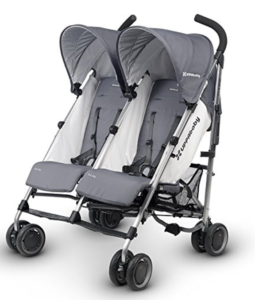 Now that the kids are older, we get a lot of use out of this double umbrella stroller. I had a less expensive brand before this one, but it became much harder to push as my kids got bigger. The UPPAbaby glides better, but because it's a sturdier stroller, it's not as light as some others on the market and doesn't fold up as compactly. Still, we've had no trouble traveling with it.

Baby Jogger City Mini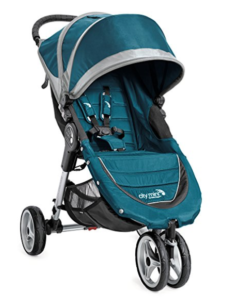 Our everyday single stroller was also perfect for travel. You only need one hand to fold the Citi Mini, which is very convenient for gate-checking it while holding a baby in the other arm. If you'll be using a stroller a lot on your trip, it's nice to have a durable one that's easy to push, and this model is still pretty light and folds compactly.
Baby Carrier
Ergobaby 360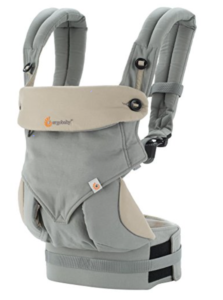 When we were only traveling with one baby, it was sometimes easier to use a baby carrier through the airport, instead of pushing the stroller. I would lay awake at night strategizing what would make the most sense – pack the carrier and use the stroller? Check the stroller and use the carrier? The more we had to lug around the airport, the more likely we were to use the stroller, since it gave us a place to put our bags, but if we could get away with traveling lighter, the carrier was an easy option. The Ergo 360 was comfortable for both my husband and me to wear (he's 6′ 5″ and I'm 5′ 6″) and our kids always seemed happy in it.
Extras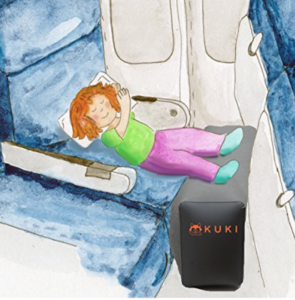 We have an overnight flight coming up and now that the kids are getting bigger, they don't curl up on the plane as comfortably as they used to, so I bought this light weight, inflatable pillow that fills the space between their seat and the seat in front of them to create more room for them to lay down. I've seen a few versions on the market, like the JetKids BedBox and Fly Tot Inflatable Cushion, but they are pricier and bulkier than this one, so the Kuki model seems like the safest bet.
If you're gate checking your car seat or stroller, these protective covers keep them clean and safe from tears while they're being loaded and unloaded from the plane. You can buy universal bags that fit most brands or look for bags from your particular brand of stroller or car seat.
We actually don't use these anymore. For us, it became one more thing to bring to the airport and one more step before we could board the plane, so we scrapped them. After a flight on a rainy day, one of our car seats came back a little damp, but other than that, it's worked out okay not having them.
Still, they may be something you want to consider. Every family's list of must-have travel gear will be different, but we all share the same end goal: get through this travel day without meltdowns, blowouts, or dirty looks from other passengers. Happy traveling.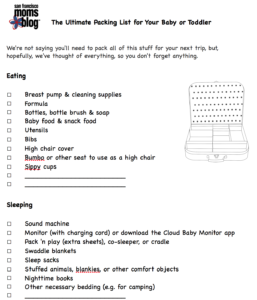 Want to keep track of all the items you need to bring on your trip? Download our free, printable packing list, so you don't forget anything!