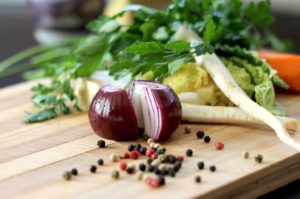 Stuck in a recipe rut? For a busy family, meal planning can feel like just another to-do on the list. But with some tweaks, meal planning could be a fun creative activity you might even look forward to. Here are five ways to make meal planning a whole lot more fun.
Think seasonal
Consider incorporating seasonal flavors and dishes to liven up your menus. Ordinary oatmeal can become pumpkin or eggnog oatmeal for fall or winter. Call a relative to ask for family recipes for your favorite Easter brunch and summer BBQ dishes from childhood. Food can create traditions and memories for your new family.
Speaking of seasonal…
Go to the farmers' markets
The farmers' market is an outing, not an errand. Leisurely sample food, meet the producers, and fall back in love with food fresh from the source. Get inspiration from the vibrant colors of what's in season and bring that color to your plate.
Plan for real life
Another way to mix up menu ideas is to think about how food fits into your lifestyle. Menu planning is more interesting and rewarding if you plan for what really works for you and your family. Every day is not the same, so why would your meals be? Here are some of my favorite real life meals:
Takeout night – Think about your favorite takeout dishes you treat yourself to, and try out some new recipes!
Frozen meal night – Pick recipes for some dishes that freeze well, so you can freeze batches and plan for nights you don't have to cook!
Date night – It doesn't have to be super fancy, but pick a dish you might entertain with. You could also open up a bottle of wine and make it a cooking date night!
Themed movie night – A themed meal tied to a cuisine, dish, or culture featured in a movie makes it feel like a dinner party!
Family picnic – Forgo the deli and plan a spread for a family day at the park.
Make it pretty
Colored pens. Cute stickers. Fun stationery products aren't just for school. On my wishlist is this weekly meal planner deskpad (made by an SF artist!). Splurge a little if it means meal planning will be a little more enjoyable and inspired.
Open a restaurant
Well, not really. But wouldn't it be fun to think about what you would serve at your own restaurant? What style of cooking would you be known for, and what would be your signature dishes? Think beyond just breakfast, lunch, and dinner. What would your menu offer for weekend brunch, appetizers, snacks and sides, dessert, and drinks? By developing a menu that feels very "you," meal planning becomes a creative expression, not a chore.
What gets you excited about meal planning? Share your tips!