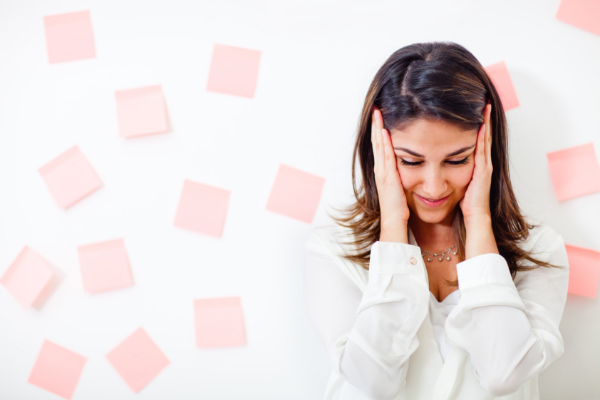 If you're reading this and thinking you're about to learn great insider secrets to all sorts of Pinterest-worthy DIY projects, then you must not know me very well and are out of luck. When I refer to myself as a DIY addict, it's my way of trying to positively reframe the fact that I am really bad at asking for help.
I have vivid memories of bouncing a screaming baby with a toddler hanging on my leg and the house a complete disaster while calmly reassuring my mom that I am totally fine and don't need her to fly out to help me.
I remember times when I have snapped at my husband, "No, I can do it," (and by it I mean All The Things) and then secretly resented him all day for not reading my mind and knowing exactly what I needed.
I have sacrificed sick days, doctor's appointments, and precious me time all because I couldn't ask someone to help me out, even for the small stuff.
It's so hard to ask for help that sometimes I don't even admit to myself when I'm struggling. I went through a lot of my early mothering years with blinders on, fully unaware of how frustrated, stressed, and depressed I was because asking for help felt like I was failing.
I also suffer badly from My Way Is The Right Way disease (MWITRW), which is a progressive illness that starts off innocuously enough but ends up suffocating you and leading to a very lonely, isolated existence.
The combination of DIY and MWITRW is toxic. Not only do I not like to admit I need help, I assume that the person willing to help me just can't do it as well as I can. When you live like this, it's an inevitable and completely unnecessary slippery slope into Motherhood Hell.
I used to wonder why it was so hard for me to make mom friends. I could commiserate with other women about the burdens of parenting, but we never seemed to make it past small talk. What I didn't realize is I portray an unsettling aura of not needing nothing from nobody. And it turns out it's hard for people to connect with that.
What I've learned is, true friends share their struggles, trust one another, and rely on each other for support, which in its most genuine form is actually a truly wonderful thing.
In the end, my desire for friends outweighed my hindering dependence on DIY and MWITRW. I felt vulnerable asking for help and it was hard to trust others, so I started slowly by taking people up on offers to help me out. The easiest place to start was the never-ending whirlwind of carpooling. As a working mom, I just wasn't able to make it to all the kids' activities, and without asking for help, neither would they. So I slowly but surely started taking people up on their offers to carpool.
Pretty quickly I realized not only is it easy to say yes to people offering help, it made my life so much better! Plus, I found with carpooling there's often time to chat with the other moms, which led to deepening of friendships and even family hangouts.
The next step was ASKING for help. Pre-emptively. This was, admittedly, harder to do, but there's nothing like a calendar full of summer camps to push a parent to their mother-flippin edge of sanity.
So I reached out to friends whose kids, I knew, were attending the same camp, and <gulp> asked if they could help me out with drop off and pick up. They responded within minutes, and we quickly came up with a schedule for the week that worked for everyone.
Just like that.
I have since started applying these newfound skills to other people in my life, most recently my mother-in-law. I always look forward to her visits, but it has been hard in the past to allow her to do things for me. I worried she would find me incompetent if I admitted I needed help. But I realized with pride this past trip I never once said no to any of her offers. Laundry? Thank you! Grocery trip and meal-planning? Sure! Waking up with the kids so we could sleep in? Yes please!
I'm learning to be more pro-active with my husband, too. It turns out while he has many talents, he is not the mind-reader I'd hoped he was, but he really does love helping out and rarely says no when I ask him to do something.
My only regret is not being willing to seek out help sooner. I look back at my former stressed out self with sadness and am grateful for how much happier I am now, as well as how much closer I feel to other moms in my circle.
So here's my advice to any moms out there who suffer from DIY and MWITRW: accept the help. Say yes to the carpool. Take a friend up on an offer to watch the kids for a few hours. Allow your spouse/parent/sibling/cousin to take over bedtime from time to time. They may not do it exactly the way you do, but I promise your kids will survive and you will be happier for it.