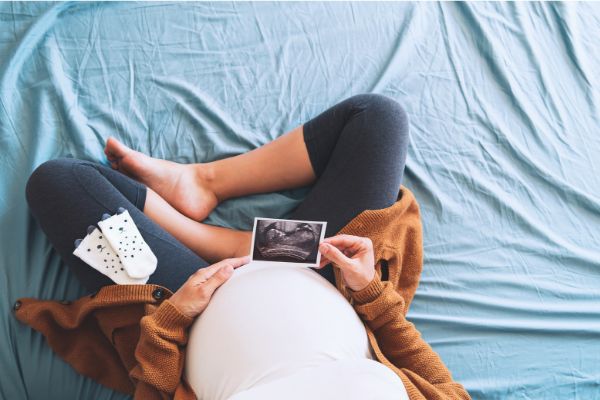 Every mom and parent I have met who has had more than one child has told me that every pregnancy is different. This wisdom certainly holds true for me right now, as I enter my second trimester with my second child. I am a little more tired (though running after my daughter Ilse might contribute to that feeling). I crave different foods. Unlike all the healthy fruit I craved when I was pregnant with Ilse, this time around, I crave meat and pasta and salty-sweet desserts. Fried chicken and salted caramel apple pie, anyone? I am also prone to a little more crying. For someone who doesn't easily cry, the random waterworks is a little strange. Those military family reunion videos get me every time! Nevertheless, a few things still hold true for me in this pregnancy as they did for my first pregnancy.
No gender reveals.
I love surprises. My husband does too. Like our first pregnancy, we do not want to find out the gender of our next child. We are praying for a healthy baby, like we did with our first child, and we will love the baby just as much no matter the gender (although our daughter Ilse would REALLY love a baby brother). We have names picked out for both genders. My husband keeps the names saved in a notebook on our Evernote app for easy access. For now, we call the baby "Hash Brown."
I don't like my belly being touched.
Prior to having any children, I always found it baffling that people touched a pregnant person's body without asking, particularly in work environments and in public places. Since when did being pregnant, make it okay for anyone to rub your belly without your permission? When I was pregnant with Ilse, I told only told a select few (my boss, HR, and family) that I was expecting, because I didn't want my belly to be touched. I value my personal space, particularly when I am pregnant and am feeling like Humpty Dumpty. So, unless we are close and personal friends, please don't touch my belly. Kindly respect my need for space.
Heat is my enemy.
I have always run warm. Ask anyone. I won't wear a jacket in the fall until right before Thanksgiving when the air gets crisp and smells like eucalyptus. At 75 degrees, I complain about how warm it is in San Francisco. I've been spoiled by the city's temperate weather for nearly twenty years. For this second pregnancy, I am experiencing the misery of swollen fingers and feet and bouts of faintness during the bursts of summer heat. Indian summer has not even arrived! To alleviate any current and future heat discomfort, we bought an industrial-strength Lasko fan. Lasko even makes one with a mister, but that might be overkill.
Maternity clothes are not for me.
Maternity clothes are not made for this working mommy who lives in colorful suits and sheath dresses during the week. While I appreciate the weekend wear options, like my maternity denim skirt, denim shorts, and t-shirts, the weekday work options are lacking the sleek, tailored style I crave in work wear. Moreover, everything is black. For a pregnant person who runs hot, wearing black is the least comfortable option. In the meantime, I will take advantage of online summer sales and cultivate a maternity wardrobe that will keep me cool and stylish. Hmm, might be worthy of my next blog post.
Having another child is a gift I cherish, especially since my husband and I can share the experience with our daughter Ilse. As such, I am fiercely protective of this special time in our lives, especially since I'm a "geriatric" mommy (both times) by medical standards. While medical advancements have made healthy pregnancies possible at my age, the age-related risks are still prevalent. Every day that I stay healthy is a win. On that note, I am due for my nightly glass of 1% milk and a little dessert.