Editor's Note: We recently came across a multi-functional bag that is spectacular as a parent carrier and versatile enough to grow with your little one from infancy to adulthood (you can totally pass it down as a family heirloom to be used for your grandkids). We reached out to its founder and fellow San Francisco Bay Area Mom Gemma to learn about her inspirations behind this new ultimate parent bag. Check out No Reception Club's Kickstarter campaign and Gemma's story – told from her perspective – below!
---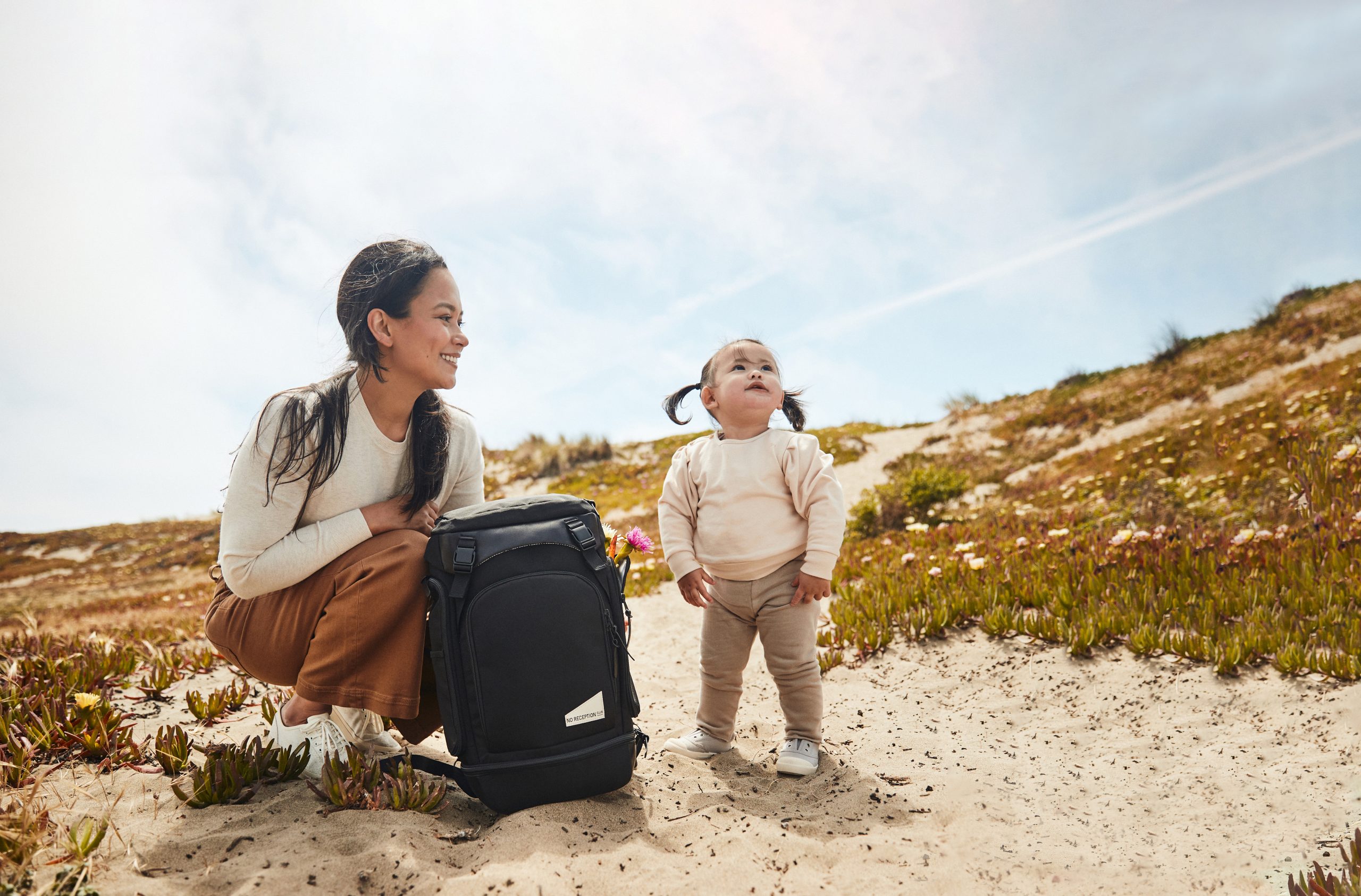 Daniel and I have been together for 15 years, and have only been parents for the last 2. Prior to becoming parents, we were extremely fortunate enough to travel quite a bit together.  So many of our best memories together have happened on trips! When we became parents 2 years ago to our son Emmett, we knew we would want to continue traveling as a family of 3. When Emmett was 3-months-old, we took him on a slow-paced, 2-week road trip from San Francisco to Malibu (and back). What followed were countless road trips and flights for much of his first year, until the pandemic hit. It was during these trips that we found ourselves helplessly digging through mediocre diaper bags, losing items in planes and cars, struggling to change diapers in tight spaces. We were so frustrated with the diaper bags we had, as well as what we could find in the marketplace, that we became convinced we could create something better ourselves.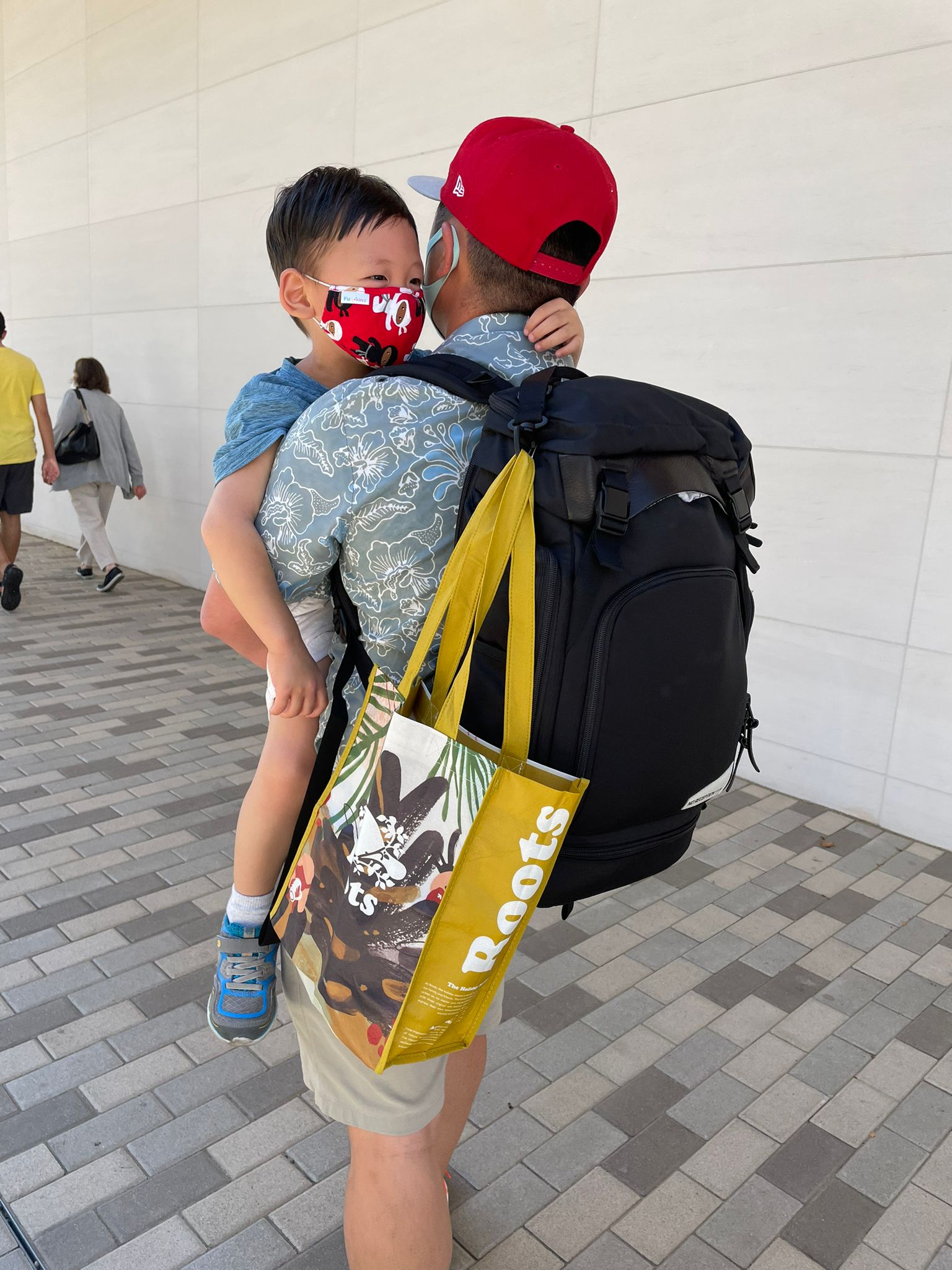 The Getaway Bag and the Sidekick were born out of this frustration. From the very beginning, there were 2 things we already knew about what would become the Getaway Bag. First, we knew that it had to be a backpack because that format was the most practical when on the move, and as owners of way too many backpacks, we have always found this format the most comfortable because weight can be evenly distributed across both shoulders, and hands are freed up to do or carry other things. Second, we knew we wanted the bag's main compartment to be accessed from the side. From other backpacks, we knew that Side Access was the most convenient and fastest way to instantly retrieve something when wearing the bag. We also knew that most diaper bags and backpacks tended to focus on top access, which meant that you always had to remove the bag from your body to retrieve anything. Top access also meant that you were often digging aimlessly inside a bottomless pit to find what you wanted.
As we thought more about the specific pain points we had with our own diaper bag while traveling, we quickly identified the list of the features that would make it into the Getaway Bag. It wasn't difficult, because we had traveled so much and knew what was making our lives harder on the plane or car ride. We knew we wanted to have a way to organize the main compartment into a few sections based on the 4 activities we always found ourselves doing: feeding Emmett, changing his diaper, changing his clothes, or entertaining him. We knew we needed at least 4 distinct sections. We also knew we didn't just want a series of enclosed pockets, but actual compartments that allowed you to see what was inside. This is what became the flexible organization system we created using velcro shelves in the main compartment, as well as the Essentials Compartment for diaper changing essentials and other critical items.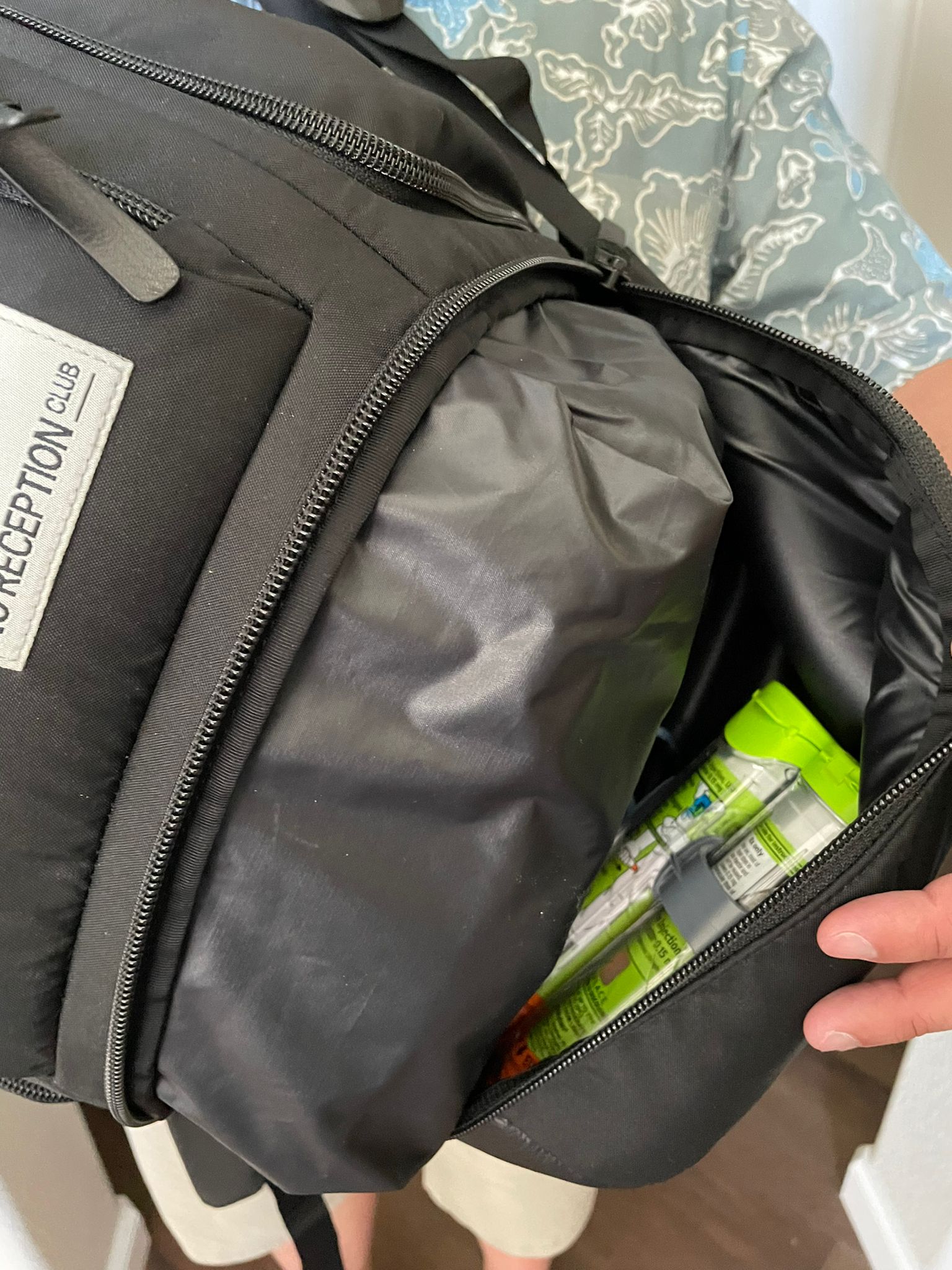 Our experiences of trying to contain messes while on the road or in a plane, typically in Ziploc bags or whatever disposable bags we could find around us, are what inspired us to create a dedicated section for messy "accidents". While originally we thought we would create a washable packing cube, the idea evolved into the Emergency Compartment – a flexible, odor-resistant, and waterproof section that keeps "messes" separated from the rest of your things. Meanwhile, because we always knew from experience that whoever was carrying the diaper bag, definitely did not have a separate bag for their own things, we knew we were going to add what became "Parent Pockets" all over the outside of the bag to store our own personal essentials while keeping them separate from Emmett's things. From needing to store milk and snacks on-the-go for long journeys, we also knew we wanted to include an insulated Lunch Bag.
As we began talking more with many of our friends who were also avid travelers with babies/toddlers, and eventually surveyed over a hundred parents across the US and Canada with similar profiles, we learned more and more about what product features were critical to parents. Stroller Straps, Water Bottle Pockets, Luggage Pass-through, and the Security/Passports Pocket were gradually added into the product too as a result.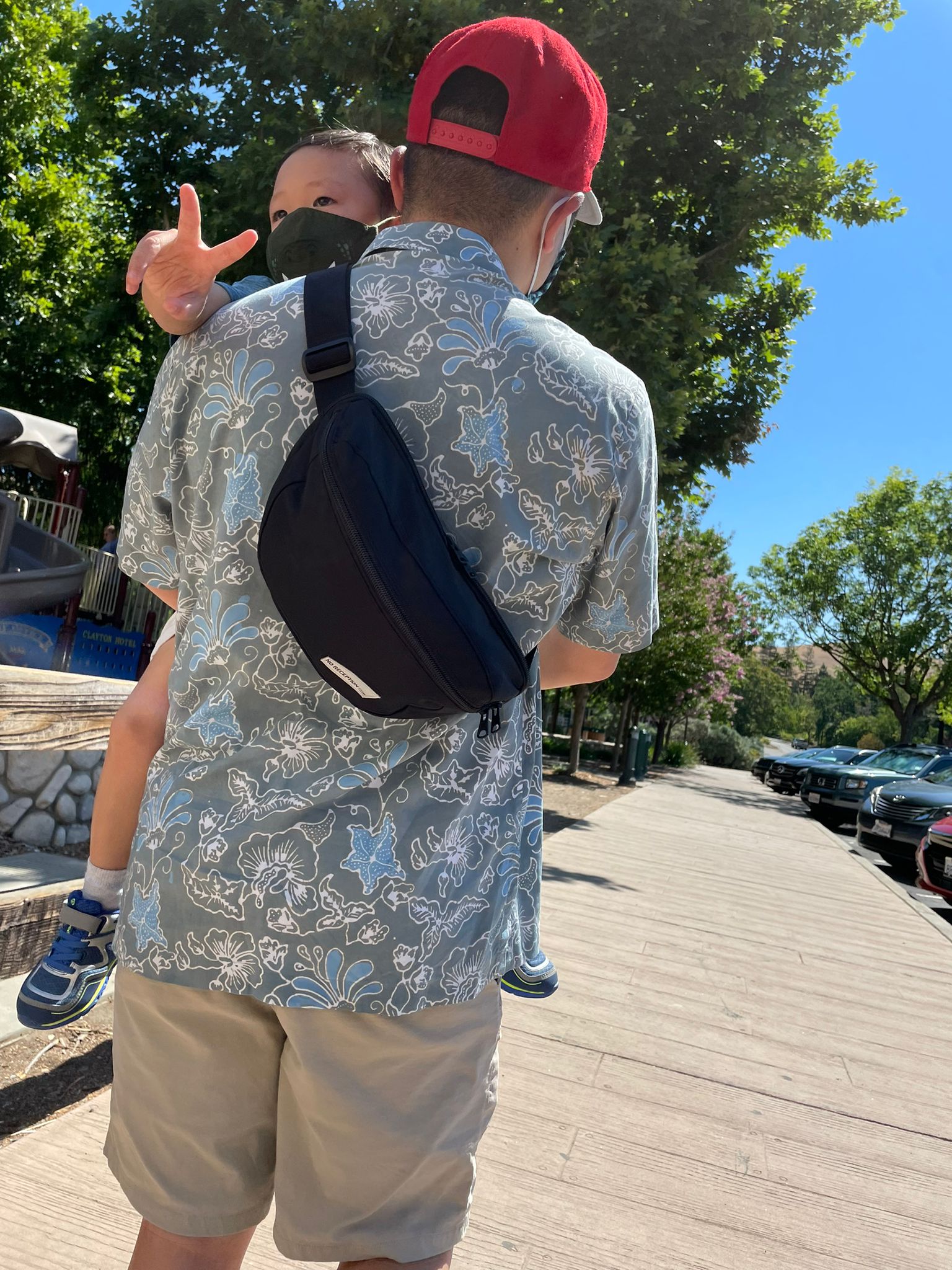 The Sidekick was an idea birthed out of a desire to not bring the entire diaper bag into the airplane bathroom when changing a diaper. We've definitely done that, it's so hard. Between you and the baby, there's barely an inch of room left. We originally thought about providing some sort of packing cube for diaper changing essentials that could be removed from the backpack when needed. However, this didn't seem practical the more we thought about it, because the idea of holding a baby and the cube and trying to actually change the diaper seemed complicated. We decided we needed to create something that minimizes the amount of juggling. This is when we thought of the hip pack format so that you could clip it on and not think about it. The diaper wipes pocket we created came from many frustrated attempts at retrieving wipes with one hand during a panicked diaper change.
Overall, creating the Getaway Bag and the Sidekick, and being able to use/test every prototype extensively along the way, has helped us so much when we go on adventures with our son. Whether we're just spending an afternoon at a local beach or park, or taking a day trip further out in the Bay Area, or going on a week-long road trip, every single journey out is made easier with these bags. They make it easy to remember what to pack because we know exactly what kind of items are supposed to go in each section. They make it easy to retrieve whatever we need quickly because of the organization and instant access designed into both. And they make it easy to do things one-handed, another very deliberate design intention, as we are often carrying Emmett or some other large item like a car seat or stroller in the other arm. Basically, they eliminate the frustrations we previously had while traveling, and free us to focus on what matters most – creating memories and connecting with our son.
---
Gemma Gaisano Ng is one of the co-founders of No Reception Club, a travel essentials brand that creates intelligently and elegantly designed bags for parents. Gemma spent over a decade as a fashion merchant and buyer, growing multiple brands including Ralph Lauren, Theory, Amour Vert, and Banana Republic. Gemma currently lives in San Francisco with her husband Daniel, who is her co-founder at No Reception Club, and their toddler Emmett.