This post is sponsored, but the opinions are 100% our own.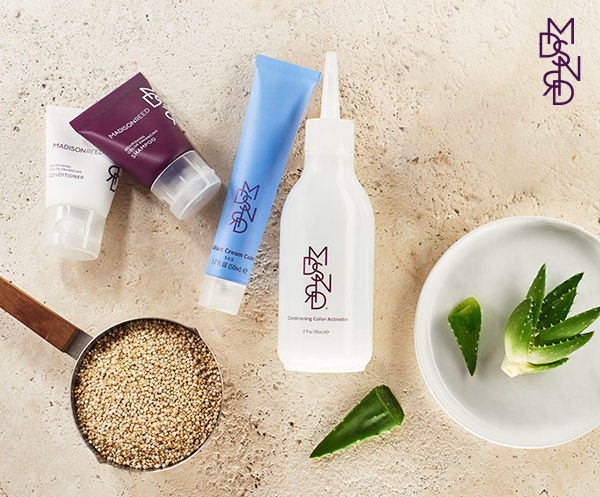 Coloring my hair is a relatively new adventure for me. As I've written before, finding a balance between accepting myself as I am while also taking care of myself is a work in progress. When my greys became too distracting, I decided a visit to a hair coloring stylist was in order. But after a few visits, I found myself avoiding going back. I couldn't quite figure out why, but I kept dragging my feet, my hair turning greyer by the minute. Luckily, a free trial of Madison Reed hair coloring products fell in my lap, so I decided to give it a try.
I proceeded down the path of hair coloring at home with trepidation. I barely ever style my naturally curly hair, so the idea of picking out a color and applying it all by myself was intimidated to say the least.
At my friend's insistence I persisted, and luckily the process with Madison Reed was SO easy. It took me about 20 minutes to pick my hair color online and order it. There are videos online to help you select the best shade, as well as stylists available in real time to assist as needed. The product arrived a week later, and I was off. With the help of the instructional video, my first hair coloring experience was relatively quick and it turned out great! I have continued with Madison Reed products now for the past several months, and there's no going back!
Here are some reasons why I prefer coloring my hair at home:
It's affordable.

With Madison Reed, one box is just $24.99. Yup, you heard me right, only $25! If you auto-subscribe, it's only $19.95! That puts a lot of extra cash in my pocket to save for other, more important things.

It's Convenient.

One box includes everything you need (things I didn't even know I needed!), including: gloves, barrier cream, a cleansing wipe, a shower cap, shampoo, conditioner, and of course the color product itself.

I'm not confined to the stylist chair

. When I first started my hair treatments, I assumed it would feel like a break where I could relax and take a few breaths.

Wrong

. I felt impatient and restless. It was really hard for me to sit still in the stylist chair for so long, and I got bored just looking at my phone or reading (poor cell reception didn't help). With the home coloring process, once you've applied your color, you have about 30-45 minutes to move around while the color is setting. This allowed me to

move

, and I could do pretty much whatever I wanted during that time.

It's much faster.

As I mentioned above, the entire process takes less than 90 minutes. And each time gets faster as I become more comfortable applying the color myself.

I'm more productive.

During that 30-45 minutes of "color setting" time, I get stuff done. I do loads of laundry, prep meals, maybe watch some TV. It frees me up and lets me make the most of my morning. As a busy working mom, this extra time is vital.

It's all natural.

Here

are the list of ingredients, and Madison Reed's claim: we use "

innovative color made with an unwavering commitment to quality that meets the strict safety standards put forth by the European Union (EU), which bans chemicals not proven to be safe."

It's fun!

I love my new hair color, and I feel confident that -to quote my 3-year-old-

I did it all by myself

. Plus, Madison Reed offers many fun

accessories

and other products I had never considered, such as Root touch up powder, gloss, hair clips, coloring brush, and more.
If you're a busy mom with not a lot of time and wanting to save some extra dough, I strongly encourage you give Madison Reed a try!
[xyz-ihs snippet="madison-reed"]