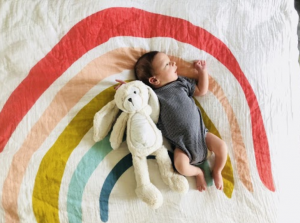 As climate change awareness grows, parents looking for new ways to increase their sustainability and cut down on waste will find good news in the fact that the reuse market is expanding. Thrifting culture continues to grow, gaining traction largely over social media, marketed as an effective way to help shoppers tread lightly on the planet by consuming fewer resources. For new families, it's now easier than ever to find quality secondhand items to take the place of new-in-box retail when it comes to shopping for children, saving parents cash but also offsetting their overall environmental impact.  
Thrifting culture has emerged unscathed from the global pandemic and economic crises of 2020. Forbes magazine reports, "Even as the retail industry has slumped, dragged down by disappointing earnings and an unending trade war, resale is exploding." Analysts predict that consumers will continue to turn to online consignment platforms while hunting for bargains to offset income loss during the COVIDovid-19 pandemic, with many embracing thrift stores and an overall shift to sustainable solutions as climate change conversations continue to grow.  
According to a 2020 report by industry giant ThredUP, the resale market is set to expand to 64 billion dollars within the next 5 years. While much of this marketplace is focused on providing an alternative to the fast fashion ecological nightmare, more companies are beginning to offer a broader range of merchandise to thrifters, mirroring typical brick-and-mortar thrift shops and children's consignment stores.
The infant and babycare industry is big business, and that business comes with shocking amounts of waste. From excessive plastic packaging and cheaply made, non-recyclable toys to quickly-outgrown gear like strollers and car seats, America's tiniest citizens have carbon footprints that can easily outpace them in the first few years of life. The waste associated with toys is staggering; millions of plastic toys are tossed out each year, and yet 28% of parents admit to throwing away toys that are in perfect working order. Though American children make up only 4% of the world's population, they are the original owners of 40% of the world's tossed toys. Secondhand shopping platforms aim to disrupt this waste stream, diverting usable items back into the hands of interested shoppers at a fraction of the original cost. 
Resale sites like Toycycle make shopping a snap for busy parents searching for high-quality secondhand items. By adhering to strict guidelines for quality and safety, vetting every item sold and allowing for easy returns, shoppers are all but guaranteed a positive shopping experience, and are more likely to look to resale for their next purchases. Studies show that successful thrift purchases lead to an overall thrift mentality–once a thrifter, always a thrifter. By stocking an interesting variety of items like strollers, baby carriers, toys, books and games, in addition to affordably-priced, brand-name clothing, online resale sites for kids have become an eco-friendly one-stop shop, saving parents time and money, and also allowing for a convenient way to parent more sustainably. And that's a trend worth following.
Erin Addiego is a lifelong thrifter, writer and mom to three living in the San Francisco Bay Area.