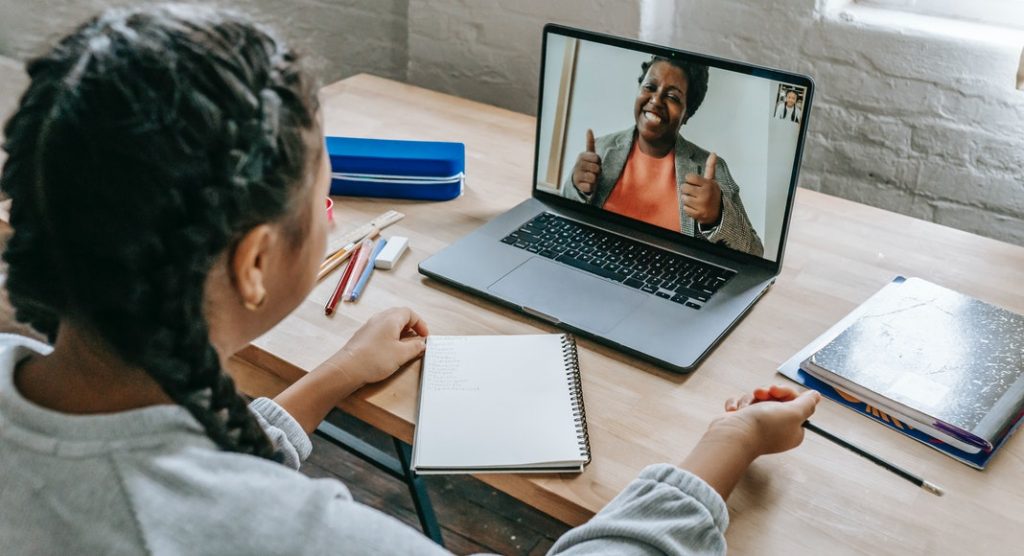 When my daughter started preschool for the first time we were so worried, would she be scared, would she make friends, and most of all was she safe? But this school year was a whole different experience for my family and I.
When March 2020 hit, our 4 year old was sent home from preschool with the hopes to return over the summer, you know when COVID-19 would just magically go away…
Well we all know that didn't happen!
So it was summer 2020, we had just moved away from Vacaville, and a week after we moved, our old neighborhood was evacuated because of the fires. Thankfully, many friends and old neighbors were safe, but it was definitely a tragic time for so many and the smoke kept us inside for months. Fall was approaching and school was a total blank for me. What was I going to do? My oldest didn't turn five in time for kindergarten or TK. I wasn't sure how I felt about remote learning let alone with the virus out and about, and being 4 months pregnant, I knew I had to be extra cautious.
We were already staying away from screen time, it was like a big no no from all the doctors and child advice columns I followed. But I had to find a preschool option or some kind of homeschooling. I don't know about you, but me as my daughters teacher doesn't work. She is so smart, but she is still 4, and they have their moments. Patience is not easy for me, especially with a 2 1/2 year old screaming for attention and did I mention, being pregnant.
We tried it anyhow. I was warn out from having to plan and order all the supplies for my "super fun projects" and frustrated from telling my 4 year old to "Just TRY"! I knew this wasn't working, so I went on to Facebook and found a school nearby that was doing remote learning and had a weekly busy box that included all the materials for the fun projects. I was very hesitant, but my husband said just give it a try.
We had been stuck in the house, hadn't been able to see any friends, moved to a new city  and new house and we needed something to keep us sane. Like a miracle, Creative Play Center Preschool's remote learning program was wonderful! My 4 year old had other kids her age to see, yes it was a screen, but it was still other kids faces! The teacher, Miss Danielle, was terrific. She kept the kids engaged, knew how to ask them questions. They had projects that allowed them to "do" something fun and interact. Best of all, I wasn't my daughter's teacher and she was having fun.
My 2 and half year old could watch, or if she really wanted, she could join in. I was so grateful. Not only was the program great, it wasn't too long and it kept them engaged, and the teacher was able to connect with them – and all through a screen! I was converted, remote learning could work! So after some research, I found out when she turned 5, she could enroll in TK with Martinez Unified School District.
When my daughter enrolled in January, I was a little nervous, this was going to be actual school, we've done preschool but not actual school. She was scared and she was already doubting herself. I didn't do a lot of "homework" with her because I didn't want to push her too hard. I was surprised and extremely fortunate again with her new teacher.
Mrs. Urenda from John Swett Elementary is an incredible teacher. She has all 17 kids engaged, focused and actually learning. She is incredibly organized with weekly projects, lessons and new subjects. We pick up and drop off materials once a week. She is always on time and alert and happy and all the kids are engaged and learning! Remote learning has been a magical experience because our teacher really puts so much effort into it and is "there." She is present and makes the kids feel present.
My daughter is writing sentences, learning to sound out and read words, she is doing math and actually making math problems. More importantly, she enjoys it, she actually loves school and loves her teacher. And she is only 5! Now how Mrs. Urenda does it online is a total shock to me, but I'm so grateful and I think we should all be thankful for teachers like her.
To be able to teach this age is tough, especially with all the different skill levels they have and attention spans, but online is a whole other level! So I hope this post comes off as gratitude because I'm grateful for remote learning and the incredible teachers that have helped my daughter. I was really depressed that she couldn't do in person and that she would be doing so much screen time, however it's actually been a positive experience.
Even my 2 and a half year old is now enrolled at Creative Play Center's distance learning preschool with Miss Chrissy. She is a very shy little girl, who has been very unsocial because of the COVID-19 shutdowns. I had no idea If she would take to it like my older daughter did. Her teacher is fun and super creative and her patience level is above and beyond. Teaching two and three year olds online is a totally different level of teaching that takes an incredible person. We are so grateful to her, just like my oldest daughter, my youngest has been engaged and actually involved. She interacts and isn't hiding or running away.
I know a lot have had a different experience with remote learning and maybe it's not the best environment or option for their kids. The teachers are doing their best and this was not what they signed up for. I am grateful that technology has actually been helpful and feel like my kids are still able to gain what they would have missed out on entirely.
But this also puts school in a new perspective; focus on what your child is gaining from it, guide them to what excites them and keeps them engaged. This has lifted our spirits and I hope it has lifted yours.