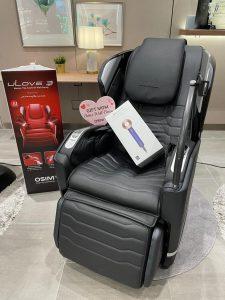 'Tis the spring season, and recently, I've to terms that this season may very well be my least favorite. With my academic background as an environmentalist, I am very well aware of the essential function that spring serves for our home planet. On the other hand, with spring comes all the creepy crawlies (and fliers), losing an hour, and *ACHOO* seasonal allergies. If you're one of the 81 million Americans suffering from hay fever, you will understand how debilitating seasonal rhinitis can be. And then, there's spring break. I know you get it too, mama.
It's the Friday after spring break, and this mama trekked down to the OSIM Experience Store in Santa Clara – looking for a dream come true. This time, I brought myself some lovely company, my mother-in-law Cindy and my partner-in-mom, Olga. One thing I absolutely love about spring is the focus on celebrating parenthood with Mother's Day (or Mother's Month as we like to call it) and Father's Day. Even though every day should be Mother's Day, it's always nice to give and receive a little extra appreciation around this time.
Why get a Ferrari if you can have OSIM uLove 3?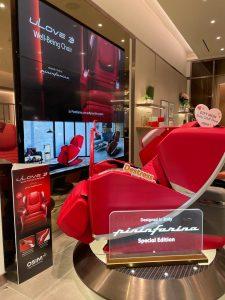 The three of us waltzed through OSIM's iconic shimmery archway and were warmly greeted by Sherman and his team at their flagship store in Westfield Valley Fair, Santa  Clara. The uLove 3 seats immediately caught our eyes with their sleek and contemporary design. We later learned that the uLove3 line is designed by one and only Pininfarina, a universally known product design brand that embodies Made-in-Italy design excellence. Best known for its Ferrari designs, Pininfarina has established itself as one of the world's leading luxury product designers. We couldn't wait to sink our bodies in those bad boys!
I watched on the sidelines while my ladies got settled in. First, the uLove 3's superior smart technologies were able to assess what their body tension scores were and followed through with a personalized program – complete with its unique music and massage formula –  for each individual to release stress. To deliver its exceptional wellness experiences, uLove 3 blends together three elements: 1. AI Stress Analysis, 2. Personalized Body Tension Programs, 3. Specialized Massage Programs. Throughout the program. I watched in fascination as these moms achieve total relaxation of mind and body as their stress melts away. It was oddly satisfying!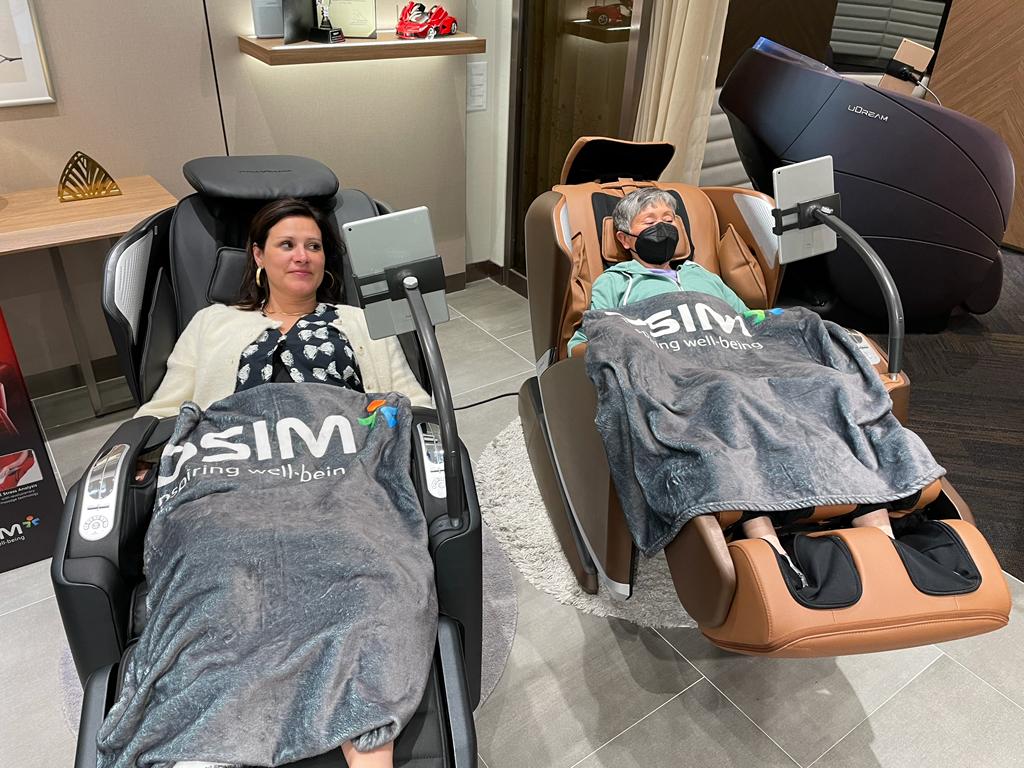 uLove 3 – the ultimate entertainment center for moms!
Every mom experiences stress, and everybody experiences stress differently – no matter where your stress comes from. That's why uLove 3 comes equipped with programs to fit every age group (perfect for all mamas, from to-be mamas to great-grandmamas), and to tailor a bespoke program based on what your body needs. Complete with a nifty entertainment stand and USB charging port, you can watch movies or read on your smart device while leaving it plugged in for charging. This hands-free experience allows you to free up your body for those 4-Hand™ Plus and V-Hand™ Plus massages.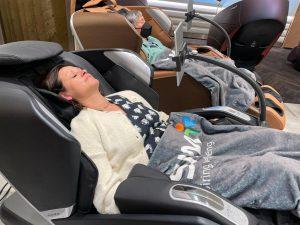 uLove 3 can uplift any home's interior – like its cousin the Ferrari, it goes with everything!  Now, this world-class design can be part of your home to make a statement in your interior, as your body reaps the full benefits of uLove 3's restorative lifestyle programs. OSIM's 0% financing program make uLove 3 quite the perfect Mother's Day gift! If you love your mama, get her a uLove 3.