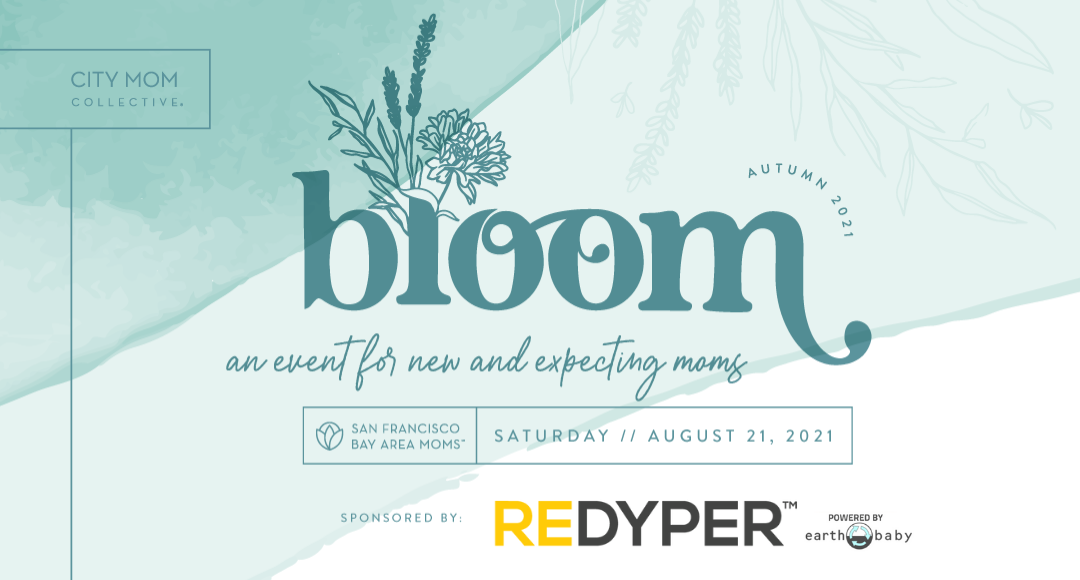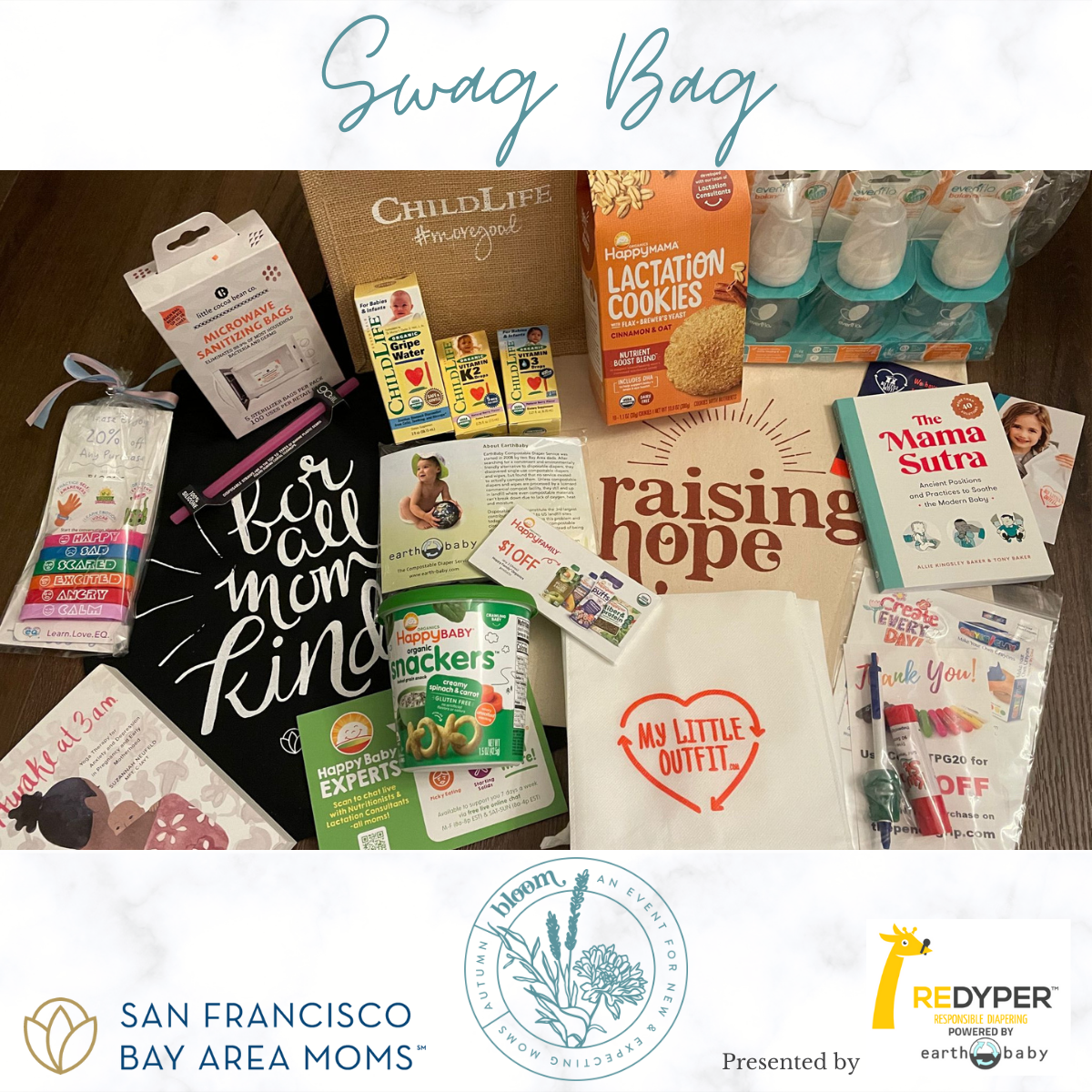 Our 5th annual and first-ever virtual Bloom event was yet another AMAZING success this year! We couldn't be happier that we got to celebrate all things motherhood with so many new and expecting moms. The world of pregnancy and babies changes fast, and we are proud to be able to connect you with the very best businesses, products, and services that are geared toward making your life easier, keeping your baby safe, and helping everyone get some sleep!
Plus, many of the Bloom attendees walked away with a coveted prize from our giveaway pool worth over $8,000 — not a bad way to spend a couple of hours on a Saturday afternoon!
Until next time!
Check out this short video for a glimpse of the day and scroll below to see all of the sponsors and expert panelists that made the event possible.
Find out more about our amazing Bloom partners and our top picks for everything pregnancy & baby on our Newborn & Pregnancy Guide!
Hi BLOOM Families!  REDYPER Powered By EarthBaby is proud to offer a FREE sign up trial to those families who are interested in composting their diapers and keeping their babies diapers out of landfills.  A diaper is the 3rd most common thing found in US landfills where they will stay for 500 years.  And it doesn't matter what type of diaper you use.  All diapers will end up in landfills for 500 years, even the compostable ones.  They MUST be composted at 150 degrees for 14 weeks in an industrial facility to fully breakdown and ensure that the resold soil is safe for reforestation and landscaping projects.
USE CODE: 'BLOOM' on www.earth-baby.com and receive 1 pack of compostable diapers, 1 pack of compostable wipes, and 4 weeks of EarthBaby delivery, pick up, and compost service for FREE with your first order! 
No contract, subscription, or obligation necessary.  We simply want families to try out our amazing diapers and service to see how easy saving the environment 1 diaper at a time truly is.  Also you don't have to leave the house for diapers anymore!  Not only will your family be diverting 5,500 diapers from landfills, but since our plant-based diapers are breathable, they are better for your baby's bum preventing skin irritations and diaper rash.  If baby is already at home you can start anytime.  If you are still expecting, we suggest signing up now and receiving your first diapering supplies at least 2 weeks before your little one's due date.  This way you are all set and ready once baby arrives.  We will only begin your service once baby is at home and your family is ready.
Do your part to end diaper pollution so that our kids inherit a healthy planet! 
BLOOM Sponsors
Get to know each of these amazing BLOOM partners during our event. Each business offers something wonderful for San Francisco Bay Area moms or moms-to-be and we are pleased to have these great brands join us!
Whether you're preparing for a baby or have recently given birth, the Newborn Connections center at California Pacific Medical Center can help. We offer the support and education you need, such as ongoing

perinatal classes

,

support groups

, 

lactation services

, and breastfeeding and baby supplies.

Mom-founded and parent-operated, Happy Family Organics provides helpful resources and premium organic products for babies, tots, kids, and mamas.

The Hoppy & Poppie PinkCheeks books and toys are a line of educational products designed to set  young children on a solid learning path toward high emotional intelligence (EI/EQ), which is exactly what children and parents need to thrive. The toys, books, and activities teach babies, toddlers and preschoolers skills in key areas including emotional and body self-awareness, emotion vocabulary, empathy, compassion and many more. The really good news is that this process for learning EQ fundamentals can begin as early as infancy and parents learn and benefit too! With the fun and engaging  Hoppy & Poppie PinkCheeks books and toys, parents role model high emotional intelligence for their newborn or toddler during interactive play.

Little Ones Welcome is a holistic practice integrating Western and Eastern perspectives on Women's Health (including fertility, gestational, intrapartum and postpartum wellness). Jennifer Renee Chu, the founder and director of Little Ones Welcome, is a California Licensed Acupuncturist specializing infertility, pregnancy, and pediatric care. She is also a DONA trained Birth/Post-partum Doula and a Mindfulness-Based Childbirth Educator at Zuckerberg San Francisco General Hospital.

Pocket Chefs connects everyday people with professional chefs. We make batch cooking and meal prep easy so that you can focus on family time. Pocket Chefs provides affordable culinary professionals to assist families with their everyday cooking needs. Our service is geared toward assisting families that are strapped for time and struggle with finding time to cook during the week.

Dr. Sarah Mitchell created Helping Babies Sleep to empower tired, frazzled parents with the knowledge, tools, and confidence to get their children to become independent sleepers. She helps by educating parents on their child's age-appropriate sleep needs, guiding them through sleep training options, and coaching parents through the process of getting their little ones to sleep in my online course or one on one in sleep coaching packages.

It's Yoga Kids® is the premier provider for high-quality yoga instruction, education and publishing. Our superpower connects our proven evidence-based system with any age from newborn to teens. We train educators and parents so the whole community can unite body, mind and heart to create a Positive Force in the world. Touching toes is not required. 😉

Julia Getzelman, M.D. is a board-certified pediatrician and a member of the American Academy of Pediatrics. Dr. Getzelman graduated with a bachelor's degree in Psychology from Stanford University with Distinction and Phi Beta Kappa. She later earned her medical degree from Yale University and completed her residency at Children's Hospital Oakland. In 2007, Dr. Getzelman founded GetzWell Personalized Pediatrics, a membership-based primary care and consulting practice with two San Francisco locations, Marina/Cow Hollow and the Noe Valley offices, where patients and the GetzWell professional team build deep and lasting relationship to help their children thrive. The GetzWell team is committed to providing whole kid health from infancy through early adulthood with integrative medicine, personalized treatment plans, advanced genetic testing, and 24/7 access to caring physicians trained at the best medical schools in the country.

Nothing says, "I love you" like a beautiful, delicious cake! These handmade, detailed, and personalized creations are the perfect ending to any celebration!

Columbia Allergy is the nation's leading network of renowned allergists and immunologists specializing in the diagnosis and treatment of children and adults with environmental and food allergies. Under the leadership of Dr. Sanjeev Jain and a renowned team of board-certified allergists and immunologists, Columbia Allergy aims to help patients who suffer from a life of strict allergen avoidance achieve relief through innovative, clinically proven treatment methods.

Origin is a progressive women's health company offering expert physical therapy for the over 40M women annually experiencing incredibly common but overlooked health issues specific to the female body. Origin provides both in-person and virtual care with a specialized focus on pregnancy, postpartum, menopause, and sexual health. Trusted by over 15,000 women and 500+ OBGYNs, Origin is the go-to for women who have been told "that's just the way it is." We believe every woman should have access to the care they need to feel good in their bodies, through every stage of life.

REDYPER's mission is to divert dirty diapers from rapidly filling Bay Area landfills. With REDYPER, you receive new diapering products every week, eliminating those late-night trips to the drug store. At the same time, our drivers pick up your baby's soiled diapers and transport them to our compost facility for processing. Every week, our customers help divert over 9 tons of dirty diapers from landfills, which are composted and converted into nutrient-rich topsoil.

Crib Notes Consulting provides personalized strategies for all developmental stages for all children between ages 0 to 5 years old, including navigating the first year, potty training, sign language, and teaching self-regulation. We believe every family, parent, and child is unique and what works for each of them is different. Our goal is to inform parents, provide them with options, and help them choose and implement what works best for them.

Expert Panel

We will have a panel of experts on hand to run live workshops and answer all of your pregnancy and baby-related questions!

Giveaway Sponsors

What's a San Francisco Bay Area Moms event without giveaways? As always, we have brought a number of awesome giveaways to you from our giveaway sponsors. Your Eventbrite ticket order no. serves as your giveaway raffle ticket no., so keep it handy and good luck!

San Francisco Bay Area Moms is an open-source parenting resource destination, and prides itself in providing quality, professional, and authentic content to families in the Bay Area. Our passion-driven team of dedicated moms dedicates their time and energy to pour their souls out and share their expertise with you.

If you would like to show your support, please consider giving a token of appreciation to keep us going during these unprecedented times. For every $10 received, we will donate $1 to Safe and Sound.

Disclaimer: Photos and video recordings will be taken at the virtual event. By registering an event ticket, attendees grant permission for their likenesses to be used on the website and on social media by San Francisco Bay Area Moms and sponsors.

Be a SF Bay Area Moms Insider!