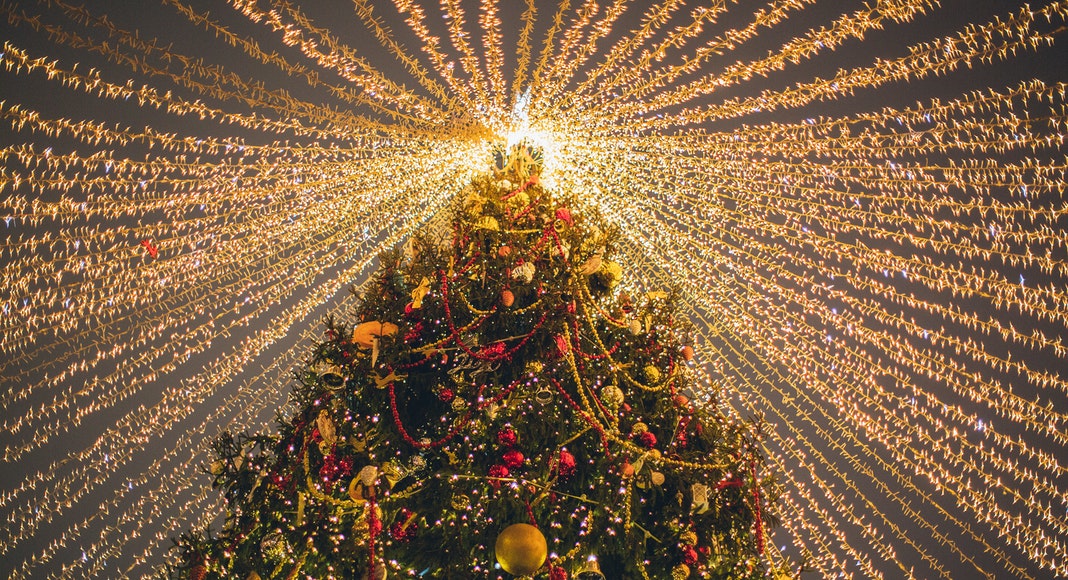 Christmas is my favorite holiday. While its true presents are my love language, there is more to my love for December 25. The lights, sounds and smells of Christmas are all magic for me. It's probably because of the happy memories I have of the holiday growing up; all the special moments my mom and dad created for me and my three siblings.
I'm a grown up now, but I haven't let go of the magic of Christmas. It's my turn to create memories for my family, and it's the highlight of my year. However, as the holiday approaches, obligations and chores often take over the days, and there is never enough time for the fun stuff.
So this year I've made a schedule of fun. I know, I know…the phrase "schedule of fun" does not bring forth images of joy & spontaneity. But as a parent, I've learned I have to plan for the things I really want.
My hope is that you find some activities on this list that help elevate your holiday experience & create special memories for your family.
Tuesday, December 1   Make hot chocolate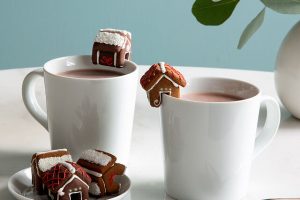 I would like to be the one to share with you a homemade hot chocolate recipe, but unfortunately, I'm not that together. I do, however, pull together a really lovely cup of Swiss Miss that my kids seem to enjoy. This year, I'm gonna make it fancy with these charming mug buddies from Uncommon Goods. These tiny homemade gingerbread houses will stir up visions of sugarplums while you sip on your hot chocolate. Add a splash of peppermint schnapps to your mug for the adult version!
Wednesday, December 2   Decorate your Christmas Tree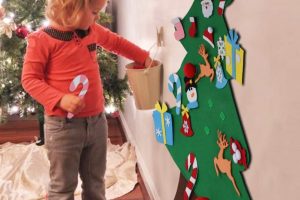 If you're anything like me, your Christmas tree has been up for two weeks (if you're not, feel free to swap this day for the real thing!) This felt tree will adorn a lonely wall in our living room that I never know what to do with. I predict my five year old son will have a blast moving around the ornaments each day.
Thursday, December 3   Buy or make a gift for someone unexpected
Giving is one of the tenets of this holiday, and we all have our lists to work through. But sometimes it's nice to give a gift to someone who doesn't expect it. That neighbor, acquaintance, or long-lost relative who seems like she needs a little extra love this year really, well, does. Create some real-life magic by playing Santa.  No need to overthink your gesture. Flowers, homemade cookies, or even a holiday card signed by your kids will touch their heart in a special way.
Friday, December 4   Watch Elf
There's no better feeling than putting on your PJ's after a long week & curling up on the couch with your kids. Make it festive (and easy) by streaming the movie Elf and ordering a pizza. The quintessential holiday movie, it has a real-life Santa story for the children and a super-entertaining performance by Will Ferrell.
Saturday, December 5   Decorate with Candles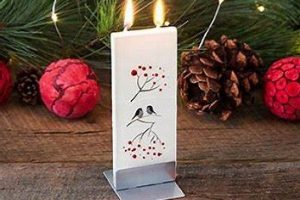 Set the scene with some Christmas candles. These handmade flat candles, sold on The Grommet, are Christmas-y without being childish. They are only a few inches tall, so pick up a few to make a real decorating statement. They also make great stocking stuffers!
Remember, objects look better in odd numbers, so add three or five of these to your cart for the most visual impact.
Sunday, December 6   Make holiday cookies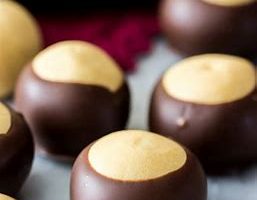 Grab the kids and bake up your favorite holiday cookies. As native Ohioans, we will be starting with buckeyes. A buckeye is a small, shiny, dark brown nut with a light tan patch that comes from the Ohio state tree of the same name. I haven't met a Californian who doesn't appreciate these melt-in-your-mouth peanut butter balls. Plus, they are simple and fun to make. The kids love dipping the balls of dough into the chocolate. Don't forget to lick the spoon!
Monday, December 7   Sweater weather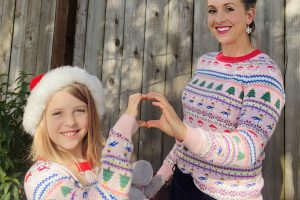 Don your family holiday sweaters for a walk around the neighborhood. This year, we went with the more "pretty" holiday sweaters at Boden. At my daughter's request, our sweaters match. The website has an entire section of matching family outfits.
Want to go for more of an ugly Christmas sweater theme? Try Target for a variety of options. For the man in your life, try this Ninja Turtle stunner…
Tuesday, December 8   Make a Christmas-tini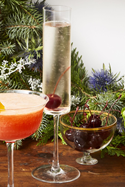 I love a good themed cocktail, but sometimes the list of ingredients and sweet taste is overwhelming. However, I can always enjoy some sparkling wine. Make your own "Christmas-tini" by pouring a glass of your favorite bubbly and adding these special garnishes.
Frozen cranberries
Sprig of rosemary
Mini candy cane (very cute for social media)
Sprigs of mint
Wednesday, December 9   Create a "non-tree" tree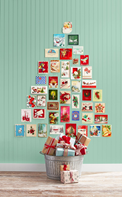 Arrange your holiday cards, family photos or combination of the two into a tree shape. As you add a new photo or card, share a memory of the sender with your kids. This is a great way to create a sense of togetherness when relatives may be far away this year.
Check out this article with other non-traditional tree ideas…
Thursday, December 10   Find your Christmas decorating niche
Yes, it's weird, but it's whimsical and fun to have a collection of something. Into reindeer? It's time to purchase and arrange a menagerie from Dasher to Rudolph. More of a Christmas tree fan? Bust out the balsam fir beauties of all shapes and sizes in a nook in your living room.
Check out this article for creative ways to decorate for Christmas…
Friday, December 11   Start wrapping
It's early, yes, but you will feel so much better if you begin now. Use this head start to take an hour or so after the kids go to bed and artfully wrap a few gifts. Make them look truly special with curled bows and unique toppers, such as…
Mini ornaments knotted with a ribbon
Silver bells
Full size chocolate Santa's
Faux flowers or leaves
The payoff will be worth the surprised faces on the big day.
Saturday, December 12   Play dress up

Headed to a Christmas get-together? Whether virtual or in person, you will look & feel the part in this havana poncho by Lovers & Friends. The LBD of winter dresses, you'll feel cozy & chic in this high necked sheath. Pair with contrasting tights and booties for an IRL night out or slip on your fanciest slippers & a pair of statement earrings for a virtual holiday ladies night.
Sunday, December 13   Take a drive
Filoli is a beautiful country estate located 30 miles South of San Francisco. Constructed in 1917 and opened to the public in 1977, the Filoli house is nestled on 23,000 acres of protected Peninsula watershed. From November 21-January 3, you can explore the beautiful winter garden adorned with lights and holiday decor. Check out the large fire pit under twinkling lights with a mug of hot cider or mulled wine.
Monday nights are theme nights, including fun ideas like holiday PJ's and Festive Face Masks. Make your appointment on a Saturday between 10-4 for an outdoor picture with Santa himself. Make sure to book soon, as they are operating at a lower capacity than usual to adhere to social distancing regulations.
Monday, December 14   Make a holiday garland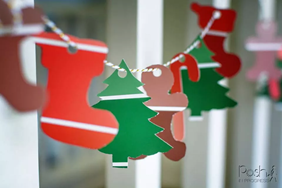 I am a fan of the simple paper garland. This project is quick, easy, and inexpensive. Just grab some red & green construction paper, cut into strips, and circle each strip around the next adhering with glue. This is an excellent project for young children, as it comes together quickly and without much fuss.
If your kids are older or you want a challenge, check out this article including 22 ideas for fun holiday paper garlands.
Tuesday, December 15   Order your family Christmas morning pajamas
This year, we will be rocking the red & green plaid pajamas from Old Navy. They are very cozy and will make Christmas AM photos even more marvelous.
Wednesday, December 16   Make cut out cookies
The ultimate Christmas cookie is most certainly the cut out. I make them every year, and I'm really excited about this recipe…
I've tried it with many cut out patterns, but my favorite is a Christmas tree. Here is a fun set of four trees that will make your cookie display picture perfect…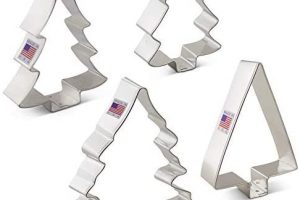 For the icing, keep it simply & add food coloring to store bought vanilla icing. Have a little more time? Try this recipe for cookie icing…
Thursday, December 17   Need a DIY gift idea for friends or teachers?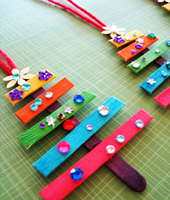 Try making these colorful popsicle stick trees. Attach a ribbon to the top for an easy ornament that your children will love to give. With all the colors, they will be the happiest ornaments on their trees. Plus, who can say no to anything that's decked out with jewels?
Need some extra craft supplies? Try this kit…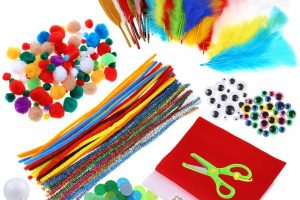 Friday, December 18   Have a living room Christmas tree sleepover
Grab your sleeping bags and cozy up under the tree for a festive slumber party. Before lights out, chat with your kids about their hopes and dreams for Christmas and favorite memories from the year.  Not excited about sleeping on the floor? No problem. Just bring story time under the tree for a sweet and sparkly pre-bedtime ritual.
Saturday, December 19   Make a holiday gingerbread mansion
Target has a variety of fun gingerbread houses to choose from. I will be ordering the Gingerbread Mansion, which is big enough for all family members to work on.
Pro tip: If you are one of those people who like to control the art direction of your gingerbread creation (same), order two. One for you to display & one for the kids to have fun with.
Sunday, December 20   Buy yourself a present
All this merrymaking and thinking of others has probably got you a bit exhausted (I speak from experience). Taking care of you is important too, so treat yourself to something you know you'll love but haven't pulled the trigger on yet.
I will be indulging in this thermal jogger set by leisure wear company Splendid. I'm always cold, plus since lounge wear is the wardrobe theme of 2020 I will be on point. The aptly named Snowy Fig color is unusual yet flattering for most skin tones.
Monday, December 21   Treat a furry friend
This year, our family finally pulled the trigger on a puppy. Born on December 26, our German Shepherd "pandemic puppy" is appropriately named Dasher. He's brought so much joy and spunk to our lives.
With all the hustle and bustle of the season, it's easy to put our animal friends on the back burner. Take a moment today to treat your favorite whiskered buddy for the holidays. Cal's Pet Supply is a great place to pick up a bone or bag of catnip.
Don't forget to hang a stocking for your littlest companions!
Tuesday, December 22   Spend 30 minutes organizing
You probably haven't given much thought to organization this holiday season. But it's worth your time to spend half an hour organizing and purging toys, clothes, and books. With this limited amount of time, choose one small area to focus on. I plan to focus on the playroom. Grab a box for donations, a bag for trash, and go through every item. Do your kids (or you) love it and use it often? Great, keep it. Has the item in question been sitting there for months with no airtime? Pass it forward.
You'll be surprised how much you can do in 30 minutes.
Wednesday, December 23   Make Christmas character candy pots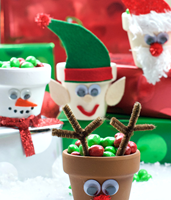 Want a fun alternative to cookies for Santa on Christmas Eve? Get creative and order the materials to make these adorable holiday character candy pots. Pick up red and green M&M's and fill the pots to the brim for the big man.
Check out this page for the tutorial…
Thursday, December 24   Decorate a tree for the animals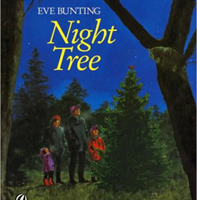 When I was teaching, I always read the book The Night Tree by Eve Bunting to my students. In this enchanting book, a family of four travels to their special tree in the woods and decorates it with popcorn chains & cranberries. The following day, in the midst of the whirlwind of Christmas, the little boy imagines the woodland creatures enjoying their feast.
A few years ago I started a similar tradition with my kids. We head to our favorite loop in Golden Gate Park and hang cheerios on tiny branches. We talk about the squirrels, raccoons, and birds enjoying their Christmas Eve dinner as we walk home. It's a fun way to get out of the house on Christmas Eve and slow things down a bit.
Friday, December 25   Enjoy a drink, from start to finish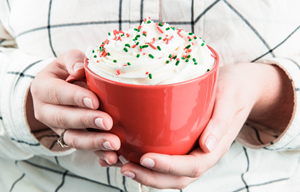 It's the big show, Christmas Day!
You've been working hard all month long and it's time to give yourself a minute to enjoy the fruits of your labor. Your only activity for today is to make a cup of coffee and actually finish it. No microwaving allowed.
I'll be trying this recipe from Delish.
Happy Holidays!
Editors Note: For more holiday recipes be sure to check out our Winter Guide!