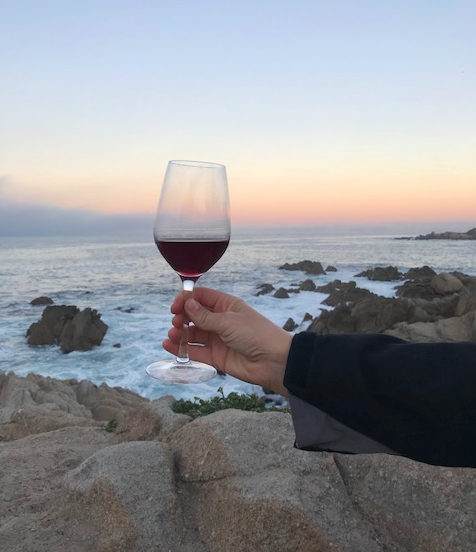 Spring is here and I have months of cabin fever I need to address.
My soul needs to get out of my house and be somewhere I can just sit and watch the world go by, preferably with the Pacific Ocean beside me.
No parks, no food trucks.
I want to eat and drink outside like a grown-up, someplace friendly to my family, but not family-friendly.
With a temperate climate like San Francisco, you'd think there would be endless options for eating and sipping al fresco, but I find it difficult to think of even one sometimes.
In other parts of the world, this time of year is like a timelapse video where people are stepping out of the snow and pouring into sunny sidewalk cafes, budding back gardens and rooftop restaurants, ready to toast the end of a very long winter. Coats are shed and cheeks ruddy as layers of clothing are removed and added back as glasses rise and the sun sets.
People everywhere are outside right now, even if they have to happily nuzzle under a heat lamp and shiver from the lingering winter chill just to breathe in the spring air.
Regardless of the weather, or the lack of discrete seasons, I think the beginning of spring in San Francisco marks a very necessary time to change up what you do and where you go for your soul's sake.
I spend a great deal of time finding places where I know my spirits will be lifted and my soul can exhale.
Here are the places I have found that I am fond of. They satisfy my need to feel human and to apply sunscreen. And since dining of any kind doesn't ever last long, all are located in areas with stuff to do before and after my kids allow me my brief time-out:
Sausalito – Fish
Fish is right on the bay in Sausalito, and I think it has the best seafood in the Bay Area. The food is adult and well-plated, the drinks are refined but served in steady mason jars, and the outdoor patio is breezy and open (to all ages). I can sit here and feel the sunshine, listen to the boats and feel far far away. Fish is open all day so the next time you find yourself ready for a late afternoon meal and stuck in the 3pm-5pm restaurant purgatory, take a ride over the most beautiful bridge in the world. After dinner, we go for walks along the waterfront or window shop and then we all cleanse (and dye) our palates with the bright blue oreo ice cream from Lapperts.
Why is it when you put a frame around the ocean it takes an extra breath away? It's like putting a hat on a kid— it's unimaginable something could be more beautiful, and then it is. With floor to ceiling windows overlooking the ocean, La Costanera is set right on the coast in Montara, our favorite Bay Area beach. The food is Peruvian and the pisco sours are delightful. Sometimes we spend a weekend afternoon on the beach and shake off the sand to eat or we head down right after work to have dinner and take some alfajores to-go for dessert on the beach while we watch the sun go down.
Treasure Island – Mersea
Treasure Island is an artificial island (built for the 1937 World Fair) but is authentically full of history and beautifully under-developed. There's almost nothing on the island except for the old military base and the occasional stalls of the flea market and yet a solid establishment like Mersea invites you to travel the causeway and spend the whole day. We found ourselves spending Saturday sipping hand-made cocktails on the great lawn, admiring the SF skyline and feeling momentarily ungentrified.
Hikari is not outside but it is of the ocean. I love sushi and since having kids I've had it twice. Kids don't like raw fish and their poking curiosity ruins the mystique needed for me to enjoy it. Enter Hikari, a restaurant where you order on an iPad (which I otherwise cannot stand in restaurants) and then delivers your sushi (and plenty of kid options) right to you on a model bullet train. Points for the joy of first times, which it was for all of us. Before dinner, there is much to walk around and see like the cherry blossom trees, the origami paper at Papertee and the beautiful lanterns at the Soko Hardware Store. After dinner, you can get ice cream served in a cone shaped like a fish at Uji. There are lots of spring festivals in Japantown worth finding a parking spot for. I just saw flyers for this one coming up on May 4th—Children's Day Festival!
Bon Appetit!