*This post is sponsored- but the thoughts and feelings are our own, and we only work with businesses we believe to be reputable and resourceful to our readers. When we were dating, my husband and I used to eat dinner out all the time.
We loved trying new places, visiting old favorites and taking recommendations from our friends and family. Fast forward 6 years, and we are married with two active little boys. Life is a lot of fun, and we stay really busy, but we mostly eat at pizza places and burger joints; they're the places we can most comfortably bring our children. But as you can imagine, the fried fare has become somewhat boring over time. There are only so many burgers and fries one can enjoy before they become bland.
We have been on the lookout for a place we could go to enjoy some new flavors, try something different, and bring our children. We decided to give Tava Kitchen in Palo Alto a try, which offers exactly what we were looking for; a family-friendly environment with exciting and complex, locally sourced foods. As someone who usually sticks to what she is familiar with giving South Asian food a try was a little step outside my comfort zone, but a very welcome one.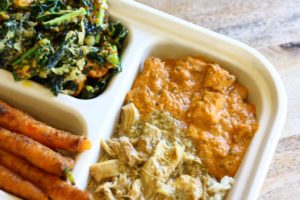 Tava Kitchen is located in the east end of Town & Country Village in Palo Alto. The restaurant features a counter-serve option for build-your-own South Asian dishes, all made with local ingredients. The clean, crisp and bright interior is not what you would expect from a restaurant serving this kind of food. I usually think of restaurants serving similar foods to be dark and dank, which is not at all what we found at Tava.
Diners are invited to chose an entree, all of which are plated and displayed in colorful Le Creuset cookware behind a glass partition, so you can see what you're ordering. Being able to see each dish before ordering was important for me since most of the dishes are new to me, and it really helped to see what each dish looked like before ordering.
We had quite the spread, and tried everything they have on the menu, which was designed by a chef with two Michelin stars! Some of our favorites were the Braised Beef and Lamb Meatballs, Roasted Heirloom Carrots, Crunchy Kale & Quinoa, Chilled Brussels & Carrots, and of course, the Mac & Cheese and Ginger Lemongrass Lemonade. What struck us most about the food is how flavorful all of it was. The Braised Beef was the most flavorful I have ever had, and I could have the Crunchy Kale & Quinoa everyday.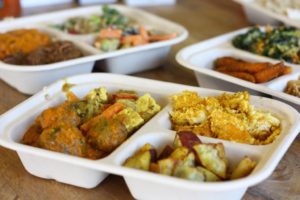 Kids can order from the kids menu that includes Cheese and Chicken Quesadillas and Mac and Cheese. Our son Owen devoured his Cheese Quesadilla and the Roasted Heirloom Carrots! We love being able to dine-in with the kids, but Tava makes picking up food to go easy too. They have several options for grab-and-go diners to pick up and bring back to their office or home to their families.
We had a great experience at Tava Kitchen! There are not many restaurants out there where you can count on getting fast, fresh, family-friendly food, that is also flavorful and healthy! Our family looks for any excuse to visit again and again!
For more news and information on Tava Kitchen, follow them on Facebook, Instagram and Twitter.