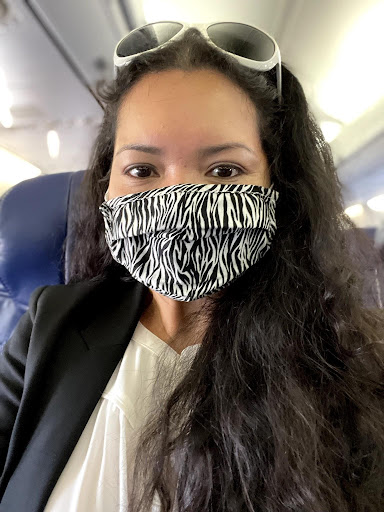 I did it! I took my first flight in two years. It was the most exciting trip I had taken in two years, and the most emotional. The last time I had flown was in November 2019 for a work conference in Miami. It was my last airplane trip of the year before I had to hunker down and prepare for the birth of our second child due in December. Who knew that it would be almost two years before I took my next flight? 
Fast forward to September 30, 2021, I had the opportunity to do just that: take an airplane trip for work. It was exhilarating, exhausting, and anxiety-inducing all at once. A part of me wondered if I remembered how to prepare for air travel. Silly, I know. But the world has changed. While it was just a day trip to Hollywood, I still needed to plan for it. Planning work trips with one child's schedule and needs is small potatoes compared to planning a work trip with two children's schedules and needs in mind. With that, I share the five things I have learned from my first flight in two years.
1. Plan and coordinate the trip with your partner/spouse, etc.
My husband and I plan respective work trips with two key components in mind: our respective workloads and non-overlapping dates. In general, we try to travel when the other person does not have a meeting-heavy day. We also don't book overlapping trips. Our rule is that one parent needs to be with the children. From there, we plan for those travel days: what meals to cook, social events to take, and scheduled drop-off and pick-up times. For my day trip, I prepped all the meals (lunches and dinner) and packed my older daughter's backpack, so that the day would go more smoothly. I also packed my carry-on bag as well.
2. Know what travel documents you need and have them ready
Do you have your Real ID? I had not gotten around to getting mine for this trip, so I took my passport. Then, I saw the signage at the security checkpoint: the deadline to have the Real ID in the United States is now May 2023. I could have traveled with just my driver's license since I was traveling in-state, but I would rather be safe than restricted from traveling. I also keep my airline apps and COVID vaccination status on my phone for easy access.
3. Ditch the makeup or at least anything under the mask
Pre-pandemic, I always wore makeup on a flight, particularly a work trip. I often got off the plane, into a cab, and straight to see a client. Two years ago, putting my best "face" forward mattered. This time, I did my eyes and wore lipstick, and by the end of my day trip, I regretted most of it. The Hollywood heat melted my makeup, and my face just felt gross. Next time, I will try to skip the makeup under the mask and maybe just do a little waterproof mascara. 
4. Pack a bag of extra masks
These days wearing a mask is as normal as wearing sunglasses on a cloudy day. We always have them on us. Until they are not required for entry everywhere, I keep a few extra on me just in case, especially in my travel bag, as masks are required in airports and on airplanes.
5. You will forget something, and that's okay
With all the planning and coordination I did for my day trip to Hollywood, I still forgot to pack a few things, namely a scarf and a pair of "not socks." A scarf is a travel staple I take wherever I go, and I remembered it when I was in my Uber (who had all the windows rolled down at 5:30 AM) on the way to SFO. The "not socks" were for the icky airport floors at the security checkpoint. Oh well! I survived just fine without them. On my next trip, I will have both.
Traveling doesn't look the same way it did two years ago, but it still felt good. It felt normal. I loved being at the airport. I loved the feeling of take-off and landing. I loved that feeling of being on a plane to go somewhere. I can't wait for my next airplane trip. Next time, it will be even better.
How did you feel when you took your first post-pandemic flight?