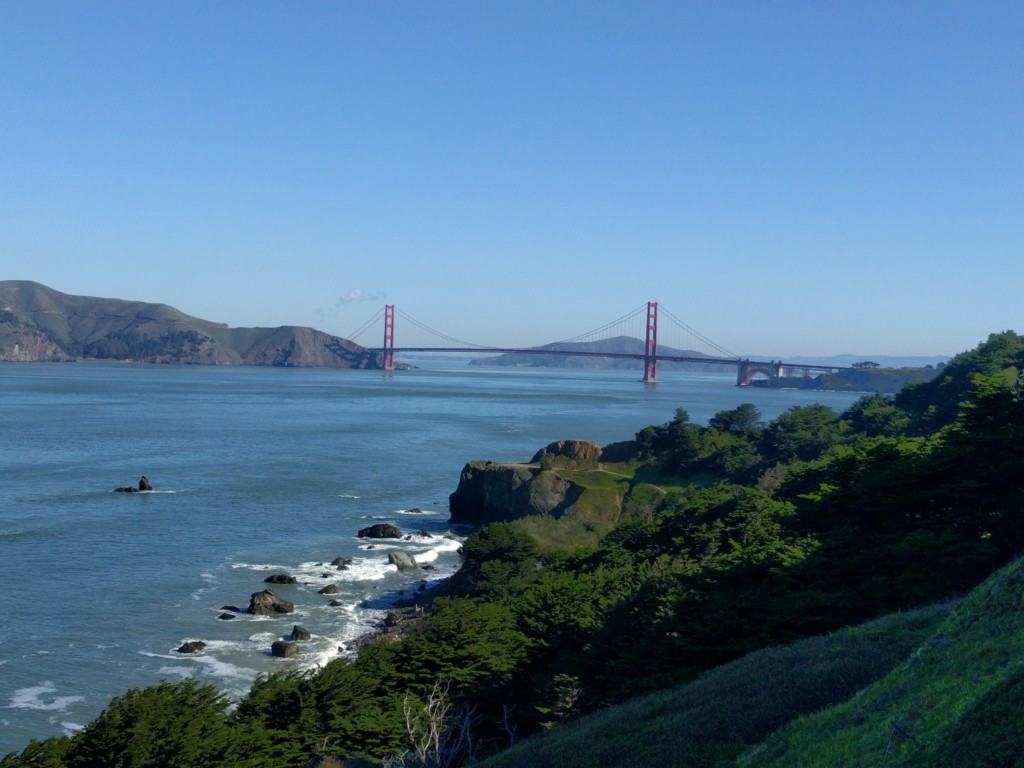 San Francisco is a wonderful place to visit with your family, but, let's face it, traveling with children, especially small children, makes every trip more complicated. We're here to help! We're proud to raise our families here and want your visit to go as smoothly as possible. Join our Facebook group "Traveling to San Francisco with Kids" to ask local moms your specific questions and connect with other families who've made the trip.
Click on a link below to be taken directly to that section or keep scrolling to read all of our tips.
What to Pack | How to Get Here | Where to Stay | Transportation | What to Do in SF | Where to Eat | Bay Area Places to Explore | California Resources
What to Pack
Since San Francisco families love to travel, we've created a packing list that'll come in handy as you get ready for your trip. Also, check out my favorite travel gear for flying with babies and toddlers. San Francisco is famous for its hills, so comfortable walking shoes and a good stroller will come in handy. Baby carriers are also really useful if you plan to use mass transit to get around (strollers can be cumbersome on crowded buses).
Travel lightly by renting baby equipment once you arrive:
Now, for what to wear. . .
Two words: light layers. We have a moderate climate with average temperatures in the low 60's all year round. When it's sunny, you'll be comfortable in a short-sleeved shirt or lightweight long sleeved shirt and a pair of jeans. When it's cloudy/ foggy/ windy, you'll need a few layers on top. And any and all of these conditions can happen on the same day. 
San Francisco is made up of lots of microclimates, which means, if you start your day in the Mission and end it at Ocean Beach, it's not unreasonable to see a 10-degree dip in temperature.
Summer is our foggiest time of year because the cold water of the Pacific Ocean meets the hot weather inland and settles over San Francisco as fog. We've even named it – Karl the Fog.
I tell you all this so you can avoid rolling up to Fisherman's Wharf in shorts and a t-shirt in July and leaving with an overpriced San Francisco sweatshirt (I mean, buy it if you want, but not because you're freezing and desperate). 
Of course, we do get temperature swings – chilly weeks in the mid-50's or perfect stretches of mid-70s and sunny, so always check the weather when you're getting ready for your trip to make sure you're well-packed.
What you plan to do here will also inform your family's outfit choices. The weather north, south, and east of SF can be much warmer than the city itself. I've spent many lovely 80 degree days in Sonoma and come home to 60 degrees and fog in the city (this is why light layers are crucial). Overall, the city is casual, much more so than New York City, so even at no-kids-allowed kind of restaurants, women can get away with a nice pair of jeans, a top, and heels and men can wear nice jeans and a button-down shirt.
If it rains, a good raincoat will be your friend. It's much more practical to move around the city with kids without worrying about an umbrella, so suit yourself and your family in rain gear and get out there! We're certainly not as rainy as Seattle, but drizzly weather doesn't stop us from getting outside.
How to Get Here
Flying
 San Francisco International Airport and Oakland International Airport are the closest airports to the city. Since parking in the city is limited and expensive, your best bet is to avoid renting a car if you plan to mainly stay in the San Francisco (you can always rent one in the city for day trips). Here are your alternate options to get from the airport to SF. 
BART (Bay Area Rapid Transit): You can take the train into the city from either airport. If you're staying near Union Square, get off at the Powell Street station. If you're in the Financial District, Montgomery or Embarcadero will be your stops. If you're in Fisherman's Wharf, you'll need to hail a cab or call an Uber and Lyft. To be in the heart of the action, get off at the Powell Street Station (it's closest to Union Square and the Cable Care turn around), or jump off one stop earlier at Civic Center and catch a lift up Van Ness.  
Uber/ Lyft/ Taxi: These are easy options if you don't need car seats, are traveling with your own car seats, or are using these amazingly transportable car seat vests.
Car Service: Many car services will provide car seats if you request them. This is a great option if you're looking to get into the city as fast as possible, but also want to travel with minimal equipment. I've personally used CDC Limos several times and have always been happy with the service. 
Driving

 
If you can, avoid approaching or departing the city at peak rush hour times of day when traffic is heaviest (7:00 – 10:00 AM and 3:00 – 7:00 PM). Be prepared for daily parking charges to be included in your final bill when parking at a hotel. For home rentals, like Airbnb, your parking situation will vary by rental, but, if street parking is required, make note of the street signage that explains permitting rules and street cleaning days. Please, pretty please, don't block driveways with your car (even a little bit is a big pain for residents).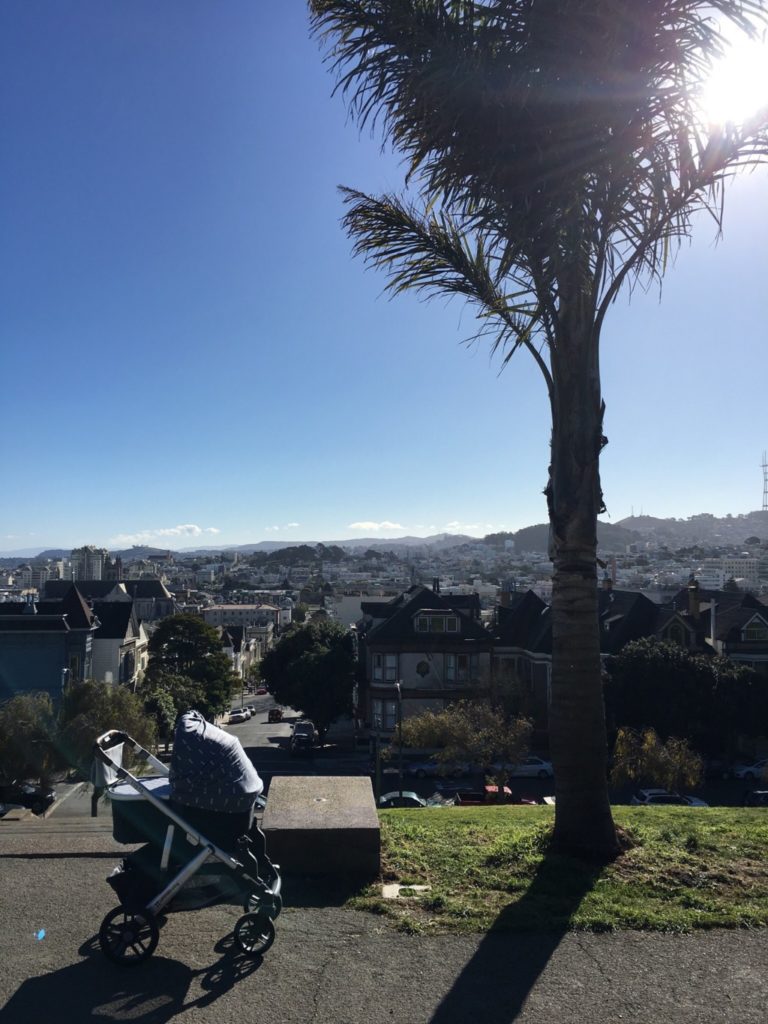 Transportation
Walking
It's possible to explore much of the city on foot, as long as you're prepared to climb some hills. You'll blend right in pushing a stroller along the sidewalk or wearing your baby in a carrier. If you're planning to eat in one of the many quaint (read: tiny) restaurants in the city, be prepared to fold up your stroller, so it can be tucked out of the way. Side-by-side double strollers may be a bit trickier to navigate down narrow or crowded sidewalks and in tiny stores but not impossible.
These underground trains run through the north-east section of the city and then out to the East Bay and down the Peninsula. If you're staying in the Union Square or Financial District area this will be an easy option for day trips to Oakland and Berkeley or to explore SF neighborhoods like the Mission. During morning rush hour and evening commutes, the trains will be busiest. Strollers are allowed on BART, but the elevators to the train platforms are often out of service, leaving you to carry the stroller down the stairs. If you can avoid taking the stroller onboard, I would. You can purchase tickets for your trip right in the station. The price will be based on the distance you're traveling.
The MUNI buses and trains traverse the entire city. Google maps makes it easy to figure out which ones you need to take – plug in your desired destination, click the little icon of the bus, and it'll tell you what bus to take, where to pick it up and get off, and where you'll need to walk to arrive at your final destination. Strollers are allowed on MUNI, but the buses and trains can get very crowded during rush hour and some bus lines seem to be crowded all day long making it much harder to bring strollers onboard. If you do need to carry one, have it folded before the bus arrives so you can board quickly. Pay with exact change onboard or consider purchasing a visitor passport.
What's a visit to San Francisco without riding on a famous cable car? These iconic trolleys are part of the MUNI system so your bus passes will work or you can pay cash onboard. The lines to board at the Powell Street turnabout can get very long in peak visiting seasons. It's sometimes easier to jump on at a stop along the street, and this actually increases your chances of getting to ride standing along the side of the car. Check the routes for stops, which will be marked with street signs. Strollers are allowed on cable cars, but they must be folded up before boarding. I'd avoid taking them on since the cars can get very crowded.
I've never taken one of these in San Francisco but have tried them out in other cities. They're an easy way to get a feel for the layout of the area. Hop off at the sites you want to see and then get back on the next bus that comes by when you're ready to leave. Alternatively, you can sit and enjoy the ride, listening to the guided tour. Dress warmly if you plan to ride on the top, open-air deck.
As I mentioned before, these are easy options if you don't need car seats, have your own, or are using these amazingly transportable car seat vests.
There are several car rental locations centrally located in San Francisco, making it easy to rent a car for the day to explore the greater Bay Area.
Bike around San Francisco or across the Golden Gate Bridge to Sausalito to maximize the sites you can see in one day while still getting your exercise and being up close and personal with all the city has to offer. Electric bikes and group tours are also available. 
What to Do in San Francisco
Hit the top tourist spots or live like a local and consult our Neighborhood Guide for what to do around the city. Either way, we've got lots of guides to help you plan the perfect kid-friendly itinerary.
Where to Eat
We have an entire list of 100+ kid-friendly restaurants around the city. Many restaurants are small, so if you're traveling with a stroller, be prepared to fold it up, or bring a bike lock and lock it outside of the restaurant. This is a particularly popular thing to do along Fillmore Street (remember to remove all your valuables).

Bay Area Places to Explore
Sausalito, Muir Woods, Stanford, Berkely. . .  There are so many wonderful parts of the Bay Area to explore while you're here. Check out our summer bucket list for lots of fun ideas and our archive of articles on activities in the area, especially these helpful guides: 
California Resources
If you'll be visiting other parts of California during your stay, check out our sister sites for even more local resources!